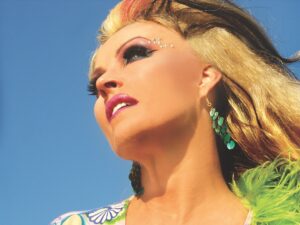 Kristine W is on the road in support of "Can't Look Back", her new single that is energizing dance floors. She will be at the H2Q Nightclub at the Ocean Casino Resort in Atlantic City this Saturday to perform the track along with her other club hits.
Produced by James Hurr, one of the masters of UK House, "Can't Look Back" is a lush, soulful club groove, made even more powerful with its message inspired by the passing of her mother.
"Though she faced unbearable loss during her lifetime, my mother was a perpetual optimist," Kristine reflects.  "She never wallowed in pain from the past.  She chose to forge ahead, holding tightly to hope, faithful in her belief that tomorrow would be a brighter day."
Kristine W wrote "Can't Look Back" with Mark Matson and another dance floor maverick, Tony Moran.  Along with the James Hurr original, the "Can't Look Back" remix package includes an impressive list of some of today's top global producers.  Beyond Chicago provides fresh radio edits and JSquad brings a progressive NYC house vibe to the song.  All are being distributed by Sony's The Orchard.
Also appearing at H2Q Nightclub  in Atlantic City this Saturday will be House music legends Johnny Vicious, Hex Hector, Razor, Anthony Acid, Brainbug, Aluv and Manolo.
Kristine W launched her singing career in the nineties.  "Feel What You Want" was her first single to reach #1 on Billboard in 1994.  Since then, she has had a steady flow of chart toppers.  "Stars," from her 2019 album, Issues Episode 1: Love and Lies was her 17th Billboard #1.  She now ties Mariah Carey for the sixth-most No. 1s since the chart's August 28, 1976, inception. Madonna leads the chart with 46.
Kristine W's "Can't Look Back" is available for download and streaming here.  For more information Kristine W, visit her website.
Kristine W performs H2Q Nightclub at Ocean Casino Resort, 500 Boardwalk, Atlantic City @ 10 p.m. Saturday.  Tickets are $25 to $35 here.