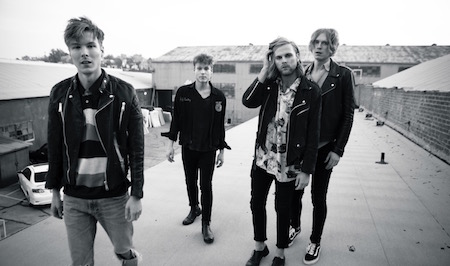 After recently releasing the brand new video, "Old School", a youthful anthem, one less connected with techno, Urban Cone has had 13.3 million plays on Spotify. The electro pop band hails from Sweden, and is proud to share a message about diversity and inclusion within the song.
Get Out caught up with the band and was able to share some questions and answers with them.
You guys are a very interesting and creative band, can you give me a
little history of how you began, and how you got so tight?
We all met in high school and became really good friends very quickly! We
all bonded over music and it just felt natural to start a band together.
Since then we pretty much do everything together.
Who writes the songs and who creates the videos?
Rasmus and I write all the songs. Recently it's been so inspiring to meet
new people and we've really happy that we've got the opportunity to write
some of these new songs with friends and other musicians.
The videos are usually made out of an idea that we try to finalize with a
director we like. It's always been important for us to be independent
visually and do as much as we can ourselves!
What do you enjoy most about performing live, and can you tell me the
funniest or most embarrassing episode you've ever had performing?
Meeting fans at our shows is amazing and seeing their reactions when we play
is magical. The most embarrassing thing that happened to us live was when I
(Emil) stage dived at a show in Stockholm and no one caught me haha.
How different is it making music and touring in Sweden than in the US?
It's a big difference. The thing that hits you first is how big US is. In
Sweden you can do a tour of 4 shows and then you're pretty much done. The
fan culture is totally different here as well. When we were here last time
we got presents and food from our fans which is amazing and we love it! That
would never happen back home.
Is there a particular song you like to perform live?
Right now "Old School"l is definitely the most fun to play live. Since it's
our newest song, it's so cool to see the audience's reaction when the chorus
hits. "Sadness Disease" is also a favorite. We heard that it's been doing
really well in Australia so we played it at a festival called Splendor In
The Grass in Brisbane. And we couldn't believe our eyes. There was about
10,000 people singing along to the song. We'll never forget that moment.
What's your worst nightmare with a promoter or club owner?
That they lock you out before a show! You try to get in, but the door man
asks for ID. You politely say that you play in the band. And the door man
laughs and claims he is the president lol. Happened tooo many times now.
Are there any special challenges that you encounter being so young?
We're not that young anymore, RIP.
Is there anything that you would want to tell your fans and followers ?
Thank you forever, we love you and may the force be with you.