Frankie C gets up close and personal with the one and only Jesse Volt, giving her insight on drag from hair to heels and everything in between.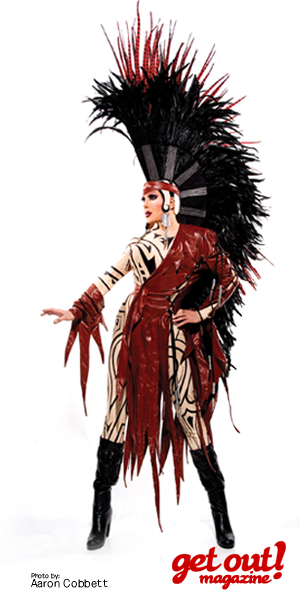 How did you find your way into drag?
I am a hairstylist/makeup artist and I studied dance. It was inevitable.
Who are your role models?
People who are not afraid to truly be themselves.
How did you get the name Jesse Volt?
I've always loved the name Jesse because it is androgynous, and Volt because I have always been extremely hyperactive.
What inspires you?
Creativity, spirituality and sexuality.
Can you tell our readers the meaning of drag?
It was a codeword which meant DRessed As Girl.
You perform weekly at The Monster on Wednesdays, Lips Restaurant on Thursdays and Splash Bar on Saturdays. Anything we should look forward to?
Yes, you can always look forward to a good time and a good show!
You have a drag website for shopping. Tell us about it?
Yes, www.tranniegear.com is a full-service website for all your drag needs, from soup to nuts.
How did Dinner with the Divas come about?
Yvonne Lame, the creator of Lips Restaurant, wanted to produce a celebrity impersonator review. I was honored when she asked me to be a part of it. I am very proud of the show and the ladies of Lips.
What was your first show in NYC?
My first show in NYC was "High Voltage Wednesdays" at the Monster. The Monster was the first club I worked for when I moved to the city.
When going from the West Village to Chelsea to the Upper East Side, what changes do you have to make?
High Voltage Wednesday at the Monster is a no-holds-barred gay humor drag review. Splash's Stud Search is about the boys and getting them involved in the show. Dinner with the Divas at Lips is more PG and fun for all.
In closing, tell our readers something they never knew about Jesse Volt?
I'm a pasta-holic.
By Frankie C.
thespinbyfrankiec@gmail.com