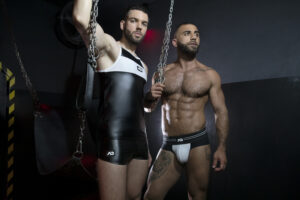 Centaur Motorcycle Club's Mid-Atlantic Leather Weekend is an annual festival weekend that attracts thousands of leather men, kinksters, fetish-lovers and curious spectators from all over the world to Washington, D.C. over MLK weekend.
This year's festivities begin on Thursday and run through Sunday.   Once again, the KINETIC team of local DC party producers – Zach Renovátes, Dougie Meyer, and Jesus Quispe (Q) – have partnered with MAL to produce KINK, four official events headlined by eight of the world's leading festival DJs.
Bootcamp, UNCUT XL, discoVERS XL and the weekend's main event, KINETIC: KINK, will take place at various venues throughout Washington, D.C.
"With the monumental news that the senate has passed the same-sex marriage bill, we are celebrating freedom at this year's KINETIC: KINK," says Jesus Quispe.
Zach Renovátes adds that they have secured the city's best venues for the weekend including Thursday's kick off at Soundcheck.  Dubbed "Bootcamp", the party will be the first opportunity for attendees to get geared up for the weekend as drill sergeant Diego Barros, one of Only Fans top performers, readies all for the next three days of sinful debauchery. DJs Conner Curnick and J Warren will provide the basic training beats.
Friday night is UNCUT XL at BLISS Nightclub. International superstar DJ Alex Acosta and DJ Onyx man the decks , commandeering all three of the club's massive rooms. While the perpetual beats pound the dance floors, partiers will be able to cruise the labyrinth of extended play zones, unleashing their most intimate fantasies until the wee hours of the morning.
The weekend's main event, KINETIC: KINK, takes place Saturday night at Echostage, the prodigious venue recently voted the #1 Club in the United States.  International Superstar DJs GSP and Ben Bakson headline.  RuPaul's Drag Race's Alyssa Edwards will serve dominatrix lewks that whip the audience into submission.  There will also be live kink acts and triple X performances.
On Sunday, KINETIC: KINK closes the festivities at Ultrabar with discoVERS XL.  Grammy-nominated DJ Abel and disco diva Alexis Tucci will usher in a night of jubilant disco and house music with performances seamlessly integrated into their sets.  discoVERS XL is included with the MAL Full Weekend Package.
General admission and VIP weekend passes for KINETIC: KINK are available now at www.kineticpresents.com.