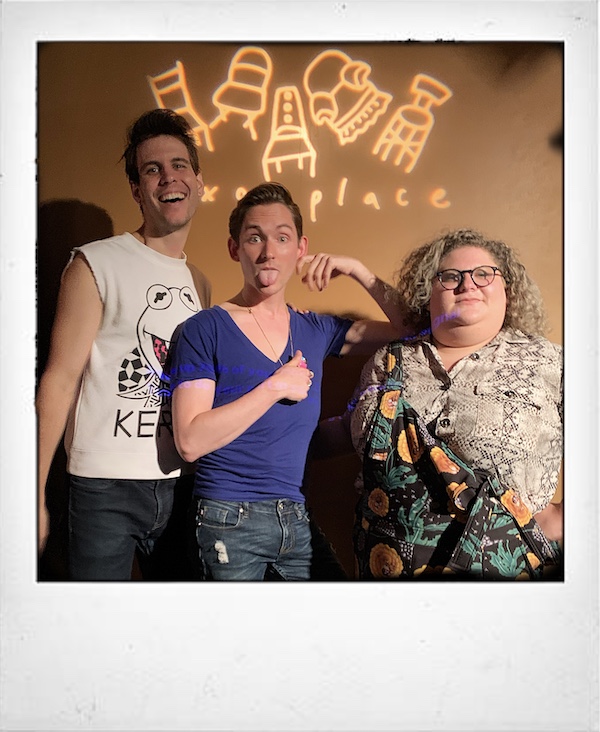 If you're gay and live in New York City, the chances that you know an actor are very high. If you do know an actor who lives in the city, you're likely invited to go to their shows, and (if they're a good friend) you're likely to go and support them.
Luckily, I'm always looking for new date night ideas, so when a friend invited me to a comedy show I was 100% on board. He made sure to let me know it wasn't stand-up—not that I mind stand-up comedy shows, it's just that I've seen a lot of them in my seven years in New York, and I'll admit that a lot of them weren't very good.
They call themselves Jim and Melissa (not their real names), and their latest show "Very High, Underground" was at Dixon Place last Wednesday evening.
I've been a fan of Dixon Place for a while: The non-profit institution presents original works of theatre, dance, music, puppetry, circus acts, literature and visual arts. The list of esteemed creators that have performed there is endless: Lily Tomlin, Blue Man Group, They Might Be Giants—just to name a few.
The About the Show won me over before it even began: "One night in 1993, two teens decide to stay in and try this weed stuff their D.A.R.E. officer keeps talking about. When the duo accidentally opens up a portal into their TV, they begin on a journey into the psychology of media and advertising during the anti-drug war of the 90s."
Reilly Willson and Shelby Quinn, who created Jim and Melissa, began writing and performing together in 2015 after meeting at the Second City in Chicago. I ordered a "Bitter Queen" at the bar (Sauza Silver Tequila, Housemade Ginger Beer, Grapefruit Juice, Angostura Bitters, Soda), took a seat near the stage and put my phone on silent. The seats, ranging from chairs at tables to comfy chairs to an actual couch, created an intimate setting for the show.
The next 40 minutes was a wild ride that I was not prepared for. I watched as the duo played an array of characters, from a bean bag chair to a caterpillar to a QVC host to a vampire. (I didn't smoke anything before the show, but it sure felt like I did.) Old 90s anti-drug commercials played on a screen between vignettes, keeping the show moving forward.
Afterward, to spread the word of their troupe, they handed out branded lighters—very appropriate given the subject matter. (They had a bunch of colors, but of course I picked hot pink.) I'd highly recommend going to one of their shows, and checking out everything coming up at Dixon Place.
If you're invited to anyone's comedy show, or any show for that matter, show up and grab a drink—you never know what you're in for.
@jim_and_melissa @dixonplace