TradeCraft is an NYC-based DJ/Production duo composed of B Duron and Kindbud. Both DJs and producers in their own right, "Dame La Banana" marks TradeCraft's debut collaboration and official release on Gomination Records.  Literally meaning "Give Me The Banana," TradeCraft's first single features the vocals of house diva Roxy from The Ride Committee.

The sexually charged lyrics, predominately in Spanish, crosses borders and cultures while TradeCraft's deep tech house groove keeps the dance floor bumpin'. "Dame La Banana" is now available on iTunes, Beatport and everywhere music is sold. Stay tuned for TradeCraft's next release, as they are currently putting the finishing touches on their official remix for The Ride Committee's legendary bitch track "Get Huh," to be released in fall 2014.
B Duron currently holds residency at the Eagle NYC on Sundays for BEATS Sunday with a sound landscape that brings together the best in tech house, house, electro and classic underground beats. He has had notable DJ appearances at venues across New York City such as Hiro with legendary DJ Honey Dijon, New York Fashion Week with Bill Coleman and guests and won the Best Music Award for "God's Love We Deliver" during the gay pride march. His production credits include remix installments for Beyonce ("Countdown," "End of Time"), reaching #1 on Billboard Dance/Club music charts, The Ones and Kindbud.
International DJ/producer, Kindbud currently holds court at The Cock NYC every Saturday night for WACK!! Saturdays, and Friday nights at Brooklyn's This N' That (TNT), with a beat slaying from deep vocal house, classic house and hip hop throwbacks.  He has graced the decks all over NYC's downtown party scene, at Westgay, Vandam, 11:11 as well as The Gansevoort Hotel and The Soho House. Kindbud made his mark in Barcelona, Spain, writing and performing on tracks with his production mentor Pepe Tuccillo, and the East Coast Syndicate, a collective he and two friends (Charles Hampton Brown and Howard Perry) formed together in 2004.  In December 2013, Kindbud released his self-produced debut album Dead Beat City on Gomination Records.
soundcloud/tradecraftnyc
facebook.com/tradecraftnyc
twitter: @tradecraftnyc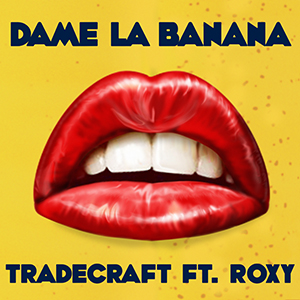 Get it on BeatPort now!
"DAME LA BANANA" –
TRADE CRAFT
beatport.com/release/dame-la-banana-feat-roxy/1371268
Photo By: Michael Bernal