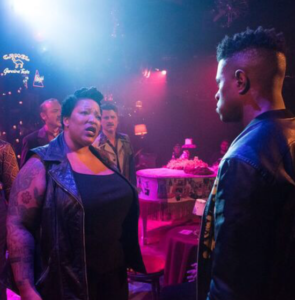 When the lights dim at the Lynn Redgrave Theater at Culture Project in New York City, all eyes are glued to the cabaret, gay bar set, and the appearance of the handsome Orlando-born, actor, singer and entertainer Jeremy Pope. After speaking with Pope, I soon knew exactly why he was cast in the role of Wes in "The View UpStairs."
The tragic story of "Upstairs," where an act of arson destroyed the lives of 32 people in a New Orleans gay bar in 1973, is a sensitive and heartwarming portrayal of the characters who might have
A young, cocky fashion designer Wes, played by Pope from the year 2017, is set to buy the property, cell phone in hand, and is magically transported back in time to 1973, just before the fateful re. There he meets the residents of the bar and learns several valuable lessons.
The play stirs much emotion: a blast of comedy, a sense of pride and the history of something that never should have happened, just like the Pulse Nightclub disaster. Before leaving the theater, you easily fell in love with the characters, and knew them well, and mourned their deaths. However, survivor Wes stood out as a tender, confused product of our society, who learned a sobering tutorial on communication, interaction, history and love.
I feel like the play portrays so much history and knowledge of the community, and is so relevant now. How did you get the part?
So, I auditioned for it back in November. I read the script, and it was weird, because I didn't know at the time that the re had happened in 1973. So I was kind of blown away by it. So I went in and auditioned for Max (the show's writer), and I was called back, and it just kind of felt right. As I was reading the character Wes, I saw the opportunity for the character to be over the top and funny, but I knew that in order for that to work we needed a trade off of a character that is sensitive and willing to embrace being a character that is going to change his outlook by the end of the play. I thought it was very important to show this reality of the character but also stay grounded and nd that place of ability, truth and honesty.
I thought that you were just amazing in your role of Wes, and you weren't too bad to look at either.
I'll take that!
There are a lot of very special cast members. Have you bonded with any of them?
I did. I think Nathan Lee Graham is phenomenal in the show, and just as a person and a human he was so good for me. He had come up to me and was praising me for my work in a play that he saw me in, and I was praising him for his works, so initially we bonded and respected each other as artists. But also the way he approached the material, it was very similar for me, because his character and his off-the- wall crazy monologues that are just so funny…the way he was approaching it, I could tell that it was from such a sweet and honest place, rather than, like, "I wanna be funny." I feel like those are the greatest comedians that nd the
truth and honesty through it, leaving you wanting more. He is such a sweet person, and we share a dressing room. We're always tuning in before the show, and then in the show our characters only have a few moments together. Also, my partner Taylor is great to work with. Across the board that is one thing that I loved about this piece, was that everyone was just so open and had a big heart, from the writer to Nancy Ticotin, the mother, who was just so open and willing to dive into this piece. I think we all knew that it was something so special. We checked all those egos probably at the audition.
It was simply about let's just tell the story, from the LBGTQ Community Center audience to Broadway, to whatever opportunity we had. We knew that the story was relevant right now, and so important to get it out to our peers, loved ones and people we don't know.
I originally thought the play was a comedy. It was funny; however, it was also so sad.
I know. It's beautiful for me, because I know that Max had been working on this piece, and to turn such a tragic event and give it
so much life and make it exciting and thrilling…like you said, a comedy where you're so warm being in this bar with these patriots and you're riding this journey. Sadly enough, I believe that's how it was in 1973, where they had this secret place where they could come and be themselves. It was music and all types of things. I feel it's how it would've been in that time, and for so many people to be taken away so quickly…
Honestly, I didn't know about the history and the re either until I interviewed Nathan and Michael Longoria.
I think that another thing for me was when I was reading the script – I'm originally from Orlando, and I was home when the Pulse thing happened, and some of my classmates were involved, and that just hit in a different way for me. I live in New York City, so I'm mostly here, but I happened to be home that weekend for a family reunion. So as I was reading the piece I was telling my agent that I need to go in for this, because it was for me. It was for me, Jeremy. This was so necessary to give back to my friends and the community. So many people lost their lives, and I was like, "We have to talk about it." For me, it feels like therapy every night. Getting to dig in to the story and see how the audiences change, and working with all the characters that bring it to
life and make it fun to go to work. And I think Max has done such a beautiful job creating the music that can swell and make you feel. I think that's why we go to the theater. Through our art, it's great for us to educate our audience, which is exciting and fun and very inspiring.
Did you have to prepare for the role, and how did you prepare?
I think I'm a little bit chill, but it is fun to go from 0 to 100 real quick, and be sassy. I know that in the rehearsal space we created different imagery, pictures on the wall, the culture, so we got to dive into that, and that was exciting and fun. To hear about what it was like, what was legal and what was not legal, and see how similar things were then to now. And the writer, Max, with Trump being in office, and some of the things being said in the media about politics, he would come and change the lines daily because something happened. It was so crazy. I thought, this is happening now. So that was kind of fun, to just jump on the journey for that. A lot of the cast has been doing it for years in the workshops and readings to kind of develop it.
I just kind of hopped in. It's been such a great experience. It's fun and it's thrilling, and it's so important. It was hard for me in the beginning, because I had moments where I just felt like breaking down. It just felt so close to home. It was special to me. I said, "Let's work through that," and nd a place where I could act that out and tell this amazing story. That was the preparation I think for me.
I think after the Orlando thing happened I came back to New York and separated myself as if it wasn't so close to home. It touched
so many people, and it was so tragic to hear about, the people that I loved from high school. I was trying to avoid Facebook. One day I had a breakdown with my mom. I was home, and I just started crying and having a panic attack. She asked what's wrong, and I think it was just that I wasn't talking about it. It was pent up. It was hard for me to try to go to that place, because it was so real.
Theoretically, you could've been at Pulse that night.
I could have. I had never been there myself, but I could've been out. I live 15 minutes away from where it happened. There were helicopters, so many things. It was just crazy. For me, I needed this piece right now. For me, I needed this piece for the community. So many people don't know about it. I just feel like it's my job; it's my duty. I believe inside that I need to tell the story right now.
Well, you tell it very well. Besides the play, is there anything else that you would like to promote for yourself?
Yeah. A couple of weeks ago I released a new single called "New Love." I've been working on some stuff and recording music. Now that the show is open I can get back into going to the studio and doing all those other exciting things, all of the projects, and all of the things we do as actors. I hope to be putting out an album or an EP this year, but I wanna make sure it's done right. I do have my new single out.
The View UpStairs is performed Tuesdays, Wednesdays and Thursdays at 7p.m., Fridays at 6:30 p.m. and 10 p.m., Saturdays at 6 p.m. and 10 p.m. and Sundays at 6 p.m.
The show is at The Lynn Redgrave Theater running through May 21 at Culture Project (45 Bleecker Street, New York, NY 10012). Tickets, which are available at TheViewUpStairs.com, are $45-90.
Student Rush tickets are available at the box of ce prior to curtain for $35 (cash only).