In his new single and music video, "Prince", NYC-based out artist Jack Tracy shines the spotlight on toxic masculinity within the gay community.   Jack believes that the only way the world can evolve from perceived gender roles is through a reexamination of expression and that if it is going to start anywhere, it should be within the LGBTQ community.
The music video features NYC contortionist and GoGo dancer Grasshopper Mitch.  Directed by JJ Bozeman,  it echoes the song's critique of gender labels.  It depicts disgruntled boyfriends and girlfriends as they drag their male lovers into an art installation where the men are confronted with gender deconstruction.
Bozeman, who is also an actor who most recently starred in the LGBTQ political film, Snowflake, appears in drag in the video.   Haulston Mann, who starred in the third season of the LGBTQ series, History, playing the role of a muscled-up, cocky, game-player, takes on an androgynous persona in "Prince".
Jack, of course, takes it one step further.  He is portrayed in the video as a celestial angel prince.  "The inspiration came from the way cupid is portrayed in Renaissance paintings," he explains.  "I really wanted to do a music video that worked more with imagery over narrative."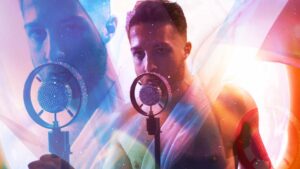 "Prince" follows Jack Tracy's previous releases from his Love Yah ep, the title track and "The Feels".  Where "Love Yah" was an upbeat club track, and "The Feels" was broody and dark, "Prince" sits right in the middle of the EP and, as Jack Tracy explains, "bridges the transition from the dance songs to the moody mid-tempos.  If Love Yah was a theatrical show, 'Prince' closes Act One."
He also hopes fans are willing to embrace a pop song that is about something other than partying or their own fierceness.  "I want concept songs to come back into vogue," he says.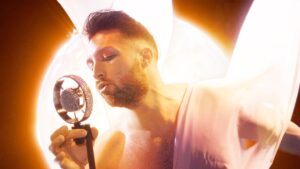 Jack Tracy is the founder and owner of Necessary Outlet, a production company that has produced several LGBTQ works including three critically acclaimed seasons of the web series History.
Jack and JJ will also soon premiere a brand-new weekly LGBTQ dating-themed podcast based off of Jack's pandemic-era web series, Dying Along, Together. It will feature special guest stars Sherry Vine, comedian and drag-enthusiast Mano Agapion, and more.  The first six episodes of the podcast will be sponsored by sexual wellness product-maker Satisfyer.
Love Yah, Jack Tracy's third studio album, follows his previous albums, Older and For You.
Jack's Tracy's "Prince" is being distributed independently and is available on Apple Music, Spotify and all digital platforms.