The Newest New York Nightlife Phenomenon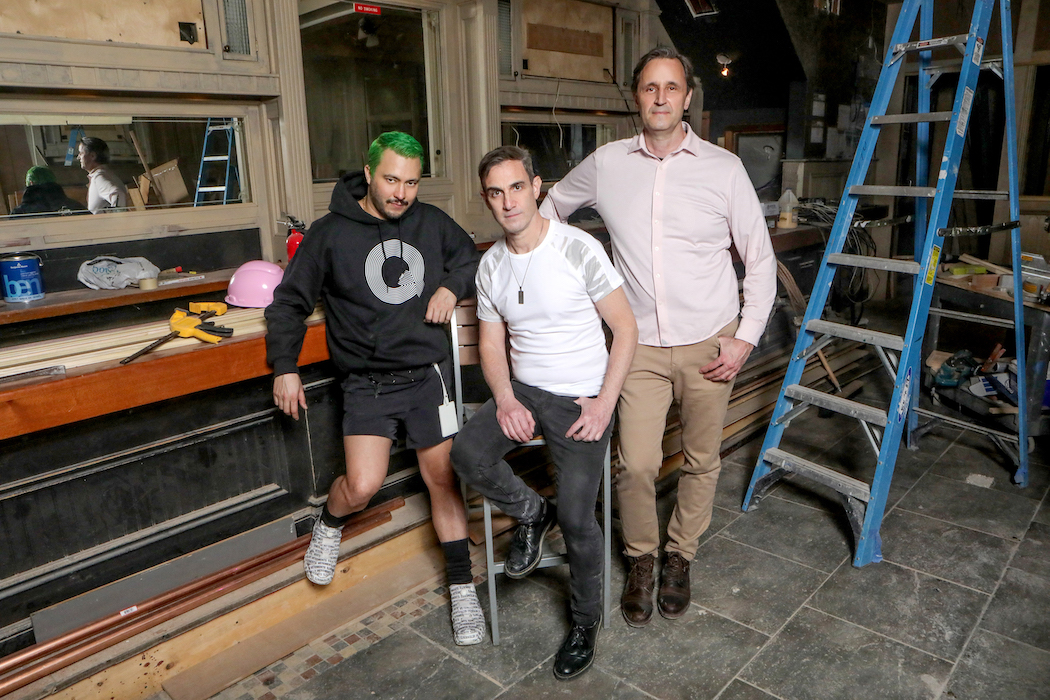 New York City's newest nightlife phenomenon promises to be an immersive, innovative and exciting adventure. It's spawned from the need for the LGBTQ community to finally emerge from isolation and rock this town. Owners Bob Fluet, Frankie Sharp, and Alan Picus are planning to open when things are safe enough, Sharp telling insider Michael Musto that the club will be in Hell's Kitchen. The three major owners agreed to give us a sneak preview.

INTERVIEW with FRANKIE SHARP
Hi, Frankie. For those readers that have not been to one of your events, tell them a little about you and your nightlife background.
I moved to New York on Sept 11, 2009 from San Francisco. I wanted to work in fashion, so I got a job assisting a designer showroom owner, which turned into some boring desk job selling fashion wholesale. It was a dreadful experience, only because I realized I'd rather be out till 4 AM at the clubs, and having to be in the office at 9 AM was NOT working for me.
I got fired from that job and eventually fell back on what I knew best: THROWING A PARTY. So I started organizing a small weekly night called "EVERYTHING" at the old Bedlam space in the Lower East Side, owned by the guys who now own Atlas and Club Cumming. It was a tiny hole in the wall party, but with huge personality. You had this sceney, intimate dance party, but with big guest DJs and performers like Hood By Air, Casey Spooner, Andy Cohen from Bravo, Mykki Blanco and Sky Ferreira, and we were one of the first parties to start booking the Ru girls. It was about celebrating the queer spectrum in all of its nonbinary flow and to keep the vibe there cross-genre, cross-generational, cross-cultural. It was a little dash of everything, which is why I called the night "EVERYTHING: A Party For Everyone".
I won a Paper magazine award for Best New York Party that year, which caught the eye of the celebrity venue owners of the Westway (also of the Jane Ballroom) to produce their big gay weekly rager, which eventually became the infamous "WESTGAY". WestGay ran for four years and changed my life. It was the same "everything and the kitchen sink" approach, but this time with a budget. So it was glamour, but it was all sleaze at the same time. It was sickening House beats in one room and Britney Spears and disco in the other. In the main room, we had performers like Azealia Banks, Zebra Katz, Scissor Sisters and every beloved drag queen, both local and from television. Lady Miss Kier of Deee-Lite DJ'd opening night and that was quite a scene. Warhol superstar Holly Woodlawn (RIP) performed there once. That night, she leaned over to me and said "Thank you for bringing me home"–the most amazing compliment anyone has ever given to me about a night I produced. I'll never forget it. Clearly, I have an affinity for old New York.
Since then, I've been producing weekly parties everywhere–at the Jane Hotel, Rebar, Metropolitan in Brooklyn, both Dream Hotels and a multitude of one-off club nights in between. I was Program Director for 3 Dollar Bill, getting them off the ground their opening year, and continued to consult for them after. All of this shaped me for my experience of becoming an owner and operator of THE Q, a venue of my very own.
Which events will you be offering and promoting for The Q?
We will be doing all of our own events, as we don't plan to bring in outside promoters.
I will be working alongside Alan Picus, promoter and now my business partner extraordinaire, on all of our club nights together. It's a chance to take the ideas we both had over our collective years of experience and make them brick and mortar under one roof and even have a chance to make them happen simultaneously, since the Q has multiple rooms. Between Alan and myself, we know everyone.
Since the club is so vast, will there be new events never yet experienced?
We'll be doing my usual weekly, sleazy, soundtracked Gogo nights, our high energy Club nights of house and techno in our towering nightclub on the top floor, and a classic Sunday Tea Dance, but also I'll get to bring new offerings to the neighborhood, like a Vogue Ball with Leggoh Johvera (formerly of Labeija), not to mention our very own Q jazz band that will always play on the ground floor in the early evening all week long. I hope to make our programming a bit more elevated than what I've done in the past, so you'll find more burlesque, performance art, Broadway stars popping through, and A-list-headlined comedy nights, and we all love a drag show, so I am excited to give people our brand of a good old-fashioned drag production. Anyone who knows my showmanship knows I lay it on thick from all angles, so I look forward to gagging the children.
You've been successful in promoting events for many clubs. What is your secret for success?
My approach is always doing it from the customer's perspective. So I imagine if I was sitting pretty turning lewks in the booth or the cutie nerd hiding in the corner or the shirtless extrovert on the dance floor…What would I want? What is too much? What is not enough? What makes me FEEL IT? And I create from there.
I also make sure that everyone is represented, from the talent onstage and behind the DJ booth to the guests strutting through the door. As much as a lot of these venues claim to be diverse and inclusive, I actually am and always have been. I come from a unique perspective of being a queer, Asian-American, often times green-haired weirdo with too many accessories –but I am also a musical theater freak, a jazz connoisseur, a lover of comedy and storytelling and I am a conscious thinker and my closest friends are in art and fashion, which is its own kind of theater. So I love incorporating all of those things in my events, and I think people feel that and respond to it lovingly, because it's authentic.
Do you have a personal favorite event, and if so, why?
Gay Pride! Pride, as long as I can remember from my summers in San Francisco to the bonkers parade in New York, has always been the beginning and the end of the year to me. It is a great time of immense gratitude for everything we have that was brought to us by the lives of the brave queer folks who came before us and the trans activists who spoke and put themselves out there just so we can take up the space we do today. We can never forget that.
My favorite NYC Pride was four summers ago. I was DJing on a float with my best friends for some corporation that paid us a boatload to party our faces off on it. The sun was beaming down on us and we felt like we were levitating. The cheers and the love from the crowd were roaring back and forth like it was thunder and it was unlike anything I've ever felt. All of a sudden, the generator went out and my speakers died. We were floating down the street in radio silence and I was fully panicked. As we turned the corner and we all saw Stonewall, all of a sudden there was a loud POP and a bright spark, and out of the speakers came a heavenly sound: The beginning synth and kick drums into that trill guitar and that angelic voice of Donna Summer whispering in that high soprano "I FEEEEEL LOVE"!!!! We all cheered…and then we wept.
Will you be adding more events as you go along?
The great thing about THE Q is we only plan to compete with ourselves. So we'll be able to live and move in the space and see what people want, what works and what doesn't and just focus on that and make it happen. THE Q will build itself and evolve as time goes by and it is an honor that I get to be part of a team whose goal is to make THE Q not only a money-making nightlife venue, but post pandemic, is now a space that is quite literally the product of love harnessed and a celebration of the tenacity of the human spirit.

INTERVIEW with BOB FLUET
Hello, Bob. What made you decide that you needed a much busier workload, to open a four-story, giant nightclub in the heart of NYC?
I love creating. I'm happiest when projects come to life .
You have teamed up with two very successful nightlife promoters to entertain a fresh, new, eager, awaiting city full of partygoers. Are there any plans to add any other surprises to the exclusive ownership team of the Q?
We have some very fun investor folks that we will be able to announce when the time is right. But right now we're focused on building the ever growing harmony with the three main partners of myself, Frankie and Alan. We're learning so much from one another, as we all come from such different perspectives. We can still laugh with each other a year into building this, so that's a good sign.
You and your team have made Boxers best recognized for hiring and training the most personable and handsome, fun staff. It's one of the favorite gay places to go in NYC, with friendly door staff and top DJ's. Will the Q follow those same footprints ?
Absolutely. It's our collective approach to make sure that THE Q feels like New York. And that is diverse, welcoming and inclusive, but it's also sexy and fun, and that comes in many forms, shapes and sizes. From our staff to our crowd to our talent, we're going to represent all of what New York has to offer.
Word has gotten out that the Q will have food served in the club, as well as several rooms of special entertainment each night? Are there any plans to have international acts?
We will be doing a limited menu for happy hour and a small menu for late night, but we are definitely going to do a good, old classic brunch on the weekends. We have some surprises in store for our kind of brunch. I think we're gonna have a lot fun on the weekends! And yes, Frankie and Alan, like always, will have talent lined up from all over. One of our greatest assets at THE Q is that we have amazing options of performance spaces for talent.
Being a bit early in the planning stages, will the Q be open seven nights a week? Will the club be sectioned off on the less busy nights?
Less busy nights? Frankie hates hearing that, as he seems to think it's going to be crazy seven days and seven nights a week, so we're just gonna go with that, LOL. But we're four stories with six different experiences throughout the space, so there will be a lot of different kinds of programming to offer for people who are a little more rambunctious and for our crowd of people who want more of a lounge or show experience and some breathing room.
VIP areas are expected to be a huge phenomenon in the future, to allow small gatherings of friends that haven't partied together in quite some time. Will you be having bottle service and reservations for VIP services?
You will always be able to stake your claim with us with a reservation, and we will always encourage safety and comfortability levels, post pandemic. And bottle service will definitely be a thing on the top floor nightclub. As for "VIP", sure…but we always say everyone will be VIP at THE Q.

INTERVIEW with ALAN PICUS
Congrats, Alan. What will your role be at the Q?
Produce amazing parties.
How will you be working along with Frankie Sharp?
I am very excited to finally get to collaborate with my celebrity colleague and Queen of NYC nightlife.
What can the patrons-to-be get excited about?
Well, If size gets you excited, then our four-floor, five-room pleasure dome will surely get you pumped. Instead of bar hopping through HK, you can simply check your clothes at the door and hop between floors all night, dancing to your favorite DJs, catching a show in the cabaret lounge or cruising the plethora of dark spaces.
What events are you planning that you've already done successfully?
Gosh, it's always tough picking favorites. There have been quite a few parties over the decades, lol, from weekly parties in NYC at Splash, XL, Stage 48, Berlin and Copacabana to the many around the country. My seven-year production of PENTHAUS Fridays on the opulent Copacabana rooftop was probably my most fun gig. Fabulous fashionistas and drag queens mixed and mingled every week with a diverse crowd of eclectic, super fun, gorgeous guests dancing to the beats of great DJs. Expect a repeat of that experience at THE Q, which ironically is just two blocks north.
What is your favorite event and why?
Pride weekend. It kindles a spirit of unity, pride and family in the community. Every guest walking into THE Q will similarly feel proud and welcome in our gay owned and operated venue. We are not building a club, we are building a magnificent home for our friends and extended family to enjoy and make amazing memories. Every night at THE Q will feel like Pride weekend!