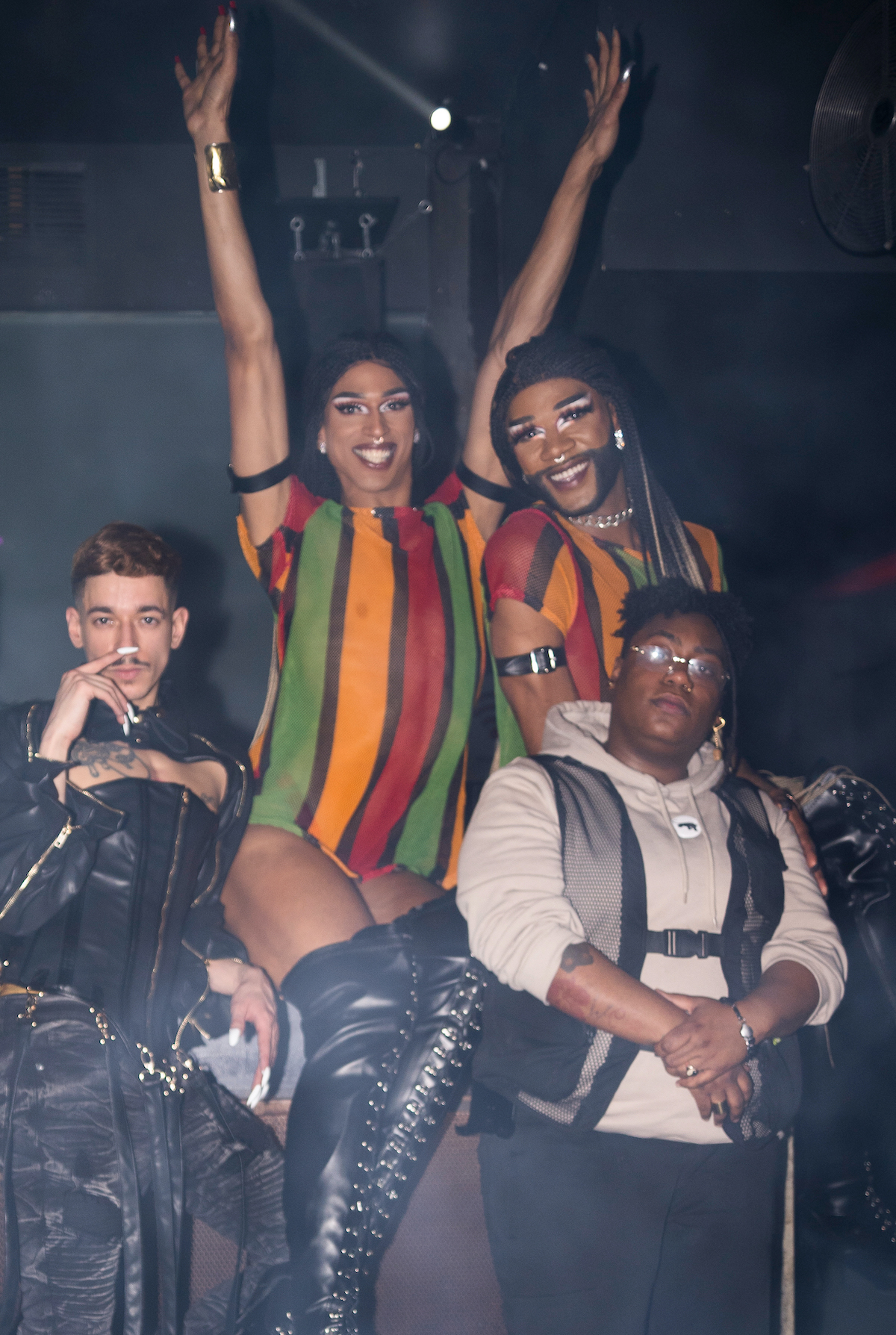 How do you throw a New York City house party? It's not like any other event. It takes the right combination of style, unique individuals, great music, and the perfect spot–a safe place where all of your guests can get together to feel free and have a good time with the best music and a night filled with dancing. And don't forget the drink specials! HOUSE PARTY, hosted by Jayse Vegas and the Dragon Sisters, puts together the right mix of all that. Every first and third Thursday at REBAR CHELSEA, this bi-weekly party combines the best of drag, live music, and club energy to get your weekend started off right.
Let's get the party started by taking a look at the dynamic collaboration that built this successful night, which just celebrated its sixth month milestone– starting with Jayse. Jayse Vegas (@jaysevegas) is a non-binary recording artist based in Brooklyn. Their music, style, and performances have taken them to stages throughout the tri-state area. From award shows to local bar gigs to college campuses, this entertainer has been climbing their way to the top since 2015. Vegas' original music, videos and work within the New York City LGBTQ+ nightlife has landed them multiple awards, magazine features, show opportunities, commercials, and even Congressional recognition.
In 2022, Jayse plans on releasing THE GAY AGENDA 2, "with visuals, sounds, and performances that are just as captivating as its first installment." They are also looking into the realms of modeling and TV productions. This queer, Latinx they/them is on a mission! Stream THE GAY AGENDA and more by Jayse Vegas on all music platforms. Always working on something creative, Jayse was the impetus that brought the party concept to its residence at REBAR through their longtime association with bar owner Franco DiLuzio.
Adding to the diverse and exciting event are co-hosts the Dragon Sisters, (@thedragonsisters). Issa and Odessa Dragon are an award-winning multidisciplinary performance duo based in Brooklyn. They can be seen performing around NYC and New Jersey weekly at Industry, Boxers, the Q, the Ritz, C'mon Everybody and Six26. The Dragon Sisters are major forces in the NYC nightlife scene. They won 2021 Glam Awards for Best Duo and Breakthrough Artists of the Year. Their debut EP, The Fine Print, was released in 2021 and they have presented live music in collaboration with Summer Stage Festival, Lady Fag's Lady Land Festival, Daybreaker, and Zero Community. Their work as artists and cultural leaders has been covered in Billboard and Vogue and on TelfarTV. Their music and performances pay homage to their ancestry and black and brown queer futurity. A hypnotic concoction of Bronx grit with a Southern pulse, their style interprets femininity and power to promote love and confidence. 
Their most recent collaboration is music inspired by Danessa Myricks Beauty, which spawned their new single, "Beauty Supply". Available on all platforms, the song is an affirmation to unapologetic black femininity and will be followed by more new product dropping in Fall 2022. Learn more at thedragonsistersworld.com 
Of course, you can't throw a hot party without a fierce DJ. DJ Samuella is in the booth each week, spinning Latin, hip-hop, reggae, and more. DJ Samuella (@dj_samuella) is a non-binary DJ, producer, visual artist and youth advocate from Harlem, and is best known as an open platform DJ specializing in all genres of music. Samuella has collaborated and performed with ColemanCollective, Indigo General, DJ Boston Chery, the Dragon Sisters, DJ Xtina Starr and Jewel The Gem. They have produced and released singles receiving over 40K views and streams. In 2017, they were featured as a streetwear designer in Rainbow Fashion Week. This coming June, Samuella is launching "Realms of Melanin", a BIPOC centered dance party celebrating ALL BIPOC, especially QTPOC. 
Through association and knowing the venue to be a fun and safe community environment, Jayse approached REBAR with their diverse event idea. Then, together with the Dragon Sisters and DJ Samuella, they presented the concept of HOUSE PARTY. It didn't take long before the Dragon Sisters and Jayse were in residence with HOUSE PARTY. With the addition of DJ Samuella to the team, it was pure magic.
YOURE INVITED! House Party happens every first and third Thursday of the month at the iconic REBAR in Chelsea (225 West 19th Street, New York NY, 10011). The party starts at 9:00 PM with shows and drink specials all night. And to round out the month, don't miss Kareem McJagger's DANCE DOWN on the second and fourth Thursdays at 8pm.