BY MICHAEL COOK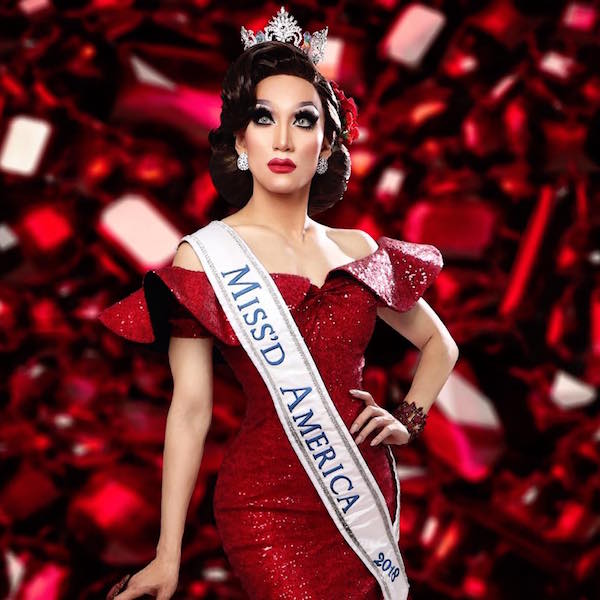 PHOTOS BY JAMES MICHAEL AVANCE
New York City's Pattaya Hart is in a class of her own. From polished Broadway style performances to international trips to Asia to teach, Pattaya has somehow found the time to snatch the crown of Miss'd America as well as compete for the Miss Continental title! In between dance classes and gigs, Pattaya sat down with me to talk about her path to the Continental stage, what it was like hitting the stage with Katy Perry on "Saturday Night Live" and how her Broadway sensibilities have shaped her career.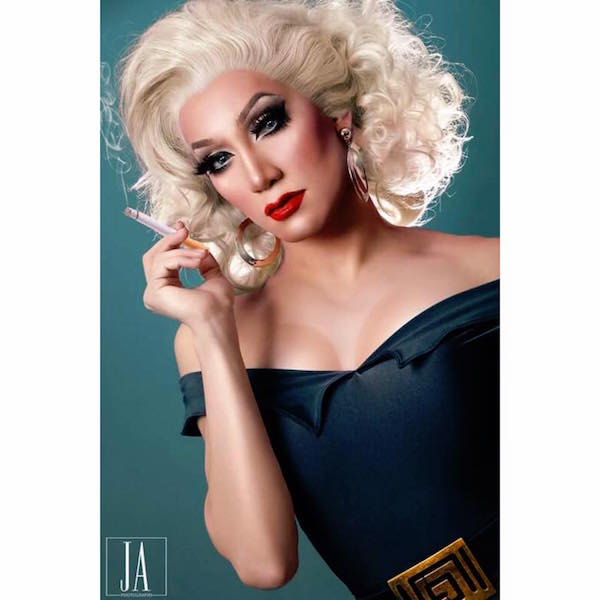 For those that have never seen Pattaya Hart on stage, how would you describe your performance style, and drag as a whole?
Pattaya is a fun, ditzy, Asian glamazon. Pattaya is a showgirl, dancing diva and a pageant queen who loves fashion, pop culture and Broadway.
You are known to perform quintessential Broadway numbers with razor sharp choreography. How do you choose your material? Any favorites that really stand out?
I've been a fan of Hollywood classics and Broadway musicals since I was young. Every time that I have
to come up with a big performance number, I would think of what I, as an audience, would want to see Pattaya recreate and bring it to life (with a hint of drag/fantasy). I'm also a huge fan of Bob Fosse and Chita Rivera, so many of my successful performance numbers have drawn inspiration from those people. "All That Jazz" is my all-time favorite number to perform and choreograph. This performance has won best talent at the nationals of the Miss Continental 2017 Pageant, Miss Liberty Continental 2017 pageant and Miss'd America 2018 pageant.
How did Pattaya Hart get her start in the extremely competitive New York City drag scene?
Pattaya got her start from competing at several drag amateur nights, back in June 2012. One night a bunch of girls that were working at the infamous Lucky Cheng's stopped by the show after their shifts and saw my performance. Then I got recruited to come audition and join the Lucky Cheng's family (in October 2012). That was where I got to work and learned a crash- course of drag from so many wonderful, talented and experienced drag performers who nowadays have gone on TV and traveled the world.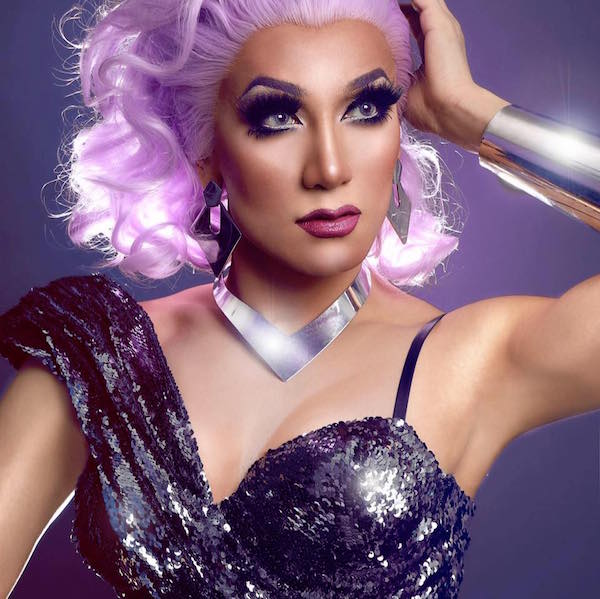 It's so hard to stand out in New York City and in drag. How have you carved out your own niche?
It's great to know your own strength and make that shine. In my case, I always want to be pretty, because when I go see drag shows, I notice the audience cuts more slack for the pretty ones. [laughs] So I aimed to become a pretty and polished queen first, then adding a great sense of fashion and top it off with fierce stylized dancing, then that's my signature formula for Pattaya Hart. My shows and performances cater to an audience with wide range of musical theater, old school classics and commercial.
What are some of your career highlights so far?
2017 was one of the best years for Pattaya Hart's career. Getting to perform on national TV with Katy Perry ("Saturday Night Live" on NBC) will always be one of the top gigs I ever had. Winning the crown and title of Miss'd America 2018, the pageant system where I first got my start in pageantry back in 2015. Making it to top five on my first year at nationals of the prestigious Miss Continental 2017 pageant in Chicago. These three have been the best highlights of Pattaya Hart's career. And this past February 2018, Pattaya was booked to teach dance classes in Tokyo, Japan, for two whole weeks at Broadway Dance Center Tokyo (Theater Jazz and Drag Queen Heel Classes). It was my first international teaching gig, and the first time in Japan for me. And on top of that I had the privilege of performing at the famous FancyHim party in Tokyo while I was there. I had a blast in Japan and I'm looking forward to going back there again.
What is left that you want to achieve as Pattaya Hart? Any aspirations to be on "RuPaul's Drag Race" perhaps?
At the moment, my focus and aspiration for Pattaya this year is to win the crown and title of Miss Continental 2018 in September, as I am already qualified for nationals as the Miss Southern California Continental representative. I would also love to travel more, to teach, to dance or to perform, and eventually hope to be on "RuPaul's Drag Race" one day. So until then, I will keep learning, growing and perfecting my crafts.

Speaking of "Drag Race," several NYC girls have won. How do you think the show as a whole has been for the drag community?
The show has clearly opened so many doors of opportunities for people who do and people who want to get into drag. It makes drag become an easier access in a wider range and platform. That being said, we should also support local drag performers and community.
You are part of a great group of ladies who are bringing a fresh and new perspective to drag in New York City. Who are some of your favorite sisters to perform with and why?
There are so many wonderful queens of New York City that I look up to and have had the pleasure of working with throughout my career. Working and learning from them brings joy to my days/nights. Performing in the show QUEEN at Industry Bar has been one of the most fun and challenging weekly gigs of mine. The same goes for my weekly Sunday Drag Brunch at the Highline Ballroom.
You recently won the crown of Miss'd America at the Borgata in Atlantic City. What was that experience like?
It was like a dream finally come true! I first competed at the Miss'd America pageant two years ago. That was the very first time I stepped into the world of pageantry. With all the help and knowledge I learned from my sister, Serenity Lopez, I was able to place first runner-up. I remember being very rushed, stressed and nervous back then. But after two years, my drag and the pageant queen in me have grown and gained more experience. I went to compete this year with the mindset of a winner and represent myself in the very best way. I was very calm and focused. And the fellow contestants are my good girlfriends, Tina Burner and Sapphira Cristal, whom I adore very much. So it was a very fun, family-like atmosphere backstage.
What do you want to bring to the community, and what change would you like to see as Miss'd America?
As the current Miss'd America, I would love to create and headline a revue show where there's a blend of entertainment, art and education on gender fluidity in Atlantic City. Encouraging more attention, awareness and acceptance for the LGBTQ community on a bigger spectrum through the beauty of entertainment.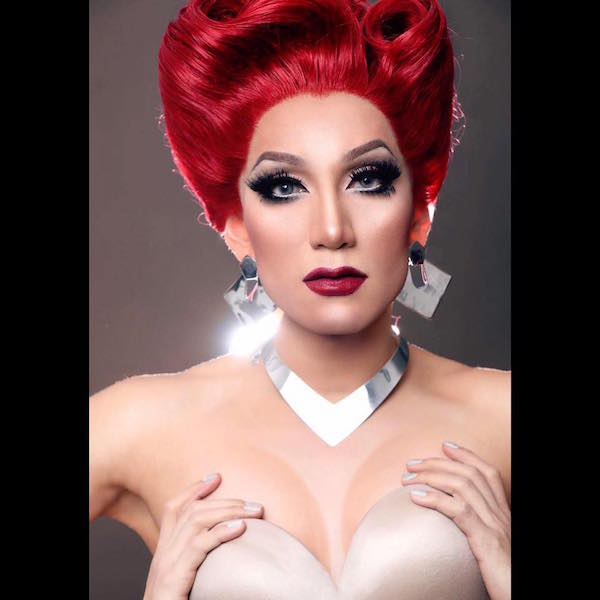 The gay community has had a very trying year, and politically things are very dark. What do you think are the biggest issues facing our community, and what do you see as your part in helping to address them?
I think the biggest issue towards the LGBTQ community are the lack of awareness and understanding about the layers of gender fluidity and human rights. And drag performers, we help blur the line between genders, bring attention about certain issues at hand and enlighten it through our performances, speeches and conversations we put out in public. I hope that a little bit, if not all, of my drag and my aim towards excellence inspire and encourage young performers and people who are seeking for an outlet to do the same, because I believe the faster we as a community stop judging others for their race, shape, size, gender identity, etc., the faster we can come together and rise against the powers that try to put us back into the closet.
What does "pride" mean to you?
Pride is to be proud of who you are and never put others' differences down. Know your own worth and embrace it. Be open-minded and spread the joy of love and positivity.
Most importantly, where can people see you perform?
You can catch me every Sunday afternoon for Drag Brunch at the Highline Ballroom from 12 p.m. to 4 p.m. I'm also in the cast of the show QUEEN at Industry Bar on Thursday nights at midnight (twice a month). And if you love dancing, I'm teaching an advanced-beginner level jazz dance class at Steps on Broadway at 7 to 8:30 p.m. every Monday and Wednesday (Class by Plu Sayampol).