The sexy music video for The Hound's new single, "Can't Let You Go,"  stars adult film fox Adam Ramzi as the no-good ex The Hound can't break free from.
The Hound says he drew inspiration for the video from Alanis Morissette's "Your House".  "I wanted the viewer to think that they were watching me moving around my apartment, burdened by memories.  Suddenly, they realize that it's not my place, that I've broken into the home of my ex who is now with someone else."
Co-directed by The Hound and Adrian Anchondo, the music video features choreography by Andrew Pearson and some incredible dance moves by Ramzi.   It also has the distinction of being banned from Instagram for being "too sexually explicit".
"Adam brings the relationship to life in the video," continues The Hound.  "There were a few scenes that we kept doing over and over again and it got so very real. I could tell we were both channeling some true life experiences."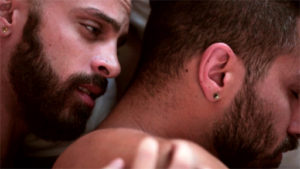 The Hound knows about the dangers of a toxic love.  He admits to being in a low place in life when writing, "Can't Let You Go."   "I didn't know what I wanted anymore.  I was very depressed and found myself in an incredibly toxic relationship with someone who suffered extreme highs and lows, and I was coming to terms with the fact that just because its love, doesn't make it right. People also love heroin and meth, and he was definitely like a drug to me.  It took everything falling apart for me to finally walk away."
One of the lyrics that resonates with him most is:
I could see the end,
but it was easier to pretend,
that we'd make it out alive and I wouldn't lose a friend.
"There's this awareness that the relationship would eventually fall apart, but until it did, things could be swept under the rug," he explains.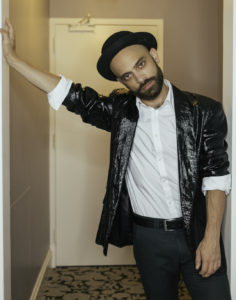 The Hound grew up in Santa Clarita, a suburb outside of Los Angeles.  Music was an escape from his parents divorce and his dad's alcoholism.
He came out 14, when, as a freshman at Los Angeles County High School of the Arts, he caught the eye of a popular senior.  "It was the second week of school and I heard this very cute and talented guy liked me," he remembers.  "I wasn't out, but that changed very quickly."
He'd go on to date other boys in high school, including Lawrence Alarcon, his eventual bandmate. After graduation, they formed Orchid and Hound in San Francisco and began performing and releasing records.  When they broke up, The Hound kept his name.
"My songs are about my life and the lessons I've learned," he explains.  "Being human means making mistakes; hearing that voice of reason and consciously choosing to ignore it.
"One thing I have learned is that relationships define us and we struggle with who we are without them. The worst ones can be impossible to let go of."
The Hounds' "Can't Let You Go" is available on iTunes, Spotify and all digital platforms.  The music video is available on Youtube.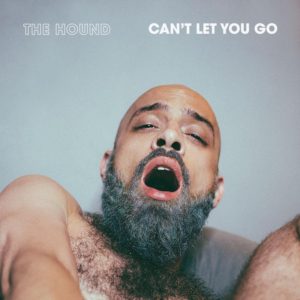 Visit his website.