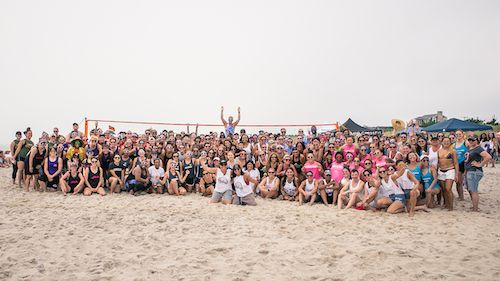 Known as one of the most popular vacation destinations for LGBTQ individuals, Fire Island is a little piece of heaven that attracts hundreds of people every year with its beaches, drag shows, water taxis and summer cocktails.
One of the most notorious annual events in Cherry Grove, Fire Island is the LezVolley beach volleyball tournament that now gathers 25 teams and over 200 players for a day of fun-filled competition. The event has been supported by the historic Stonewall Inn since the very beginning in 2011, and all the games are professionally officiated by New York City's Gotham Volleyball league, the largest gay sports organization in New York City founded in 1981.
The games are spread out across 5 volleyball courts set up on the Cherry Grove beaches and last from12PM to 4PM, when the tournament's winners receive their medals and prizes, acclaimed by the crowd.

Beyond the competition, the event also attracts each year hundreds of visitors and spectators who come from all over New York, Long Island, New Jersey, and Pennsylvania to watch the games, cheer on their favorite teams and meet like-minded individuals with similar interests. The atmosphere is light, summery and exciting, with people from all age groups mingling, relaxing, or partying. Even better? The event is kid and pet friendly (under adult supervision).

To celebrate all participants and bring the community together, the games are followed by an after party that takes place at the Ice Palace from 5PM until the night ends – a night that is always one to be remembered.
Celebrating 10 years of LezVolley
After being cancelled in 2020 due to the COVID-19 pandemic, the annual LezVolley tournament is BACK and will take place on August 14, 2021 in Cherry Grove, Fire Island.
The event is celebrating its 10-year Anniversary, an incredible milestone for business partners Danielle and Kristine who wanted to help Cherry Grove stay the number one vacation spot for LGBTQ women by launching a sporting event that continues to bring the community together year after year.
In addition to the incredible Stonewall Inn support, LezVolley is fortunate to receive the support from many sponsors every year. In 2021, Gold and Silver sponsors include Olivia, the travel company for LGBTQ+ women, The Kurland Group, Attorney at Law, Northwell Health Orthopaedic Institute, and Haus of Madusa, LGBTQIA Recording & Production Studio.
Learn more
Go to www.lezvolley.com to learn more about the event and how to get there.