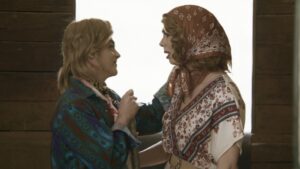 Tammie Brown and Kelly Mantle return for a second season of their hilarious television series, The Browns. Airing Fridays on OUTtv, the show stars Brown as a semi-retired singer and homemaker and Mantle as her delightfully dipsomaniac manager and best friend.   "I grew up on shows like Step by Step, Full House, and Family Matters," says the series' creator John Mark (who also plays the role of Brown's son).  "I wanted to make a show that implemented traditional 90's family sitcom tropes into a queer space."
The cast is thrilled to return for another season.  "Tammie and I are two comedic corpses living out our Hollywood fantasies," says Kelly Mantle, going on to explain how the two became fast friends and collaborators: "When I first met Tammie, she was singing to herself in the mirror while guzzling champagne and playing with dancing troll dolls.  I thought she was the ghost of Edith Piaf!  I immediately knew this was the kind-of batshit crazy I needed in my life."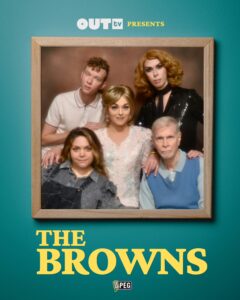 Tammie Brown is the drag persona created by Keith Glen Schubert, best known for her stand-out appearances on RuPaul's Drag Race and RuPaul's Drag Race All-Stars.
Kelly Mantle also competed on RuPaul's Drag Race, and has appeared on TV in Lucifer, Modern Family and Mike & Molly, among others.  Their uncle is the late great Mickey Mantle.
On the popularity of Sheila, the character they play on The Browns, Kelly Mantle says, "People connect with Sheila because she has no filter, no censor and no shame. She says what we're all thinking. She's bold and blunt, but it goes down smooth like Southern Comfort."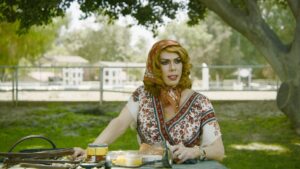 The first iteration of The Browns was a few improvised sketches John Mark and Tammie Brown made in 2018 at Mark's home.  "It was a casual two days of playing around and shooting on a micro-budget," John Mark remembers.  "It wasn't until people started responding to the skits online that we realized there was potential to scale the show into something bigger."
In early 2020, Producer Entertainment Group signed on as executive producers and helped John Mark successfully pitch the series to OutTV.
The first season consisted of three episodes with content built from the Instagram sketches. The new season of The Browns is five thirty-minute scripted episodes and welcomes several gay guest stars including drag legends Katya, Honey Davenport, Mariah Balenciaga, and Sherry Vine, as well as non-drag notables Cazwell and Jen Kober.
For more information, visit OUTtv.com.