Just looking at the sexy-licious Stuart Reardon is motivation enough to want to become a member of Fear Nothing Fitness. However, Shaun T has nothing on this training program.
Model and professional athlete Stuart Reardon has developed a revolutionary fitness program that is sure to tantalize anyone who desires a strong, healthy, thin and fit body. It includes but is not limited to "Fat Burning Blast," "Abs Core Blast" and "Max Out" classes, diets—and Skype, just to make sure. The supermodel has been the poster boy for Axiom, on the cover of many romance books worldwide and is a professional rugby player in the U.K. While visiting New York from Manchester, England, I held him hostage for another interview before he left for his photo shoot in Cherry Grove.

What have you been up to since we last spoke?
I've been playing rugby, I've been working out, I've been doing my fitness program and most recently I attended an event in Vegas, Love N. Books. It's an author event where the really good authors go and the models.
So you're a cover model for these books. What do the models do?
We have a meet and greet. There are book signings. A lot of people collect these books. We have a few drinks.
Did you drink?
Yes, I had a few drinks. All of the models are from different parts of the world, so it was good to hang out and get to know each other. We all attend these events.
And now you're in New York because?
I'm in New York for a bit of a holiday and shoots with some photographers, meet with a modeling agency and then back home, back to playing rugby.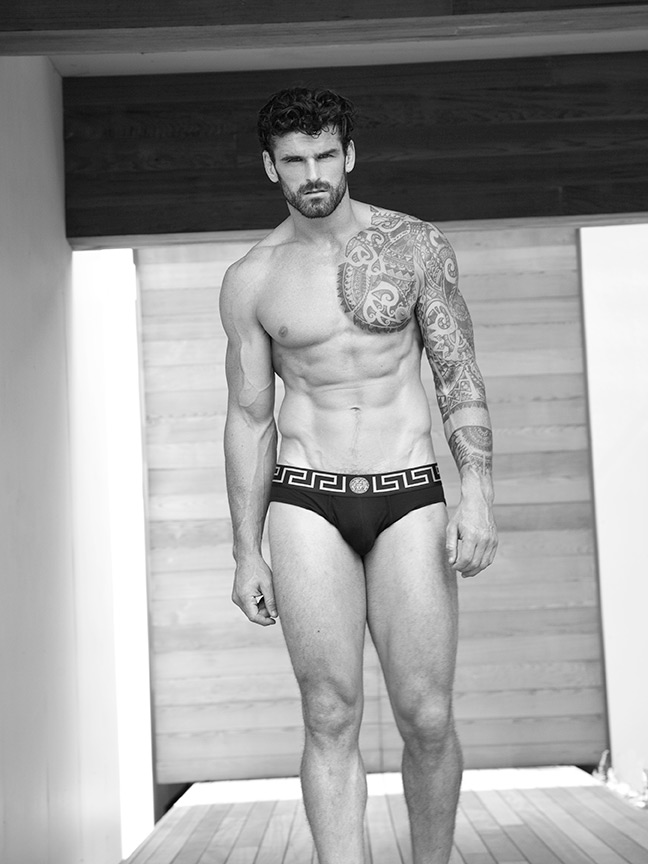 How are the Crusaders doing back in England?
They're doing really well. I think they're the top three now. There's about six games left to go before the playoffs. I've been injured for about eight weeks though.
Is that why they are doing well?
When I get back I should be fully fit. Yeah, they're doing well without me.
Tomorrow you are doing a photo shoot in Cherry Grove.
Yep. I've been to Fire Island once before, but not to your house. It's a beautiful place. It's hard to believe that it's so close to New York. So I'm looking forward to seeing it again, yeah!
How are you doing with your online, interactive fitness program?
Fear Nothing Fitness. Yeah, it's going really well. I've got a great bunch of girls on it. I'm trying to grow it. It's online, so it could grow into a great business. It's doing real well, and I've got some good results. I'm hoping it could be a career for me to go into, as a fitness trainer. I can't play rugby forever, always getting beat up.
Well, I'm sure you have a few more years playing rugby.
Yeah, but I can't play indefinitely.
Well, the modeling career seems to have taken off.
Yeah, I keep getting more covers.
How do you do your online fitness? How does it work?
People sign up for it. I do 12 videos a month, three different videos a week. You sign up, you get a Skype call, you watch the videos and you get a diet plan. I work out with you. The videos are transported from my website straight to your house. You can watch them on TV, anywhere, as long as you have Wi-Fi and a laptop. You work out with me, try to beat my scores—very similar to Shaun T. It's all body weight. You need very little equipment. You can work out anywhere in your own time.
Does it target different areas?
Yeah, for example, I have abs on Wednesday, I've got Max Out on Friday—it's a class.
You don't expect us to do upside-down push-ups against the wall, do you?
No, that would be dangerous if you fell over. No, it can be suitable for any level of fitness. You can work out at your own pace.
But you're not going to yell at us.
I am yelling, but not directly at you. It's up to you to work out. You get out what you put in.
How many times a week do you work out?
Personally?
Are you personally working out while you're training?
They are 35-minute sessions with the warm up, so it's a 25-minute workout session. I work out two or three times a day.
A day?
Yeah. You can work out once or twice. Everyone's different.
How about once a week?
If your calorie intake is high, you can work out more. If your intake is low, you don't have to work out as much.
And you have a diet also?
Yeah. There's a diet with it. Every month the diet changes. Every month the videos change. It keeps it young.
How can one join or get information to join?
Just Google my name and check out my website. It's stuartreardon.co.uk. The links are all on my social media.