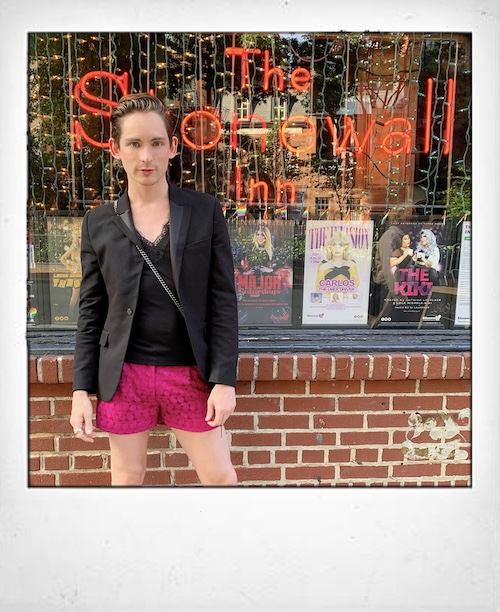 I remember the first time I went to Stonewall.
I'd been living in New York a little more than a year: I didn't go out much that first year because I made so little money, so I never made it to Stonewall… That is, until I developed a crush on BibleGirl, drag queen extraordinaire.
This was before she founded DragQueenMerch.com, before she had a booth at DragCon next to Trixie Mattel. I wanted to get to know her better (and make her fall in love with me), so I went to see her at Stonewall.
She performed on the stage upstairs: I felt like I was in a speakeasy, a speakeasy at New York's most iconic gay bar. I sat at the bar and drank alone, talking to her between numbers. (She never did fall in love with me, but we've been friends ever since.)
Of all the times I've returned to Stonewall, my best memory is last Pride. My boyfriend, James, had never been, and desperately wanted to go.
After maneuvering our way to the bar for a drink, I decided to take him upstairs, hoping the crowds of tourists wouldn't know there was an upstairs. They did: They were doing karaoke, and the line was so long they stopped taking requests for the entire night. I slipped the DJ a $20 bill and asked if he could get in one more request: Mine was the very next song he played.
James and I took the stage, and "Don't You Want Me Baby" began to play. We sang the song together once before, nearly two years prior at Sid Gold's Request Room on 26th Street. It was the first night we kissed.
Stonewall has a lot of history: We all know about June 28, 1969. We all know about the Stonewall Riots, we all know about the uprising of our LGBTQ+ community against police, and we all know about the legend Martha P Johnson throwing the first brick.
For New York City WorldPride, Stonewall is celebrating 50 years since the riots became our history, a history that is still in the making.
The Stonewall Riots were about fighting back against oppression. We've come a long way since 1969, but we still have a long way to go. LGBTQ+ rights are still unbalanced: You can still be fired for being gay in 26 states, there's a military ban on our trans brothers and sisters in place, and trans women of color are being murdered at an alarming rate.
Remembering Stonewall is about remembering where we've been, what we've done and what we have to keep fighting for. And, for me, Stonewall has been about making memories.
Let's march, let's stand tall and proud, and let's make some memories for the history books.