'It's the sound of traveling and excitement and new friends and endless shows and total exhaustionand learning more about ourselves through it'
The exciting and flawlessly original duo, Sofi Tukker, have unleashed their newest album "Treehouse" to the unsuspecting world. The pair, comprising Sophie Hawley-Weld and Tucker Halpern, have quickly elevated their act to stadium size globally. "Treehouse" has been described as "the give and take with audiences—and the feeling of creating a kind of ecstatic communal space—a record that seamlessly marries the vibe of classic house music with deft guitars and exotic percussion."
The band's career took off after their very first single "Best Friend" was featured in an ad for the Apple iPhone X, and then grabbed a Grammy nomination. The song, adapted from a Brazilian poem and sung completely in Portuguese, took off like wildfire. They have toured all over the world and are currently touring North America. They agreed to take a moment from their booked-until-next-year schedules to speak with me about their overnight success. Both of them were full of magical energy, fun and really adorable.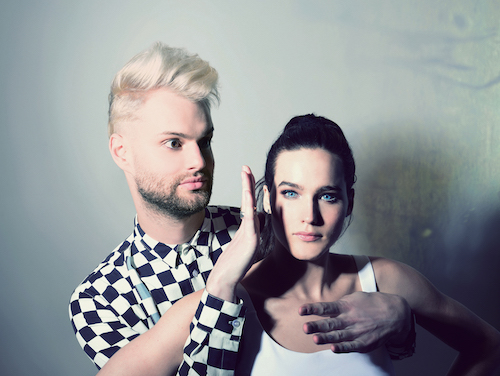 You guys are the cutest things on the planet.
Tucker: You can't even see me all snuggled up right now.
So how did you guys meet and decide to do all of this really cool music?
Tucker: It was kind of a chance meeting. We were both playing at an art gallery. It was our senior year at Brown University. We'd both been going there but had never met. I went early, because I was going to DJ the after party for this art gallery. Sophie was playing sort of a jazz acoustic set, like bossa nova music. I thought it was super beautiful but boring to me. I thought it would be fine if it was dancier. So I approached her after and said, "Can I do a remix of your song?" We started playing together, and that was it.
Love that story. So do the two of you get along?
Sophie: Oh, yeah. It would be so hard to do this if we didn't.
You sing a lot of your stuff in Portuguese. What made you decide to do that?
Sophie: I was born in Germany, and then I moved around the world a lot with my parents. So my national identity is a bit confused. I heard Brazilian music and thought it sounded so sexy. I decided I wanted to sing in Portuguese. Once I was singing in Portuguese, I decided to learn the language, and then I ended up doing a study abroad, and I lived in RIo for six months. I thought I would never leave. I just totally fell in love with the language and the culture and the music. When I came back to the United States, I just kept writing in Portuguese.
Where would you like to go with your music? Do you have an ultimate goal?
Sophie: I think that there are a couple of ways you can answer that. One way to answer this question is that I would say we want to basically live up to our full potential, whatever that means. We want to work as hard as we can possibly work and have as much creativity as possible and see where that takes us. We are open to wherever that does take us.
I think another way to answer that question is that we want to continue having the most fun and feeling the most nourished and uplifted by not only our shows, and the way that it catches people, but also we want to create and discover who we are, and express ourselves. We just want to keep doing this forever and enjoy it.
If you could have your ultimate stage fantasy what would have to happen?
Tucker: I think we'd have to grow an entire jungle on stage. Like a jungle with an intertwined playground. Like an overgrown playground in a rainforest jungle. Then we can like slide around and run around. I think that would work.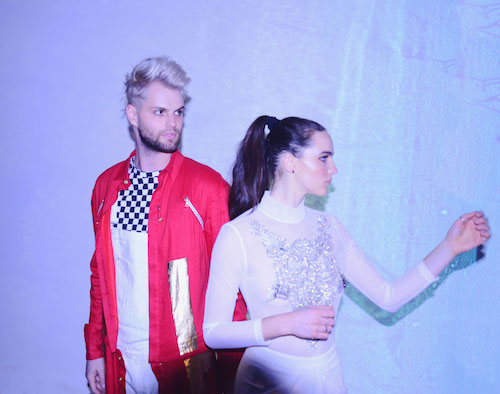 You're in the midst of doing a massive U.S. tour currently.
Tucker: We are as close as we can get to that right now. We have a bit of a jungle on stage. We've had a lot more success in other parts of the world, before the U.S. We've been all around the world as Sofi Tukker a couple of times. We are excited to keep doing it.
You guys are based in New York, correct?
Tucker: Technically we were. We don't even have apartments anymore, because we are on tour every day of the year now. So we don't actually live in New York anymore. We spent most of our time in Europe and South America. It's a lot of international. We just got off of a European tour about a month ago, we did a South American tour and now we're doing this North American tour. Then we are going back to Europe and Asia, and then back to Europe, then Russia, then Hawaii. We are pretty all over the place.
So aside from touring relentlessly, do you have any future projects that you're thinking about working on?
Sophie: Oh, we're working on it, hell yeah!
Tucker: We are finished with the next album already.
You've got it going. If you could tell your fans and followers anything, what would you want them to know?
Tucker: That we are grateful that they are fans and followers. Thank you for being a fan and follower. But also, if you want to escape and have a magical dance party night, then come find us when we are around.
What influences the writing of your music?
Sofie: Honestly, everything. We write while we're on the road and while we are in the thick of life, so everything in life really. The people that we are meeting, the places that we're going, the sounds that we hear while on the way, personal experiences—it's just pretty much everything.
Do you think that music has the power to change the world?
Tucker: I think it can help.
Sophie: Yeah, I definitely think so. I think that good shift of energy every night—we get to experience really positive faces and joyful communities every night. I just feel like, "Wow, you know what, music can make this happen." It may be a small thing, depending on how many people are in the room, but it's momentous when it happens. It feels like this is the world that I want to live in.
That was a really great answer. Is there anything else that you'd like to talk about that we haven't discussed?
Tucker: We are on this North American tour, and then we are going to be all over Europe and Asia for a while. We are just basically touring nonstop. Right now our schedules are all the way through 2019, and it will likely be through 2020 soon. We just want people to come see us.
What's the most fun for you about playing live and touring?
Tucker: I think it's the rush in connecting with all the people. The venues have now gotten bigger. It used to be smaller rooms with a few hundred people, and now it's a couple of thousand people. It's keeping it feeling intimate even in these bigger rooms that is really important to us I think. So it's fun to just connect with the audience.