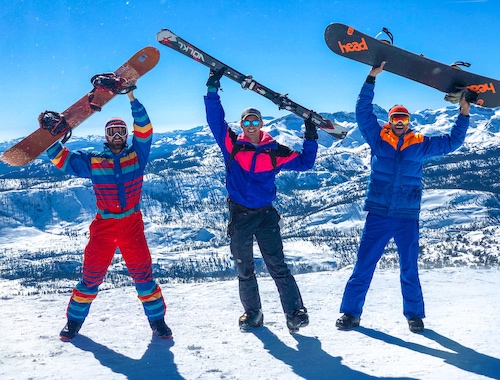 > By Ethan Laird
Yeah, yeah, the summer days of speedos have slipped away, leaving only Instagram memories of the skimpily clad beach boys of Fire Island or Ptown and the poolside parties of Palm Springs. But that means it's time for a costume change. It's time to trade sunglasses for goggles, sarongs for snowboard pants and to turn in your flip flops for ski boots.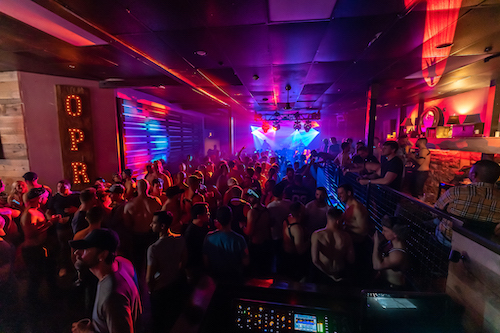 It's adventure time, boys.
That yearning for winter adventure mixed with a love for big gay gatherings is what prompted LA event producer Tom Whitman to look northward and upward from Los Angeles… 10,000 feet upward to be exact. Eighteen years ago, he launched the first Elevation in Mammoth Lakes, California, and the core crowd of California boys quickly built that event into one of the largest gay ski weeks in the world.
In the years since Whitman first schemed up his four-day ski soirée, the Elevation Gay Ski Weeks have become the gold standard of gay getaways, and the largest series of gay ski events in the world. Its growth and legendary status are due, in large part, to Whitman's uncanny ability to be always dependable but never predictable.
Whether it's Elevation Mammoth, the Daddy of the three events with more than 2,500 guys and girls in attendance, or the 10th anniversary of Elevation in Park City, Utah, the home of the best snow in the world, or the triumphant second year in Tremblant, Quebec, you know exactly what you're getting into with an Elevation event: superb slopes for shredding, damn-good DJs for dancing and fun, feisty dudes for… having a nice conversation by the fire.
Whitman's magic lies in his ability to give people those expected extravaganzas that we look forward to every year (the Onesie Party, the Gear Party), mixed in with just the right number of new tricks pulled from his waterproof snowboarder sleeves.
"I'm super excited about Elevation Utah 2020," says Whitman, "and not just because our 10th anniversary is a good excuse to shake things up a bit. It's amazing because so many people who attend have been coming to the Elevation events for five, 10 or even 15 years. Every year, thousands of LGBT guys and girls come from around the world to celebrate not only our community, but also snow sports and these amazing destinations—there's nothing better."
Unlike other gay events, Elevation is as much about the moguls as it is about the mashups. But the music promises to be massive this year, with Whitman unleashing some familiar Elevation names like DJ Josh Peace, DJ Casey Alva and London DJ Adam Turner while bringing some new musical heavy hitters into the Elevation family: DJ Grind in Park City and DJ Dan Slater in Mammoth.
First up is the return event in Tremblant. Taking place January 30 to February 2, it's just far enough after New Year's that you'll be ready for a midwinter gay getaway. After an amazing launch year, ELEVATION TREMBLANT is preparing for more than 500 ELEVATION enthusiasts, sporty East Coasters and sexy Canadians. "Tremblant is always ranked the #1 ski resort on the East Coast," says Whitman, "and the Village in Tremblant is the picture-perfect location for an Elevation event."
Then, prepare for the anniversary blowout of the 10th annual ELEVATION Utah! Set February 26 to March 1, that gives you four weeks to recover from your Canadian kiki before you meet up with 1,500+ bromos and slope sisters for the TENTH annual invasion of the gays in Park City, home of Sundance, the Salt Lake Olympics and plenty of former-Mormons who just wanna let loose. If you haven't been recently, it's worth noting that Park City and Canyons resorts merged a few years back to make the largest ski resort in the U.S., with 7,300 skiable acres and some of the world's most beautiful vistas.
ELEVATION season ends with a little spring skiing. March 18-22 marks the 18th annual Mammoth Gay Ski Week, the crown jewel for ski huntys and board bros alike. This year, they're expecting almost 3,000 guys and gals to take over the Village, transforming this sleepy ski town into a bona fide boy buffet. And if you've never been before, expect to be pleasantly surprised by how friendly everyone is.
Whitman says he started ELEVATION MAMMOTH to offer an alternative to the gay party scene in the great outdoors. "What makes ELEVATION work is the attitude of the attendees, or lack thereof. We encourage everyone to be friendly, to introduce yourself to new people. Every year people return because of the friends they've made and the connections they've forged."
While each ELEVATION event has its own local flavor and flair, there are a few events I personally look forward to every year: The Onesie Apres Ski is a classic (seriously, don't forget your onesie. If you don't have one, you're doing life wrong), and the all-new main event, GEAR, is perhaps the sexiest party of the week. It's like a warehouse party at altitude (don't think about it too hard). The dress code is gear—leather gear, sports gear, ski gear. Just put some THOT into it. (What's the difference between a straight ski week and a gay ski week? A harness.)
Every year, I have a different experience at ELEVATION. You can ski all day and crash early, party hard and sleep in or be the first-chair-last-call hero we all wish we were.
It's that time again. Let's have a ski-ski.
Info on the Elevation events are at elevationgayski.com.