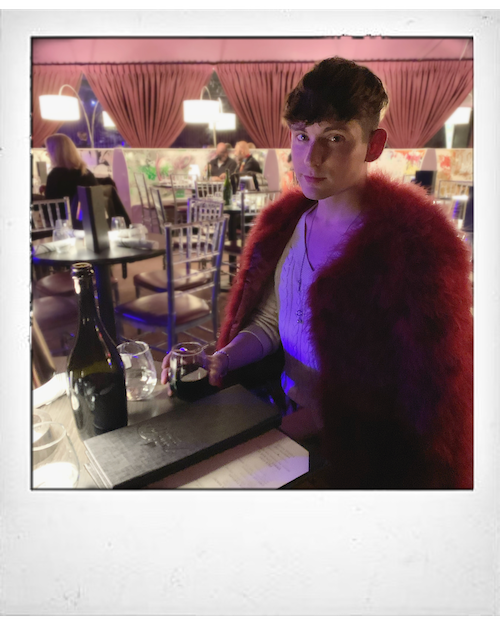 While looking for festive things to do around the city with my boyfriend (besides ogling the store windows up 5th Avenue, wondering what it must be like to be able to afford the clothes in said windows), a friend of mine suggested that I go see Steven Brinberg's show "Simply Barbra: A Christmas Show" at The Green Room 42.

The Green Room 42 is on the fourth floor of Yotel on Tenth Avenue. I'd been there once before, nearly two years ago now, for an original one-man show put on by a friend of mine: we dated briefly (very briefly), and one of his cabaret-styled songs was written about me. (It was not flattering: luckily, I was already drunk by the time he got to it and I laughed the whole way through.)

The Green Room 42 was just as I remembered it: elegantly set and dimly lit, colorful booths hugging the walls with round tables scattered across the floor. The stage, quaint, held a grand baby piano (at least I assume: I don't know much about pianos if I'm honest), a microphone for "Barbra," and a small table with a cup of tea. ("Spill the tea, sis!" I thought to myself after a glass [or two] of Cabernet Sauvignon.) A host sat us at a round table near the stage next to a table for one: I noticed that the table for one was Lori Tan Chinn from Orange is the New Black, stunning in a beaded jacket and thin-rimmed glasses. A few tables over I also noticed Jennifer Westfeldt, known most recently for her role as Pauline in Younger, but to me will forever be Jessica Stein from Kissing Jessica Stein (which she wrote and starred in).

Our server was young and pale, "Adonis," (I wondered if that name was fake), and he took our food order: I got the salmon tartare to start, the Shrimp Scampi for the main, and crème brûlée for dessert. (All were incredible, but the crème brûlée was absolutely my favorite.)

At 8:00 on the dot, Barbra took the stage, dazzling in a burgundy dress with sparkles all down the front. (Her piano player wore a shirt in the same shade of red.) Brinberg particularly shone as Barbra when hitting the high notes, covering fun holiday tunes (like "Christmas Song," "Chestnuts roasting on an open fire—YUM," and one I'd never heard called "Take the A Train Home for Christmas") and, of course, Barbra Streisand classics ("The Way We Were," a favorite of mine, and my best breakup hit "Don't Rain on My Parade").

Near the end of the show, Brinberg did an incredible set of impersonations of other stars singing Holiday hits, from Eartha Kitt to Katherine Hepburn to Carol Channing to Ethel Merman to Julie Andrews… the list goes on and on. My favorite was "Jingle Bells" by a monotonous Bea Arthur. (I laughed so hard I nearly spit out my wine.)

"Simply Barbra" was a one-night event, but I'll certainly see Brinberg when he's at the Streicker Center on March 17, and I'll definitely be back to The Green Room 42—whether it's for talented entertainment, delicious food, wine and more wine, or meeting more wait staff with memorable names.