Who said blondes have more fun? Seth Fornea has been having a ton of fun for years! I sat down with the incredibly sexy and sweet Seth Fornea to discuss everything go-go. Get the inside scoop on NYC's favorite ginger.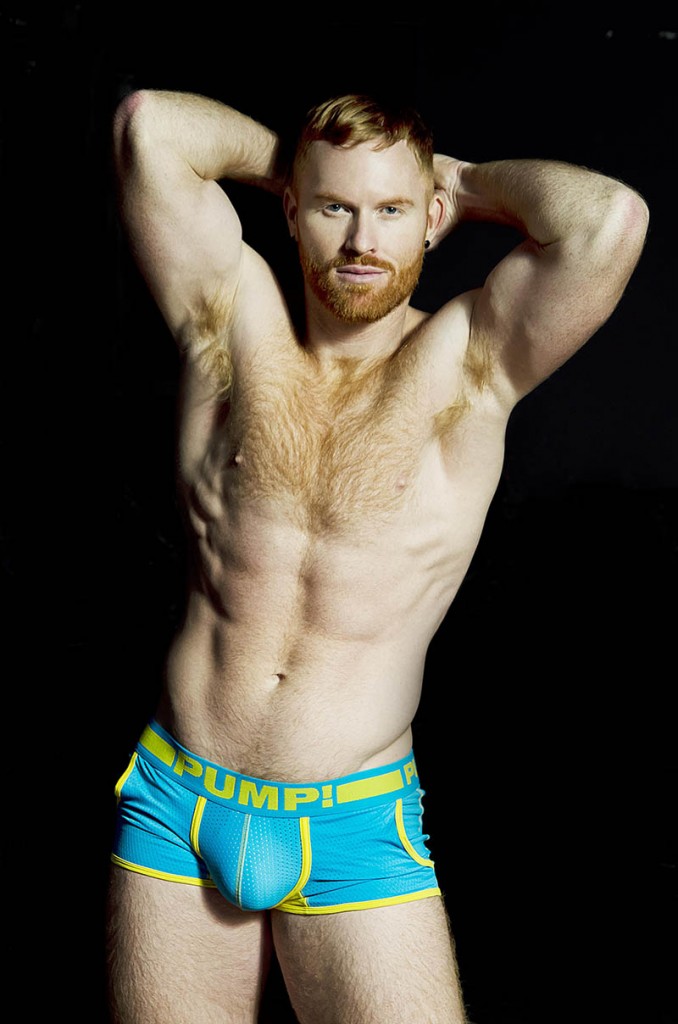 When did you make the big move from Louisiana to NYC?
I actually moved from Louisiana to South Carolina in 2004 to get my masters in Chemistry from Clemson University.  Then in 2006 I moved to Raleigh NC to work for the United States Department of Agriculture as a food chemist.  It wasn't until May 2014 that I made the move to NYC.
What made you move to the Big Apple?
I was so bored living in North Carolina.  Jared and I have been working as traveling GoGo dancers for a few years and NYC was always one of our favorite cities to work so we wanted to see how we would like living there.   We started off with a 2 month sublet and that turned into us moving here.
When did you start GoGo dancing?
I started GoGo dancing in December of 2010 at OZ nightclub in New Orleans Louisiana.
What was the progression from GoGo to model ?
I was on there bar at OZ during Mardi Gras of 2011 and a fella by the name of Iggy Munoz approached me, gave me is card and said he wanted to photograph me.  I was a bit skeptical at first but ended up taking him up on his offer.  After those photos were released the ball began rolling and I started getting other offers.
Your first scene with Colt was released in 2014. Will we be seeing anymore of you in 2016?
I actually have a lot of work with COLT in their vault that has yet to be released.  No more video but lots of print work, mostly for calendars and products in their apparel line.  So yes, you would likely see lots more of me popping up in their future calendars and on their website.
You travel all over the world hosting and dancing at parties. Is there a favorite country or city you have visited? 
Working internationally is both exciting and challenging.  There is always a language barrier be it Italian, Spanish, or Portuguese, but thats part of the excitement and fun…experiencing other cultures and men on the circuit is something I treasure.  I would have to say my favorite city I have worked in would be Rio de Janeiro.  Rio has a city, a beach, incredible food, beautiful men and women, and a language that I am completely unfamiliar….so it was all so new and exciting to me.  But to tell you the truth my 2016 goal is to experience all of latin america. I want to work in every country and have plans in the works for Puerto Rico and Colombia already.
You've worn some amazing and intricate costumes over the years…what was the craziest thing you have worn?
Do you get to keep them?  My favorite costume was becoming the God Ares in Madrid for a party called Gods of Olympus.  I was mostly naked except for a cup covering my package, a red cape, and an elaborate horned head piece. Usually we don't get to keep the costumes because the party re uses them as they continue their tour.
Describe the energy of dancing at these major circuit events filled with thousands.
It's surreal.  Usually we don't start till the party is packed.  And then in one moment we have the opening scenario where all the cast/dancers of the party come out in a themed look on the stage and present to the crowd the theme of the party.  It's always a amazing cause in that moment the DJ has orchestrated a special song for the presentation, the lighting is perfect, the audience is sufficiently high and feeling delicious.  All eyes are on the stage and when you look out its smiles all over the room and in a few more seconds we begin to dance and the party really starts.  After that its usually confetti filling the room, cheers, fans vrapping, and the crowd electrifies .
What is the shadiest thing that has happened to you at one of your gigs?
I was once fired in a super shady way.  White Party Miami 2015.  Jared and I booked the gig for fun, not really for an amazing profit….we just thought it would be nice to go to Miami after thanksgiving, work a party/enjoy one, and enjoy the sites of the MIA.  Well night one comes and the costumes….for lack of better words just didn't stay on that well.  Huge bulky masks covered our face, the elastic holding them on wasn't properly fastened, the parts that rested on my nose were ill fitted and actually hurt (I had to pack tissue paper around my nose to avoid any cuts).  I voiced my opinion and after the opening scenario asked if we had to continue to wear the elaborate head gear that covered everything but the eyes.  The costume designer said yes and for the most part I wore it.  On the last set he had us in a bedazzled hat that if you moved in the least bit would fall of your head.  So at times I was holding the hat on my last set and at times it was on my head.  Unknown to me I was labeled "messy and hard to deal with" . So instead of someone just saying "don't have any dialogue about the costumes and just wear whatever he gives you even if you can barely move in it" I got a text the next day saying I was released from my duties for the remainder of the party.  I'm an adult and not that threatening.  It would have been easy to just say…Seth you are causing problems…just be quiet tonight….and wear whatever it is.  Gogo is not that serious that you have to fire someone without even talking with them first.  I think thats so shady to give a costume designer the total voice in a situation and not the other side of the story to voice their case. In any case I made the best of it and enjoyed Miami.
What's the most inappropriate thing that has happened to you on a gig? How do you handle out of line customers?
Drunk people thinking it's cute to come and touch without tipping….it's not.  High people trying to have life changing conversations with me while I'm trying to work (chatty Kathy's).  People are just trying to have fun and it's not in their head that I'm having fun but also at work.  Most of the time if someone is being unacceptably hands on I just firmly grab their hand and give it back to them.  That usually does the trick.  Often drinkers will think it's cute to come and pull the back of your undies down cause they are really feeling themselves, well it's not.  If people become rude I simply give them their money back and ask them to carry elsewhere.  And then you get those people that think they are shopping in the discount isle and wanna have sex during a lap dance for $20.  GoGo is a mix of good and bad.  You can have an amazing customer that joyfully over tips and makes your entire night followed by a jackass that wants all your time for just enough money to add guacamole at chipotle.
What is a common misconception about yourself or dancers in general?
Most people put dancers and escorts in the same category.  The two professions can and often correlate but don't have too.  Most people also believe that we are doing this out of lack of skills in other areas of life.
Do your family/friends back home know what you do and if so what is their reaction?
My family knows and all my friends are kinda in the same scene as me.  Most people urge me to think about the future that is pretty near.  I'm close to the end of the life cycle for a dancer and in a few years need to transition to something different.  I think by then I'll be ready and I value their genuine concern.
What's the biggest thing you miss about back home?
I miss being able to see my mom in shorts spurts and visits.  I can't do long visits with my parents cause we just run our of things to do…but I do miss being able to have a nice lunch or just see them whenever I want.  Another of my 2016 goals is to see my parents more.  I think we are so busy growing up that we forget they are also growing old, and if given a natural mortality I don't have them much longer.
How do you stay in such great shape?
I go to the gym for about 1.5 hours daily doing a mix of cardio and resistance training.  I also cook healthy meals at home and try to make healthy choices when I'm eating out.  There is not secret or trick….you are what you eat.
What's some advice you can give to some of the newer dancers on the scene?
Diversify in a lot of scenes.  Don't just work the parties you like.  Work lots of parties, photoshoots, modeling gigs, try to reach as many people as possible.  Parties/bars/festivals don't want to pay a lot of money to dancers so in order to get a good fee for your work you have to become more recognizable than the party itself.  Face recognition often translates into a more acceptable booking fee.
Is there anything that you absolutely won't do? 
Free product shoots for a brand for them to use when they spin it for me as "exposure" I don't find that acceptable at all unless you are developing a personal friendship with the brand owner and they scratch your back on occasion as well. Dear Models…..Brands make money and are for profit….stop giving it away. You are worth more than that. Also stop posting to Instagram for free. I get it…they have sent you a pair of undies and convinced you that you are "special" and they want you as a part of their "family" Whats really going on here is they are getting exposure to all of your followers and not paying for a shoot, photographer, model, or any editing. They are saving thousands. Ask for a small amount of money along with the merchandise they are sending you and then do the post….you will elevate the craft for all of us and make a little money for your time. Your time is worth money…don't sell yourself short.
How does it feel to be the object of so many men's affection? 
I'm happy to share some of my life with people.  I'm naturally more introverted I just work in an extroverted field.  When I'm on stage with a crowd of people looking its no biggie…but when I am in small groups I think sometimes it's kinda awkward but thats probably my fault as I'm a little shy.  So it can simultaneously feel natural and then awkward.  Example I never know what to say back when someone says something like I just wanna lick and smell your ginger pits.
So as many people know your boyfriend is fellow dancer Jared Bradford. How long have you been together? 
We started dating Mardi Gras of 2012 and became official boyfriends April 2nd of 2012.  So we have been together 3 years and 9 months.
Do you find that working in the same field helps or sometimes hinders your relationship?
Not at all.  We can combine our network, offer each other bookings and contacts.  It's like being on a team.  I LOVE it!
As a member of the "Haus of Cake" what's your favorite kind of actual cake?
My favorite cake is Cheesecake.  I love the taste, texture, mouthfeel, the graham cracker crust!
Is there anything this year you would like to accomplish?
I have measured my success as a traveling GoGo by what airline status I make each year.  Achieving an airline status translates in to miles flow, the more miles flown, the more travel gigs I did, which translates into visibility and work.  I only fly Delta and year one I made silver, year two gold, this year I made platinum.  My goal in 2016 is to make diamond on Delta which is their top tier status.  That would mean flying 125,000 miles in one calendar year and that would mean a LOT of exciting parties, gigs, and work.
What's it really like backstage in between sets?
It's like a family.  We talk about our set, the music, strip off the costume, dry off, put on something cute and run out to the party and enjoy about 20 minutes of freedom until going backstage again to get ready for the next set.  GoGo is a family all across the usa.  We all know each other in the circuit seen and its like a reunion every party.  The feeling of having all your fav people backstage with you is AMAZING.
What's the most embarrassing thing that has ever happened during a gig?
Probably showing up fat.  It's hard to be in great shape all the time.   Sometimes I balloon up a little and let my hair down and sometimes I can't get it together in the weeks before an important gig.  Thats one of the most embarrassing things as a dancer for me is not feeling like you can own the stage or the costume cause you didn't put in the effort beforehand.  You just have to stand up there and feel like the only McDonalds while you are surrounded by guys and girls looking delicious.
Anyone that knows you knows that you're a complete southern gentleman and goofball. Do you think that has helped your career? 
I don't think being southern has helped my career, but I don't think being a nice person has helped me a lot.  A party is only going to hire a rude dancer maybe one or two times before they are gonna be like NEXT!  Treating people like you would wanna be treated goes a long long way!
What do you do on a night you are not working ? 
I spend it at home, catching up on my fav vampire shows, sleeping, visiting with a friend, or working on future bookings, and trying to figure out where to travel and work next.
What big events can we expect to see you at this year? 
Winter Party Miami, Cherry DC,  NYC Pride, and Southern Decadence to name a few.
What are some weekly gigs the kids of NYC can catch you at? 
Coming up I am at Stage 48 for JB Saturdays on Jan 16 and 23.  G Lounge on the 15th, Spunk Party at the Monster on the 21st, and the Andrew Christian Model Search Event at XL on the January 22.
Photo By Rick Stockwell