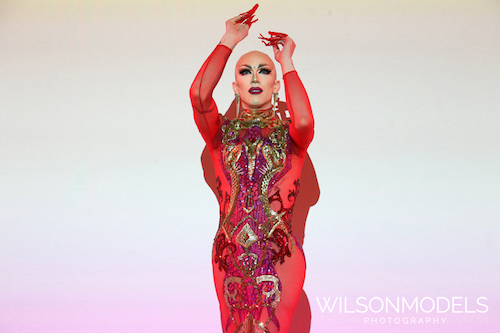 The dashing, avant-garde queen Sasha Velour joyfully accepted her treasured crown at the grand finale of season nine of "RuPaul's Drag Race" amidst a titanic explosion of brightly colored rose petals cascading onto the stage during an "Emotional" Whitney Houston ballad.
With some incredible depth in representing the true meaning of radical artistry, bohemian fashion, contemporary insanity and most importantly the meaning of creative drag, Sasha Velour quickly became a fan favorite during the season nine competition. Her victory over other finalists—Shea Coulee, Trinity Taylor and Peppermint—was a self-proclaimed struggle, according to the jubilee queen, who will also be present at Drag Con on September 9 and 10 at the Jacob Javits Center.
Velour was born Alexander Hedges Steinberg in Berkeley, California, and attended Vassar College and the Center for Cartoon Studies, where she received a Master of Fine Arts. She was also a Fulbright Scholar in Moscow, where she worked on a project that strived to understand the role of art forms in contemporary Russian society. She is currently Brooklyn based and is also a designer, creative director, illustrator and editor of her own magazine dedicated to drag. Velour also produces a monthly drag show called Nightgowns.
Admired on "Drag Race" for her spirited sense of fashion (Vivienne Westwood, watch out), her overwhelming dress creations would make any fashion designer seethingly jealous. However, aside from her exclusive talents, Velour is a kind, warm and humble queen. We spoke in depth about her experience while on the Emmy-nominated competition, her winning celebration and her future aspirations.
I just heard about your Italian greyhound.
The true star of our household.
What's his name?
His name is Vanya, a nice Russian name, like Uncle Vanya.
How cute! So first of all, congratulations on your fabulous victory.
Thank you!
I felt from our first interview that you would be the victor.
Thank you. Yeah, you and I had a special connection from that first interview.
What went through your mind as they announced you as the winner? What were you feeling at that moment?
Oh my gosh, I was so thrilled. I was so proud. It hadn't been the most simple journey, from the very first day of the competition. I had many moments where I think lots of people doubted me: people watching, the judges, sometimes even myself. So getting to the end and getting to win was a huge accomplishment and such a huge battle. All my competitors had been so talented. I think this was one of the most talented seasons of "Drag Race" ever. So it was really tough.
I have to agree with you about the talent this season. Everyone was so extra on point.
Yeah, and it's been interesting since the competition, getting to travel with the other contestants and perform alongside them. I do see just how talented they really are, and what a tough competition it was. These girls are capable of doing really impressive stuff.
Yes, but so are you, and I'm glad a New York girl won.
Those New York queens have done quite well on the show. I think it's because it's so hard to make it in New York. There is so much drag, there is so much competition, and it is such a hard lifestyle. We enter already with a bit of an advantage, because of the New York lifestyle.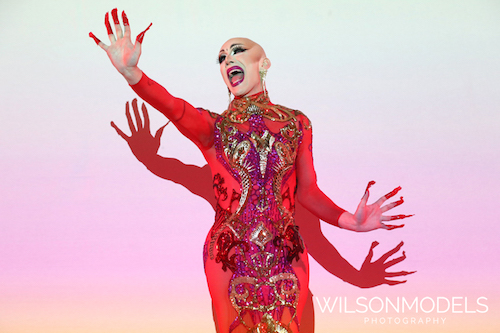 You might be right about that. I was speaking to Peppermint, who thought that because there was such a special camaraderie this season between all of the girls—there was no wig snatching or drinks thrown—so there might have been some audience flack regarding that. What is your take on that?
The fan base of the show loves to complain about the show. As a lifelong fan myself, I can absolutely speak to that personally. I've always complained about the show. [laughs] I think that it is great that people are so opinionated about the show and about drag at the end of the day. It's great to say, "Well, drag needs more this, or drag needs to be more that." Those feelings have motivated me to do a lot of different drag. Everyone who thinks this show should be different should go put on some drag and give it a try to personally shift the direction that drag is going in.
They need to walk in your high heels for a moment.
Exactly. I think "Drag Race" itself is somewhat responsible for making different types of drag performers get along better. I think that before the show started there were some really big divisions within the drag world, between all these different categories of drag. The show kind of introduced people to all these different categories of drag. Now, people across the categories are able to understand and respect each other more. The kind of inner drag tensions and dramas of drag are the kind of things you saw in season four, when people were saying, "That's not drag; this is what drag is." Those don't exist within the drag community, because we've sort of seen everything. We've grown to love it all.
That's a very true statement. So how has winning "Drag Race" changed your life?
Literally—it's not a joke to me—how hasn't it changed my life? Every aspect of my life has changed, except that I'm doing what I've always wanted to be doing. What I have always been able to do on this side of things, I now get to do every day, and that's the main thing. That is, I feel so honored and so lucky every day. In this position, through "Drag Race," we get to reach people like us, queer people who are struggling and looking for forms of self-expression all around the country, and really connect with them.
Did you have a bestie on the show?
I kind of had two besties. People saw my friendship with Shea. It's beyond a personal friendship. We really see eye to eye creatively. Even after we had to face off at the final battle, we still have just the most love and appreciation for each other and for each other's drag. Then, of course, Miss Peppermint from New York. I've been able to see her throughout the year. Kind of jokingly we live on opposite sides of the A train. We have an hour and a half on the A train between us, but we still see each other.
I'm glad you mentioned her, because Peppermint mentioned you regarding that same question.
Oh, that makes me happy.
Aside from "Drag Race" tours and traveling, what other plans are there in Sasha's future?
So, I have what I call "The House of Velour." That's the production side of the things that I do, because there's my own drag, and it's a career. However, I also have always been a producer of drag too. I edit a magazine that features lots of different drag artists. It tries to describe what drag is all about for an audience, kind of the way "Drag Race" does. I also produce a live show called Nightgowns. It's a bit of a dream cabaret of drag. It's really heartfelt and creative drag performances from across the spectrum of what drag can be in terms of style, in terms of gender. And I want to expand that side of what I do, really make my mark as someone who curates and produces drag. I want to give other drag performers opportunities the same way that I have. I think the world needs more drag, and I want to play a role in helping to expand the conversation in terms of that.
There is nothing in the world like a drag queen.
I love hearing you say that. That combination of heartfelt earnestness with sharp, bitchy wit—it really is the most perfect thing.
If you could say anything to your fans and followers, what would that be?
Just to keep staying open-minded and full of love. The people that follow me and support me have such an open mind and such a kind and creative spirit. I think that's exactly what we need more of right now. So I just want to thank the people that support me for their amazing energy. I hope they just keep it up, because we have a tough year to get through together. I hope that drag can keep pushing people to be courageous in their everyday life. I've gotten to see in the last couple of months the way drag can inspire people. I hope we can all keep doing that together.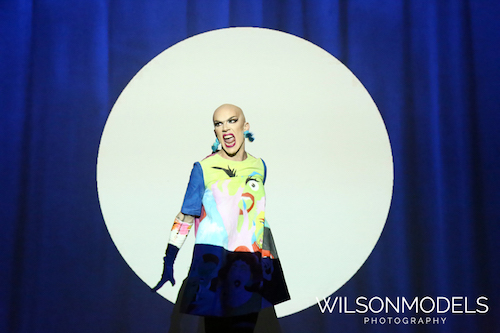 Aside from winning, what was your most glorious moment on the show?
I think just walking on set. There is such a glory to just being part of the "Drag Race" experience. It's already a competition just to walk in the door. I felt like stepping into the workroom itself was a victory. Maybe that's why I walked in screaming. I did feel pretty triumphant just to be there in the first place, and open-minded to whatever would happen. I got to leave screaming too! So it all worked.
You're going to be at Drag Con I'm sure.
Yes, exactly. I'm going to have a nice big setup. I'm going to be there all day. Then I'm doing a Nightgowns performance on Sunday night, following Drag Con weekend, as a final performance. It will have some queens from "Drag Race" and some performers from Brooklyn. I am very excited. It's going to be at NYU's Skirball Center at 9 p.m.!