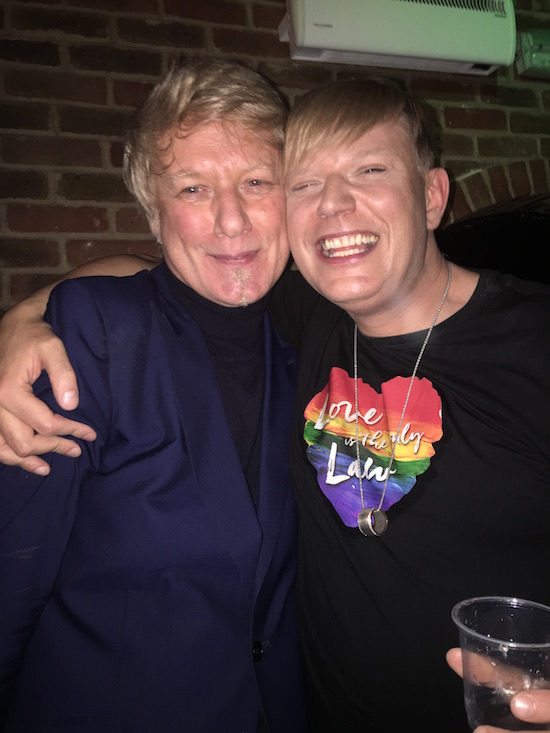 Although nothing in the world compares to New York nightlife, London is a gay mecca loaded with laughs, celebrities and dazzle. Nottingham singer-songwriter, multi-instrumentalist and producer Sam Stevens, the James Bond of rock, was kind enough to guide me and Billboard top 40-charting singer Ricky Rebel through the glitter and effervescence of London, landing at the famous Club Fire, a winter wonderland of lights.
While Rebel performed at the club, Stevens introduced the remainder of us to the world-popular DJ Jason Prince and Philip Sallon, the British club promoter responsible for helping Boy George and known as a prominent member of the punk subculture and new romantic pop culture movement.
Aside from his vast knowledge of London's gay underworld, Stevens is the intriguing James Bond-esque frontman for the internationally famous band World5, a group that resides in five different continents and known for its adult contemporary music. He is also an awesome solo artist who is about to release a new song, "My Kind of Crazy." Rumor also has it that he will probably be visiting soon on a tour of New York. Ultimately, I fell hopelessly in love with him and was glad for the first time ever to be in the company of someone who was both sexy and straight.
A genuine soul not afraid to share his sensitivity, his compassion and his love for the human race, Stevens is able to project the meanings of his songs effortlessly. Like the eye of an exhilarating tempest, you'll be swept away by his candor and truth, and like a ravishingly crimson sunset you'll be drawn into his musical sparkle and intimacy.
When did you begin to do music?
I've always been a musician. My dad was a jazz guitarist. My parents split up when I was really young, and my dad would come around like a knight in shining armor. When I was eight he took me to see Ronnie Scott and let me sit at the side of the stage. I was just learning to play a chunky acoustic guitar then. There was some big American keyboardist there named Oscar Peterson who played with Miles Davis. He said to me, "Hey kid, can you play two notes?" So I played two notes when I was eight years old and didn't know what I was doing. He rubbed my hair and said, "Well done, son."
Fast forward to your teenage years when you looked like Madonna and Marilyn's illegitimate music child.
You were talking about creating characters… I think David Bowie had an incredible influence on me and lots of my friends. It wasn't necessarily because of the music, and it wasn't necessarily because of the things he did. He said that it was OK to be who you are, and he also said that if you don't know who you are, it's OK to make who you are.
What was your first gig like?
You can imagine this impressionable kid who loves music. My Uncle Gordon took me to Wembley Arena, and I saw Kiss. I hadn't even seen a pop band, and I saw Gene Simmons spitting blood and flying around with pyrotechnics going on. So from seeing that I said, "I want to do this, please."
You're about to release a new song, both with World5 and as a solo artist.
I love "My Kind of Crazy." I told my 21-year-old niece in a birthday video, "As you go through life, you will meet people that are great looking, you will meet people that are funny, people that have loads of money, you will meet powerful people with lots of influence. But as you go through life, considering that you're 21, the main thing to do is find people to hang out with that are 'your kind of crazy.' Crazy is fun. Laughter, enjoying people and having that empathy with people like you is the best thing in the world. Hanging out with people that are like you and that think like you creates an emotional community and that's a really good thing." My friends that I have are really valuable to me. I'm the one always finding people and saying, "You OK?"