In what promises to be a triumphant celebration, UK pop-romance artist Sam Stevens, the so called James Bond of the music world, will be touring New York as a prelude for his Pride Fest performance. We can look forward to the premier of his new single, "Grand Illusion," set for release on June 25, as well as his two latest singles: "Don't Cry" and My Kind of Crazy."
He can be seen live on June 19 at Boxers HK and at Caffeine Underground on June 22 before his Pride Fest performance on June 24 at the Cafe. He will also be available for a meet and greet after each performance.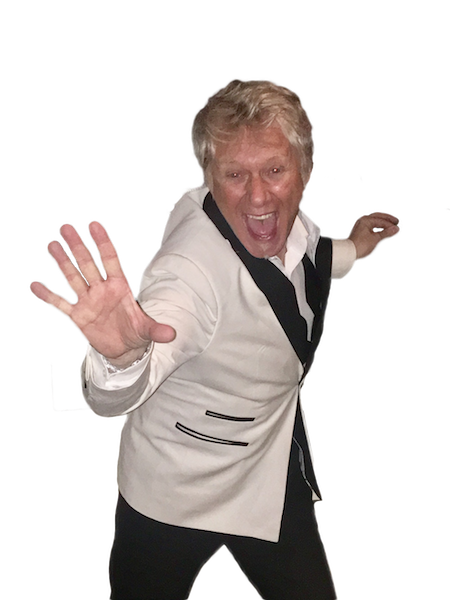 What does it mean to you personally being chosen to perform at New York Pride Fest?
It goes without saying that it's an honor to perform at NY Pride, but absolutely not from a "me me me!" point of view. My personal pride in being asked to perform is not an ego thing at all, but more in a "little old me from some little old town in little old England" being given the opportunity to show my support and love for the New York gay community, NY Pride as an iconic force for positivity, as well as support for the history of the NY gay scene, the struggles of the Mattachine Society, DOB, ONE Inc and then what happened to NYC clubs like Stonewall. The oppression and violence that the gay community suffered for decades by small-minded people, the police, governments, homophobes and people in general must have been an incredible amount of pressure to bear at times. But all those involved paved the way through great hardship to what any LGBT individual and community can now enjoy. None of this would be possible without the sacrifice of those who came before us, so it's fitting we give praise and celebrate in any and every way we can. Love is a VERY powerful thing.
You're set to perform in several gay venues in New York as a prelude for Pride. During your meet and greets, what will you tell your fans is the highlight of your career thus far?
"Set to perform," LOL! Put that way, it sounds like I'll be oiled up, fluffed and putting on quite a show! "Hey, I'm very open minded, Mr. Demille," and anything's possible! But, alas, I'll just be singing a few tunes to make the audience swoon a bit, LOL. Anyone wants to meet a tall, blonde, English guy and hear a few stories, they're very welcome. I adore meeting new, interesting people, and I must say they'll have to excuse me asking and being interested in their daily lives. New York is a brand-new experience for me. New Yorkers are infinitely fascinating to me. I'm sure there'll be a few new songs written about the colorful characters I meet in NYC.
I think my "Prince" story is still astounding when I think about it. But there are many, many highlights to come, and not just in my hair, so here's a sincere invitation to everyone: Come join me and let's make some new ones, some really fun memories.
How did you get the name, "The James Bond of the Music World"?
I use a little fun anecdote when on stage: "I've been tagged 'The James Bond of the Music World,' and whilst, yes, I'm English, contrary to popular belief I'm not part of the secret service, and it's not because I'm particularly good looking, but I WILL steal your girlfriend and smash up your car." LOL! Most people who've seen the show and have heard that a few times now roll their eyes and yawn.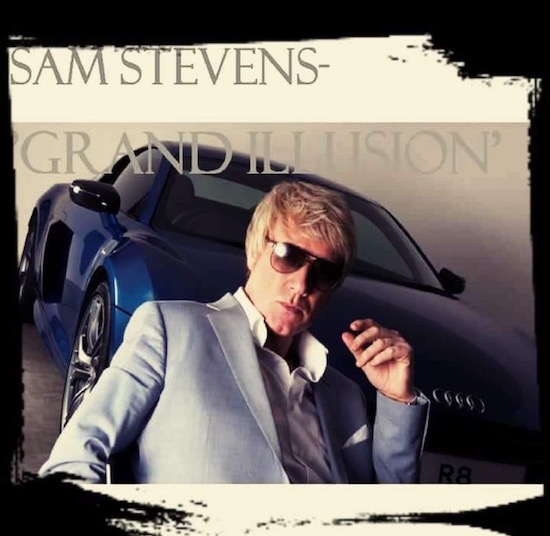 Truth of the matter is that an incredibly warm, funny, bonkers journalist I first met sitting over a dirty martini in Camden Town, London, said I was an English charmer with a mischievous edge, "just like James Bond." She coined the phrase, and it stuck. Interestingly, that was December time, and it's given me a palette of all kinds of imagery and ideas to work with. I just want some of his fantastic gadgets now.
You have a new single to be released June 25, the day after Pride. Tell us about it and what it is regarding.
"Grand Illusion" is my Bond theme. I would ask every single person reading this, if you ever wanted to do yourself a BIG favor, get it, stick it on, turn it up LOUD and wait for the first power chords! it'll blow your f'king head off! It's about overcoming people, those who want to bring you down and think they're the better of you, but no, you're smarter and you're the illusionist and creator of your own destiny. A cool, powerful destiny.
Who do you feel is your strongest gay musical influence, if any, and why?
So, so many gay and bi people, let alone musicians, have an innate sensitivity and creativity. We look at life differently. We're fragile but strong. We're terrified and bold. We're passionate and insecure, a real dichotomy and contradiction. This gives us a broader outlook on life and experience than muggles. Freddie Mercury's power and passion; David Bowie's incredible invention, sense of theatre and fun; the strength and vulnerability you hear in Dusty's vocal performance; and of course Mr. George Michael. Gosh, I just felt a tear well up even mentioning his name. Listen to George's lyrical content, and the absolute beauty of his voice, and the shape of his songwriting. For my mind, there is no better emotional and beautiful pop singer and songwriter.
Tell us about the projects you are currently engaged in creating.
Are you from the IRS? LOL! I'm working with a great NYC songwriter called Mike Greenly, sprinkling a little "twinkle" on a few of his songs. I'm actually sitting in the studio at the moment working on a track of his called "Common Ground," which is about acknowledging differences but finding love and compassion to bring us together. We need more love and compassion.
You have an overwhelming reputation of writing and singing romantic songs. How'd that come about?
What, how did the reputation come about, or how come I write romantic songs? I'm what they call a hapless romantic—many LGBT people are. The crave for love, connection and acceptance runs deep and is at the core of us.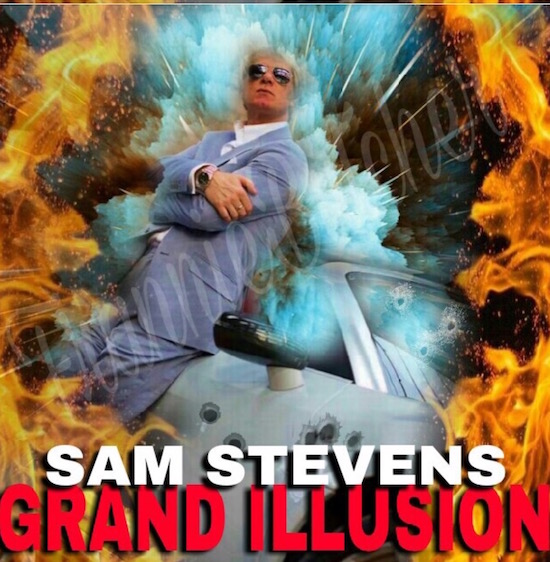 Tell me about "Extraordinary People."
I wrote this track called "Extraordinary People." It's emotional. It was written about two dear friends of mine, Matt and Jason, both great DJs at some of the best gay nights in London. Beautiful people. So, here's the story. Are you sitting comfortably?
I met Jason Prince at this recording studio, and we chatted about the two of them and how they'd been together for some time through thick and thin and adored each other. One session at the studio I noticed Jason had a t-shirt on, and without prying too much, I asked, "Jason, what's that HUGE scar on your arm, mate?" At first I thought it was a scar from surgery. He said, "Oh, I was attacked." He was violently beaten up and stabbed, almost killing him. I asked about it, and he told me about not just this event where he was subjected to a nasty, violent homophobic attack, but of many, many, many occasions where he and Matt had been beaten up, abused physically and verbally, refused entry into places, humiliated and almost murdered just for being gay and being together. He was fine with talking about it (people do tell me their secrets), and whilst it obviously had physically scarred him, Jason is an incredibly positive and lovely person who I think the world of. His stories about what he and Matt endured to be together at the hands of bigots, homophobes and the violence they meted out was shocking, but an inspiration. I went straight home and in 30 minutes I wrote "Extraordinary People" for Jason and Matt as a celebration of their courage and love for eachother.
"We're still here to testify, we survived, this ordinary world, 'cos we're extraordinary people, extraordinary people, you and I…"
I'd like to dedicate this track to EVERYONE who comes to NY Pride, to share in the coming together to celebrate who we are and how we got here and as an indication that love conquers all. It really does.
What's new on the horizon for you?
Love, lots of love, lots of smiling and laughing, lots of food and drink and meeting new people and creating lots of new sounds and ideas to share and bring people together. Happy Pride everyone!