In an extravagant and opulent red carpet event, the finalists of "RuPaul's Drag Race" season nine all made their presence known. Nerves, excitement and hopeful anticipation were flying high as the contestants each made their way through the red carpet interviews, with hosts Bob the Drag Queen, last season's victor, and the fabulous Shangela from the Logo series "Cocktails and Classics."
Several others from season nine were also present and willing to talk about their experiences. The extraordinary Bianca Del Rio, who was set to host the show as well, arrived in all her magic, comedy and sensational sparkle.
The four finalists are Sasha Velour, hailing from Brooklyn; Peppermint, our NYC girl; Trinity Taylor, based in Orlando; and Shea Coulee from Chicago, all very deserving of the win.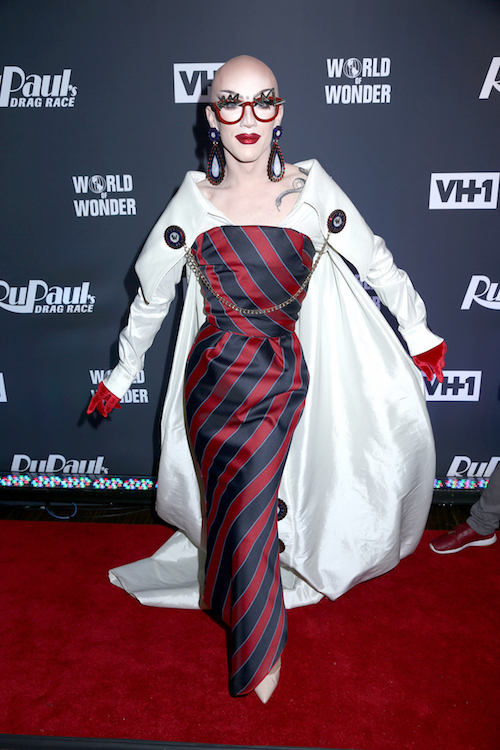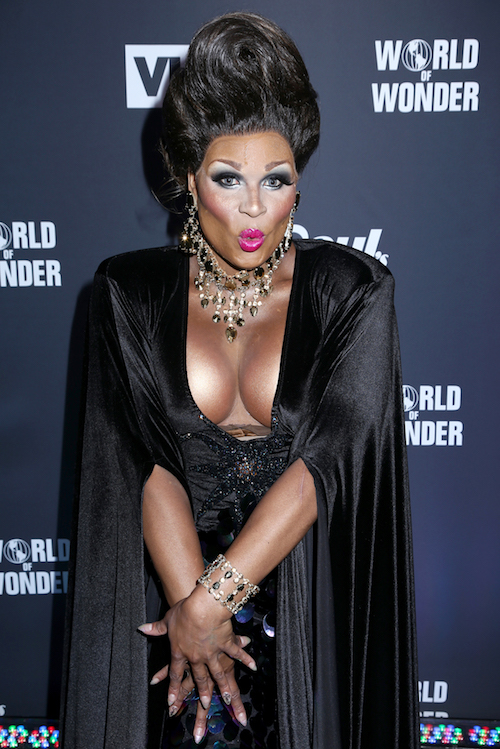 Bob, I can see you are very busy and about to go live, but can I have one quick quote out of your mouth please?
Bob: Donald Trump is a racist and should be impeached.
That will do just fine. Valentina, if you could be asked any question in the world tonight, what would it be?
Valentina: Is there anything that you'd like to say to your fans that they might be waiting for in anticipation?
And the answer to that, please?
Valentina: Yes. My website is going to be coming out very soon. My fans have been waiting for my merch, my t-shirts. I will be releasing a t-shirt and a tank top. I think it will be out as soon as tomorrow. Not only that, but today, when they release some press of mine: I was featured for a beauty secret segment online for Vogue America.
[Valentina won this year's Miss Congeniality.]
Trinity, I just heard that you are allergic to vaginas. How do you know?
Trinity: Because I came out of a vagina once, and I can only imagine that I was in such a state of shock that I still do not like vaginas. It's been 32 years.
You've never tried one then?
Trinity: No, I mean how many ways can you cook vagina?
As a finalist, if by chance you don't win, who would you hope wins?
Trinity: Michelle Visage. Fuck all these girls. None of them deserve to win it but me!
Peppermint, are you so excited?
Peppermint: I'm over the moon, on cloud nine, over the stars. Any astrological euphemism you can think of.
If I could only ask you one question as a finalist tonight, what would you want that question to be?
Peppermint: I would want you to ask me at the end of the night, "How does it feel to win 'RuPaul's Drag Race'?" That's what I want! So you are going to have to find me as ask me that, even if I don't win!
Sasha, what would your question of the night be?
Sasha: What do you wanna eat?
If you weren't a finalist, would you want to win?
Sasha: Of the remaining three, my girl, Shea Coulee. We had such a creative romance, and I really believe in her drag.
So, what are you up to?
Sasha: Everything! I have a magazine, self published. It began as a little project. It's called "Velour, the Drag Magazine," and it's visual artists and drag performers writing together, trying to document what's going on in drag now. I'm just trying to take everything to the next level. This way I can share with other people.
Shangela, how are you, and when can we do a complete interview?
Shangela: Oh my gosh, I would love to do it. There's so much more magic to create.
How is "Cocktails and Classics" going?
Shangela: Going great! We're hoping that we get renewed for another season. We are waiting now, but it's been a great fall season show. You know, I was so excited, because we got to do "Sister Act" and "Sister Act 2." Those are two of my favorites. I was in there like, "Please, guys, I promise they're classics."
I knew you had something to do with that. It was totally your fault.
Shangela: It was, it was!
If you could choose a question to be asked, what would it be and how would you answer it?
Shangela: I would ask myself, "Shangela, will you ever be in a box again?" I would answer, "Yes, but this time, please put some breathing holes in it." There were none in there last time.
Alexis, how did you love being a contestant?
Alexis: I didn't get to sing. My mom wasn't very happy about that.
I bet! So what's next for you?
Alexis: I'm getting ready for the world. My album will be out shortly.
What will it be called?
Alexis: We don't have a title for it yet. It will probably be some of the material that I did in my cabaret show.
What is the cabaret show called again?
Alexis: "It Takes a Woman." Eileen, I only did five of them already. Come on, girl! We are done with them for the summer here in New York, but we will probably have some more in the fall.
So you're getting ready for that season nine tour. What can we expect?
Alexis: You know, I don't know. I'm sure we'll find out. I don't know if we will be doing any kind of group numbers, but I'm sure we will be doing our own numbers as well. I'll definitely be trying to bring some live singing out on the road so that people see that part of me.
Shea, if I could ask you any question in the world tonight, what would you want me to ask, and how would you answer?
Shea: I never really thought about that. I would love to be asked about my new visual EP that just dropped today. I just released a three-song EP called "Coulaid," with videos to go with it. They are available on iTunes, Spotify and, for all of our U.K. fans, I just got news that it will be on rotation on UK MTV. That's really exciting.
Bianca, how are you?
Bianca: Hello darling, so nice to see you. I'm laid in glitter, and I'm seeing everybody I know. It's like when you're in a dark room, and the the lights come on, and you go, "Oh!"
Sincere congratulations to this year's winner of "RuPaul's Drag Race," Sasha Velour, and to all the rest of the queens, it was a great season. One of the best! 
 Also wishing Michael Musto a speedy recovery!