By  Jorjet Harper
Out model-turned-actor Ronnie Kroell plays two roles in "Scrooge & Marley," the new film based based on Dicken's classic "A Christmas Carol," releasing to theatres and on DVD/Blu-ray this holiday. In the spirit realm of the film, he's the Ghost of Christmas Past, who attends Scrooge that fateful Christmas Eve, and in the everyday world, he's a buff bartender on his boss Scrooge's meager payroll.
"Of course, you know, the Ghost of Christmas Past is actually the first to visit Scrooge and take him back in time to show him what a jerk he was," Kroell says. "He gives Scrooge a new perspective on who he was, who he is now, and hopefully gives him an idea of who he can become—and that it's not too late.
"If I were to compare the Dickens version to the Scrooge & Marley version," he continues, "the same theme is there. It's just a modern, hip version told with a little gay twist."
"Scrooge & Marley" is the first adaptation of "A Christmas Carol" to feature a gay Scrooge and a Tiny Tim with two gay fathers.
However, Ronnie Kroell is quick to point out that this isn't just a gay film. "The storyline has a little something in it for everyone. I think it's going to be one of those films that a member of the community can identify with, but they can also bring home (and share with) their families. The film is not gratuitous in any way. It's a beautiful story."
Kroell appeared on the first season of Bravo's "Make Me a Supermodel," where he famously engaged in an onscreen bromance with another contestant. He placed second in the competition, but scored top marks as the show's fan favorite. Since then, Kroell has done modeling for a number of prominent fashion designers and has appeared on the covers of several magazines—including his nude spread for Playgirl magazine. In the last few years he has taken his first forays into acting and filmmaking.
He has also done quite a lot of gay awareness work—with such groups as the Gay & Lesbian Alliance Against Defamation (GLAAD), the Human Rights Campaign, the American Civil Liberties Union and the It Gets Better project. He's well aware of the potential positive impact of a film like "Scrooge & Marley." "If you think about the LGBT movement and equality in marriage," he says, "I think it's an important step forward that we have a film like this, telling (gay family) stories in a positive way that's palatable for all people to watch and enjoy. I really think that people are going to walk away from this film having a different perception of the LGBT community.  They may even embrace and welcome us in a different way."

"I am truly proud to be a part of it."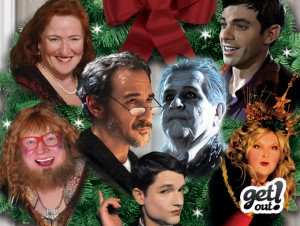 See "Scrooge & Marley" on the big screen Thursday, December 20 @ 5 p.m. at Landmark Theatres Sunshine Cinema (143 W. Houston St). Tickets: $13.00 adults/$9.00 seniors and children. The DVD, Blu-ray and soundtrack will also be available this holiday.
Visit www.scroogeandmarleymovie.com for information.