On Fox TV, January 27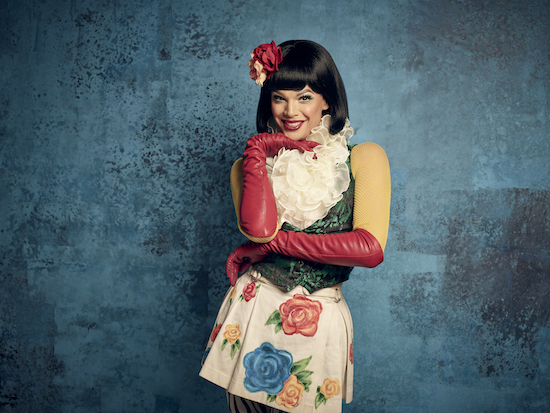 Valentina, a "RuPaul's Drag Race" season nine contestant, will be appearing in Fox's live presentation of the iconic hit Broadway play "Rent" on January 27. She will portray the role of Angel, one of the most controversial characters in the entire show. Angel is a kind, sensitive and caring character who some believe is transgender or a drag queen, a perfect role for Valentina.
The cast includes Kiersey Clemons, Brandon Victor Dixon, Jordan Fisher, Vanessa Hudgens, Brennan Hunt, Mario, Tinashe and Valentina. "Rent" was originally produced in New York. The television adaptation will be broadcast live from Fox Studios in Los Angeles.
Valentina was a fan favorite on season nine of "Drag Race." She has appeared in many publications, including Vogue.com as well as Andy Cohen's "Watch What Happens Live." Aside from "Rent," Valentina has recently put out a new single and is working on a one-woman show. I spoke to Valentina regarding "Rent" and "RuPaul's." She was absolutely candid and a blast to speak with.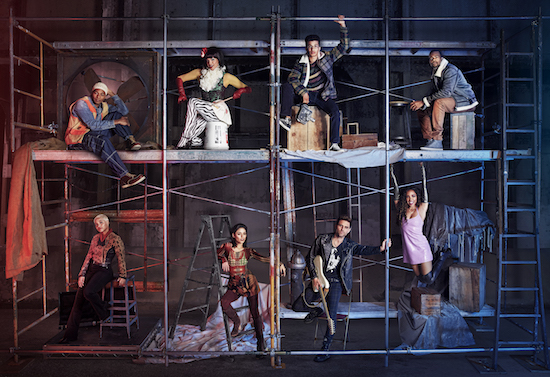 "Rent" is my favorite show ever, and Angel is a great role. How did you get the role?
By just auditioning. Somebody from the casting agency was a fan of mine from "RuPaul's Drag Race." The "RuPaul's Drag Race" platform has given me some visibility as an artist. He was a fan of mine, and he considered me to audition and to present me to the director and all that. It was really interesting, because he brought me not knowing if I knew how to sing or dance or any of that. So he really took a chance on me. Even when I auditioned I was very nervous and very excited. I didn't really know if it was going to be the right thing, a big iconic role like Angel. The audition process was more like work sessions. I wasn't necessarily hitting the notes that I had to hit in order to be the best, perfect fit at the audition. But there was something that they saw in me, they believed in me, and saw the potential. With the right training and the right direction I could be the Angel that they were looking for. Even myself, I had my doubts, but now I put in the work, and the process has been so amazing, from the audition process until now.
When you found out that you got the role of Angel, how would you compare that to the feeling you got when you found out you were accepted in "Drag Race"?
Well, both of them, I think they were both pivotal moments in my life. I feel so grateful to "RuPaul's Drag Race," because it was the first moment to finally go from being any Joe Schmoe, working their weekend job, to being able to have a platform and to have a following as a respected artist. With my character Valentina, I've been able to have fans, an image, and go on tour on stages all over the world. So I'm really grateful to them. When that moment happened, I just could not believe it, because I knew if I was given the opportunity I was going to squeeze every last ounce of juice from it. And I have. When I got "Rent," I was in a place where I was touring, and I was exhausted from shows every single day, getting into drag every single day, and there was something about my life that was wanting to be a respected performer and not just a nightclub sensation. When I got the opportunity, I knew it was going to be something for me to really study and learn and to go to the next level as an artist. I studied acting and vocals and all of those things that I get to do now. So they're both equally as important; they're just different moments in periods of time in my life and in my career that are like stepping stones to achieving my dreams. So they are both valuable to me and important to my heart.
That's a really great answer.
Yeah, I can't chose one, because I'm grateful to both.
What made you do drag in the first place?
Well, I guess it just came naturally. Since I was a little boy I was getting dressed up with my towel getting out of the bath. I would dress up in different kinds of silhouettes, like an asymmetrical Greek gown, with a big old train or a big turban on my head. I was playing and fantasizing and learning makeup, and I did some modeling. I saw "RuPaul's Drag Race" when I was in high school and going out to see drag shows when I was 21. When I actually started to see drag in person, I started to curate this character and putting together all of these things that I studied, all of these items into one persona, into one character. I wanted to be the model, be the designer, the makeup artist, and kind of all blend them together. I want to say I've always kind of been doing drag without knowing.
Aside from studying acting and vocals, how did you prepare for your role as Angel?
During the audition process I was meeting with a friend of mine who is like a vocal coach. That's how I started preparing. Then once I got the role they connected me to my vocal coach, who works with Ariana Grande, Bette Midler, and I've just been really working at building my voice. I have a personal trainer who teaches me cardio, so I will be able to have the stamina to get through all the movement. I have a dermatologist who is working on my face, because the face has to be flawless: no bumpies, no lumpies. It has to be perfect skin. Then aside from that, on a personal level, I have a dear friend of mine that I've been studying the heart and soul of. He's very caring and thinks about other people before himself, and he's always really happy to lend you his house, or feed you, or make you feel comfortable. If you're sick he will think of how to make you feel better and make you soup. That's very much like Angel. When I study the work and the situation, I think, "How would my friend react to this?" I haven't even told my friend that I'm studying him. I'm going to tell him the day of the show. It's my little secret project. I did a lot of studying about the AIDS epidemic in the late '80s/early '90s. I'm definitely working really hard; I'm trying to be authentic, and I'm challenging myself a lot. There are times when I do not have a clue of what I'm doing, because it's so new to me. I get frustrated, and it's really challenging and really hard, but it's so exciting. Every day when I come to rehearsal I get better and I improve. I grow from the challenges and learn from them. From the audition process to now, I can say that I have grown so much as an artist.
When "Rent" first appeared, you were probably a baby.
I was 5.
So from your point of view, what do you think of "Rent"?
Well, I love it. I learned about "Rent" when I was in high school. In my choir class we did a show with all kinds of songs from Broadway musicals. When I heard "Seasons of Love," I loved that song. I went on to study the rest of the music. Then I watched the movie, and I loved the story. Ever since then I just loved "Rent." The fact that I got to audition for Angel was just shocking to me. It's a big opportunity for me and a big challenge that I have to take on, but it's very exciting.
You were voted Miss Congeniality for your season in "Drag Race"?
Yeah, the fans voted me Miss Congeniality. They wanted me to win something; they wanted me to get that title. Although I do think I am congenial at times, it's kind of a big pressure to live up to that. You always have to be very diplomatic. But I don't hold that title anymore. I am totally fine being the fan favorite.
Aside from "Drag Race" and "Rent," what are you up to?
I released my single. My music is available on all digital platforms, and it's in Spanish. It's a Latin love song about being fearless against all odds. No matter how much people try to bring you down, you're always going to get back up, and when you get back up you'll be stronger, because you've already learned from that experience. I'm also working on creating my own show here in Los Angeles. I have a show early February, and I'm trying to get that going and get it started. It's me singing live, and I'm hoping to have a live band. I want to see what will become of it and if I can tour with it. I'm excited about all that is to come from this "Rent" experience. I would like to be part of a special project that I can't speak about, but I'm excited for what the future holds. I'm running with the win, and I'm not looking back. I hope people will enjoy "Rent," because we work really hard at rehearsals every single day to bring something so magical on the day of.