In "If You Were My Baby," the first single from Ricky Rebel's upcoming album, the glam rocker sings about how one should never be afraid to ask for what he or she wants from life.    The super fun video is out today, as well ten slick remixes of "If You Were My Baby" by some of the biggest DJ/producers on the planet.
"I'm sprinkling confidence into every club in the world," proclaims Ricky Rebel from his Los Angeles home.  "Confidence is an asset. It shows leadership and draws people in.  I truly believe it is the most attractive quality a person can possess and to all my Rebel Mafia out there, I say: if you like someone, tell them and make a case as to why you are the best. You might be surprised with the results."
"I had something to prove on "If You Were My Baby," continues Rebel, who noticeably sings a lot more on the record than he has previously.  "Sam Harmonix, the producer on this single, works alongside Grammy award-winners and I wanted to impress him with my harmonies.  You know, prove there's real talent behind the fierceness."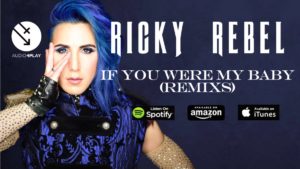 The "If You Were My Baby" remixes offer a wide array of different sounds.  "Godfather of EDM" Tommie Sunshine gives the track a fun, modern twist that crosses between EDM and club in his mix, while Zambianco presents a cool tribal beat that fitness buffs will enjoy working out to.   Hector Fonseca's version is straight up club with a Brazilian vibe that sounds tailor-made for the world's biggest Pride festivals.  The Dirty Werk mix is a pop dance hybrid best suited for straight dance floors, while the SaberZ mix is hard core EDM, perfect for large stadiums.  DJ Hayworth's track, with it's lovely tropical deep house vibe, is the most unique of the remixes while KOIL and Vito Fun's mix has an urban club vibe that fans of Beyonce will enjoy.  Mr. Mig's pop remix is probably the closest to Rebel's original track.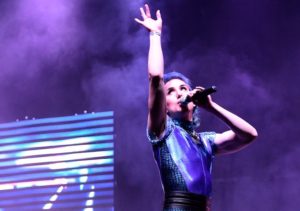 Ricky Rebel burst on the music scene in 1997 as the lead vocalist of the boy-band No Authority. Signed by Michael Jackson to Michael's MJJ Music label at Sony, he toured with 98 Degrees, Destiny's Child, Aaron Carter, and Ashlee and Jessica Simpson.   In 2000, the band moved to Madonna's Maverick label where they toured with Britney Spears and released their Billboard Top 40 chart hit, "Can I Get Your Number."
Ricky went solo as Ricky Rebel in 2012. Since then, he has released two albums, Manipulator featuring hit singles "Geisha Dance," "Get It On" and "You Need a Woman" and The Blue Album featuring "Star" and "Boys and Sometimes Girls".
Visit his website.