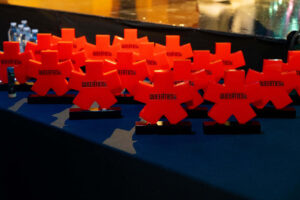 Queerty has announced the nominees for The Queerties awards, its annual celebration of entertainment and pop culture moments that defined the past year in the LGBTQ+ community.
"The Queerties gives voice to the LGBTQ+ community," Scott Gatz of Q.Digital, the parent company of Queerty, explains.    "It is the only pop culture awards show where queer people vote for the talent and creatives they feel will have the most lasting impact on the next generation of queer youth."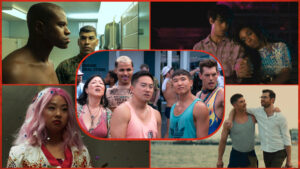 Billy Eichner (Bros), Janelle Monáe (Glass Onion: A Knives Out Mystery) and Troye Sivan (Three Months) are among those competing in "Best Performance Film".   Kit Connor (Heartstopper), Rebel Wilson, and Noah Schnapp (Stranger Things) are among the stars competing in the "Closet Door Bustdown" category, an award that recognizes brave notables who shook up mainstream America with their coming out stories. 
Indie artists being recognized include influencers Chris Olsen and Megan Mitchell, vying for "Favorite TikTok-er"; Omar Rudberg and Chappell Roan, both named in the "Breakout Musical Artist" category; and Cole Escola and Jeffery Self, whose popular comedy show, Breakfast Buffet, is competing for "Top LGBTQ+ Podcast".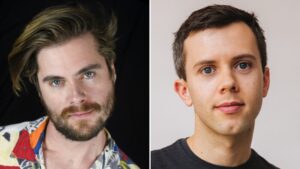 And what is a queer award show without at least a little shade?   Nominees for the "Girl, Bye" prize, the category that execrates the individual most scorned by the LGBTQ+ community, include Candace Cameron Bure, Kanye West, Elon Musk and Ginni Thomas.
A full list of nominees can be found now at Queerty, where fans can vote for their favorites.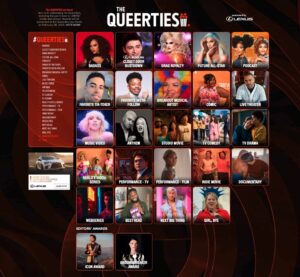 Winners will be announced at the February 28 award ceremony that will take place in Los Angeles, hosted by everyone's favorite queen, Bianca Del Rio.
Visit Queerty