Voss Events Presents: Queen of The Ride
An Adult Party Bus Cruising Gay Manhattan Nightspots With Live Street Performances
Brandon Voss, the "ultimate 'Drag Race' party planner," has partnered with the NYC theatrical bus tour The Ride for a brand-new adventure guaranteed to get gay men moving: Queen of The Ride. In this interactive experience, revelers hop aboard a luxury vehicle with floor-to-ceiling windows, stadium-style seating, a state-of-the-art sound system, 40 plasma-screen monitors, 3,000 LED lights and a fully stocked bar and cruise the city's hottest gay night spots, including Pieces in Greenwich Village and Hardware Bar in Hell's Kitchen.
While en route to each venue, attendees indulge in complimentary alcoholic libations and are entertained by some of NYC's finest and most outlandish nightlife creatures. Drag stars Shequida, Lady Bunny and Tina Burner host the different busses, each with their own unique brand of commentary. Queen of The Ride cruises Manhattan every Saturday night, departing from Hardware bar at 11 p.m.
"New Yorkers are always looking out for something new, and this is about as revolutionary as you can get," says Brandon Voss from his New York office. "One night on the Queen and guys will fall in love with gayest city on earth all over again."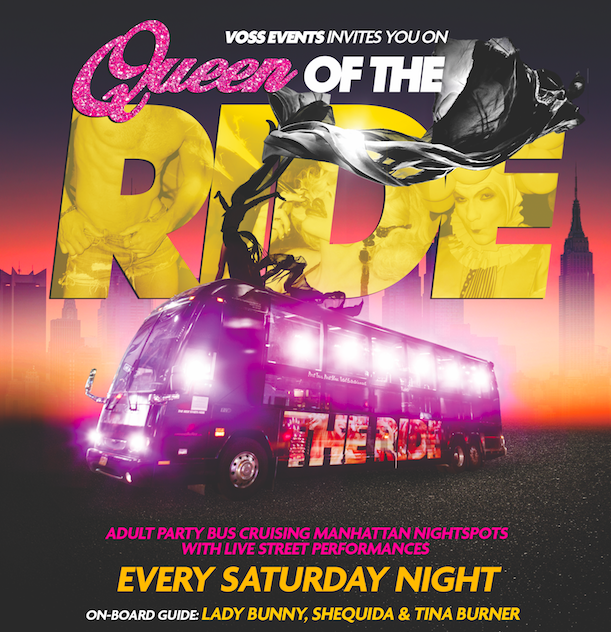 The Ride first launched in 2006. With singing, dancing and special effects, the raucous and entertaining sightseeing tour quickly gained a reputation for being a show like no other. It is a moving theater with thrilling street performers and magical surprises 'round every turn. Riders watch the action and participate in it all at the same time.
For more information on Queen of The Ride and to book a seat aboard the bus, visit VossEvents.com or call (888) 885-VOSS.