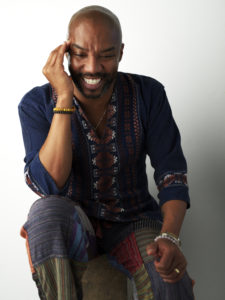 Rodney Hicks is best known as being a part of the Original Broadway casts of the Landmark Tony Award/Pulitzer Prize Musical RENT and the International hit COME FROM AWAY. He is also the playwright of FLAME BROILED, which had its World Premiere last Fall at Local Theater Company. Rodney has a host of recognizable TV credits to his name.
Rodney can currently be seen in the hit film "Mighty Oak" directed by Sean McNamara. This film has an all-star cast including: Janel Parrish, Carlos PenaVega, Alexa PenaVega, Tommy Ragen, Raven-Symone, Ben Milliken, and many others. Mighty Oak is available on Apple TV and Amazon Prime on July 7th.We spoke to Rodney about his role in the new film and his career.
Did you need to prepare for your role in the movie and if so how did you do it?
In preparation for the role, I read a bit more into reincarnation and how that may or may not manifest in our everyday lives. I've been practicing meditation for over the past six years and enjoy reading new age books, crystals, energy healing, and the like, so when I read the script, I was immediately drawn to the mystical element of it as well as the chosen family aspect.
Did you have a scene in the movie that you were particularly proud of all that you particularly enjoyed?
I really enjoy this film and its message of hope. The scene I loved shooting the most has got to be the one with Janel Parrish and I in the bar. We formed such a beautiful bond during shooting and this scene was a bit later in our schedule, so our chemistry was just so incredibly natural, easy, and with great flow. I actually feel that way with all of my scenes with Geena (Janel Parrish) and the band. We all just clicked and vibrated on this wonderful energy of positivity and creation.
Is the character you play in the movie similar to you in anyway?
That's a great question! The costume designer of the film, Cailin Calandro, took one look at how I usually dress and said this is so DB (Short for Dwayne Biggs, the character I portray in the film). Wardrobe bought my clothes and so that is my personal wardrobe used in the film, mala beads, energy crystals and all. Our vibes are different yet similar. DB has a beautiful been there saw that done that new life living vibe like mine, but his voice is slightly lower and his energy sits a bit more back than mine at times. His love of being there for people, mentorship and being a part of chosen family is very similar to me as well. Nothing against blood family, but chosen family is a very special thing because it's chosen.
How did you get the role?
As fate had it, I was coming off of healing from being diagnosed with a voice disorder called spasmodic dysphonia. I was in the Broadway show 'Come From Away' three years ago, originating the role of Bob and others, after performing in several cities we get to Broadway and my speaking and singing voice began to lose its ground. After many doctor visits, I was told by my neurologist that because of the SD I wouldn't be able to sing professionally again or speak with clarity and ease. I departed this dream of a show I was in and flew back home, my husband (Chris Coleman, Artistic Director Denver Center Theatre) and I were based in the Pacific northwest at the time. We now reside in Colorado. Defying the doctor's, my voice miraculously came back on the morning of my father's death. True story. First my speaking voice followed by my singing voice. I was able to sing at his funeral. So much got unpacked and healed in one morning. After two years of continued therapy, reiki and working to get my voice and health back, two years ago my friend, Frank Ragen, who is one of the producers of the film, contacted me and asked if I'd like to put myself on tape for the film's director, Sean Mcnamara, they thought I'd be a great fit for the role. I found out I got the role on New Year's Eve of 2018. After being in this industry for 25 years this is my feature film debut and I couldn't be happier.
How do you compare Films to being live on Broadway?
There is nothing like Broadway in regards to the electricity you feel sharing your heart and character you brought to life in front of a live audience. But what I love about film/tv is the intimacy of the moment happening and yet having the great opportunity to cut and try, try again, whereas with theatre you get rehearsals and that one show, but then, if you're lucky you get to keep evolving your character eight times a week for as long as the show happens to run or you stay in it.
What inspired "Flame Broiled?"
I love that you asked about FLAME BROiLED. My vignette play on race and culture. I was taking a Paula Vogel Master Class in the summer of 2018, and it literally changed my thinking that I could actually have a career as a writer too. The play came out of one of her bakeoffs, which is a writing assignment where she provides you prompts and you have a half an hour to write a 5-minute scene/play then present it to the class. The prompt was: "A Black woman explaining to an out of touch White person the importance of voting." And Go. I went to the bathroom, came back into the room, moved my computer to the back and began to write the first scene of the play called: Flame Broiled. In the play it is now called: I Have a Nightmare. A Black woman and a White Woman in a Burger King and things go quite cray from there. It is a vignette play of 16 vignettes that feature four actors portraying 38 characters. Two actors are Black and two actors are White. I am currently working on a revised version for stream that will feature 38 actors made up of various racial and gender makeups. It should be intense, bold, fun and Today.
Since this is Pride month what does pride mean to you?
Pride to me means loving yourself. Really doing the work to love yourself and therefore loving others. To know that you are beautiful. To allow your compassion to shine. Pride means regardless of the world's spinning, I can stand strong in love and peace as a Black gay man in today's world. I love all colors of the rainbow and I am proud to allow love to win and lead my life today with peace.
How did you get your roll in the iconic Broadway play "Rent?"
Fun question. 25 years ago on a very cold and snowy winter day in December 1995, I auditioned for Jonathan Larson's s Rent. I wanted to appear older so I black penciled on a goatee and mustache. I was 21 and couldn't grow much facial hair at the time, and the role was mid-late 20's. I also had on a red cardigan sweater from the Gap. I sang 'This is the Moment' from Jeckyll & Hyde, of course and show queen will tell you that is the Wrong song to sing for Rent. But I didn't know that at the time. I was asked by Tim Weil, the show's musical director, if I had anything else. I told him I knew 'On the Wings of Love' by Jeffrey Osborne but didn't have the sheet music. Yes I was a hot mess in my 20's. And 30's, I'm sure. Tim got behind the piano and played, I sang. I was then asked if I could freestyle dance a bit. I used to love breakdancing so I did that. I took off the Gap sweater and began my dance and through in a back flip and split for good measure too. Remember, I was 21. After my audition I was told by Bernie Telsey, the show's casting director that I should visit the men's room and check the mirror before I leave. I did, and wouldn't you know, my penciled in goatee had smeared all over my face. Two hours later I got the job. I don't think that's how I got cast, but I think they knew I was special. Ha.
You are an actor, singer, playwright, and producer is there anything you still wish to accomplish?
Well, as far as singing goes that takes a bit more effort but it's possible, and I am grateful. My second dream outside of Broadway has long been to have a series regular TV career while being a playwright as well. We shall see. The biggest accomplishment that I am most grateful for is being married to my husband of seven years and being happily open about that fact with great love in my heart for many beautiful people I call chosen family. I guess keeping balance in career and personal life so that each day is something to be grateful for is the best accomplishment any of us can keep striving for.
Is there anything on the horizon for Rodney?
There are some things on the horizon, and if they manifest that would be welcomed and wonderful. But each day is a new opportunity for a new horizon to unfold.
Where can your fans keep connected?
Anyone who would like to get to know me a bit more of me and my journey you can follow my IG account @rodneyhickshere. My official website is: www.rodneyhicks.net
Mighty Oak Official Trailer: