Originally from Oklahoma, Keith Taylor is a talented and sensitive poet, actor and writer who will be presenting the debut of his powerful and emotional short musical film, "The Stage," on March 9 at 7 p.m. at the Rockbar in New York City.
Taylor portrays the role of a singer with visions of becoming famous in the infamous New York City. It covers sensitive topics such as drugs, HIV, prostitution, transsexuality and dreams, all based upon his poetry and imagination, and all within 15 minutes. I had a sneak preview of his masterpiece, and I was brought to tears and deep thought, while finding the production quite entertaining at the same time.
The cast includes friends of Get Out! including LGBT artists such as Jason Russo, Samara Riviera and Ryan Janek Wolowski. It was directed by rapper Infinite. I was able to speak with Taylor about his musical, and he was overly excited to respond.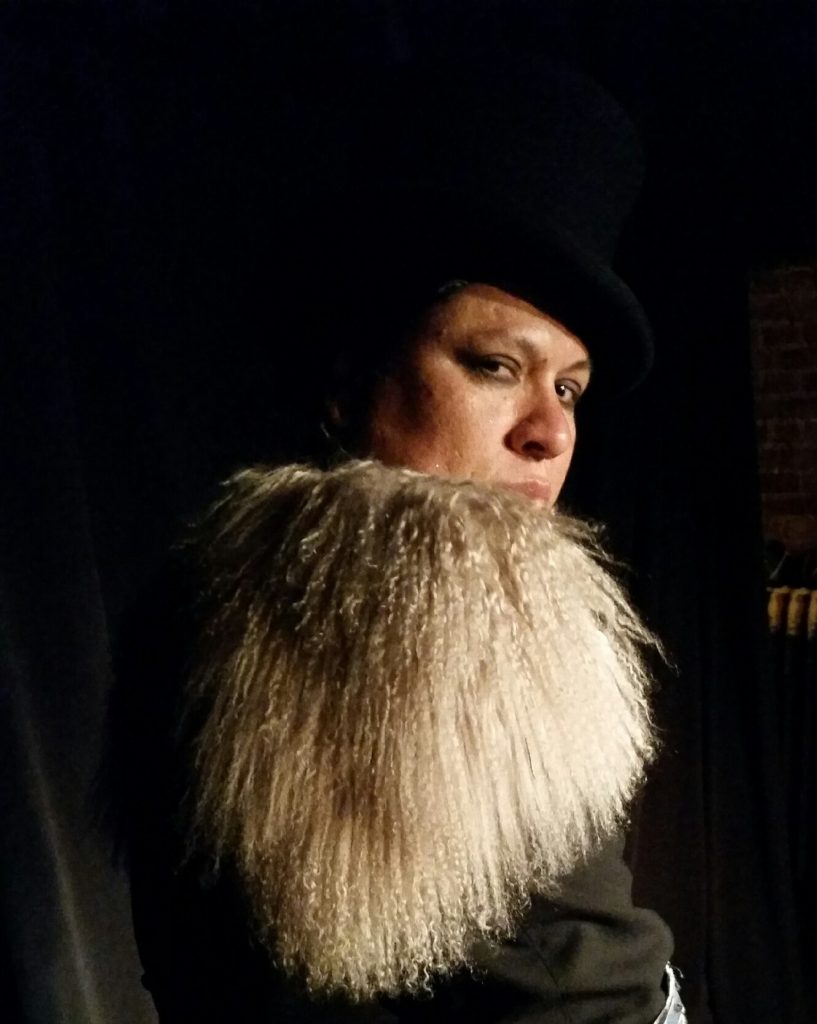 So tell me what motivated the creation of "The Stage."
It came about through my poetry that I wrote throughout the years that I've been in New York City. I met this talented DJ and rapper named Infinite at an LGBT Expo. I saw her rapping with some other LGBT rappers, and I was blown away. They just turned it out. We got together, and we started working on some of my poetry. We started to work on "The Stage" after we had done a short film about bullying prior. "The Stage" is actually about this guy that comes to New York City in the '80s. I think everybody that comes to New York City wants to be a star, and he was one of them. It just didn't pan out for him, and he becomes a street hustler, and as he gets older he still has that dream inside of him. He winds up doing these shows at this burlesque club, and in his head he looks at it as if they were big musicals, but really it's just a run-down dump. His backup dancers are actually prostitutes. It's a musical, and it has some house music, some R&B and some opera. It's a combination of different types of music. At the end, it even has a boys choir.
It sounds really cool.
It's amazing. It's very amazing what myself and my director did, because we cut out a lot of the middle people. We did all these things by ourselves, also because we had a budget. Infinite is actually going to be DJing at Rockbar, and that's going to be on March the 9th. Then we are going to screen the film. My multi-talented friend Trevon Latin is also going to be debuting an R-rated music video he made of "JoyBoy" from the film. There is going to be a lot of stuff going on.
How long have you been writing poetry?
I started writing poetry probably when I was 13. I really didn't get into it emotionally until I came to New York City. I am originally from Oklahoma.
Oklahoma?
Yeah. I've been back once or twice, but that's it. If I die today, I want to have my ashes thrown off the Empire State Building. Whoever's got the balls to do it…
I'll do it.
I had gotten kicked out by my step-dad when I was 17, and I got kicked out of my dad's house by his girlfriend for being gay. Before I came to New York City, I was so feminine. I looked like a girl. Before I even knew I was gay, I was always called a fag. Sometimes I even got mistaken as a girl. If it wasn't for these two girls, Kelly and Corina, and especially my gay mother Stephanie Xtravaganza, I would have never survived NYC. They taught me the ropes and how to hustle, but most of all to love and respect myself.
You have a great nightlife cast as well.
A lot of the people who are in this film, I've known for years, or I've worked with, or I've seen them perform. I asked quite a few people to do this, because a lot of times people don't show up, and the thing is that everybody showed up. There's Samara Riviera, Monica Loren, Jason Russo, Robbyne Kaamil, David Garcia-Maurici, John-Deric Mitchell, Ryan Janek Wolowski. They came in and turned it out! I was like, the building staff is gonna call the cops during the fight scene between Samara Riviera and Norman Outlaw, because it was so real and loud. Jason was in that scene, and I know he doesn't like violent films. So he ran out to me and asked, "What kind of film is this?"
It's really great when it all comes together.
Yeah! It's also about that time during the AIDS epidemic. I touch down on that too during the film. When I first came to New York City, a lot of my young gay friends were dying left and right. I had to automatically build a shell around my heart. When I got to New York City I had just turned 18. I didn't know anybody. I was homeless for a while, then I went to Covenant House and hung out with all the LGBT teenagers, and we all stuck together. When we all went our own ways, some of them wound up in prostitution, some of them got hooked on heroin, on crack, and people were dying left and right. That's basically what "The Stage" focuses on. I wish I had more time and more money to make it longer, because there is so much to be told.
Any last words?
There's one more thing that I wanted to bring up. Parts of "The Stage" were inspired by "Bird Man" and "Valley of the Dolls" and "The Rose." Some of the scenes were inspired by that. But also, my character, Star, becomes a street hustler, and although he gets a taste of fame, he just becomes delusional towards the end. One scene we recreated is from the movie "Humoresque," a 1946 film starring Hollywood legend Joan Crawford, because it went so perfectly well with the main character from "The Stage." There's a quote that's in the beginning of that classic movie that I can see my character saying: "I'm outside always looking in. Feeling all the time I'm far away from from home, and where home is, I don't know. I can't get back to the happy kid I used to be." In the end, his home was the stage, but in reality the dream was over.