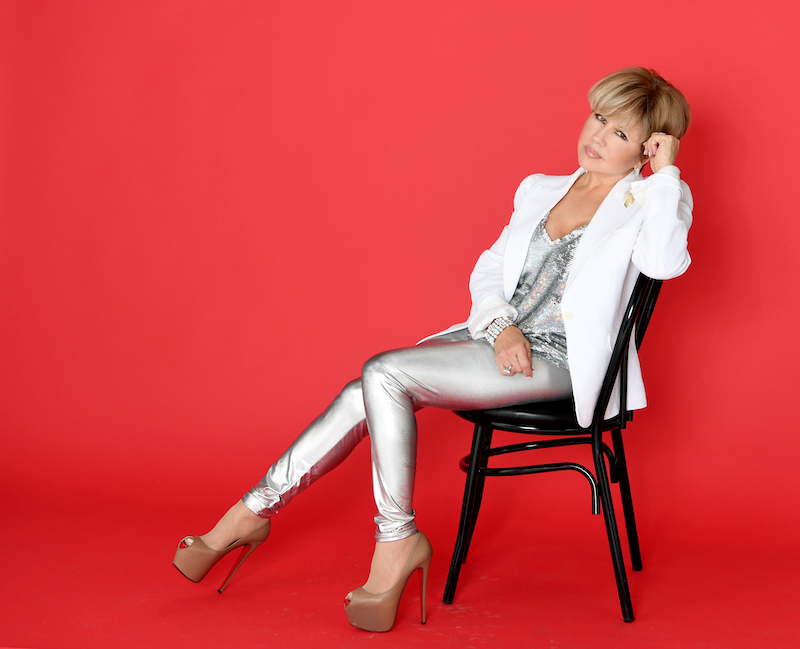 Exquisite anomaly, actress and singer Pia Zadora is an unforgettable celebrity personality. A child Broadway and film star Zadora rose to national prominence following her featured role in the highly criticized film "Butterfly" which won her a Golden Globe for New Star of the Year and at the same time she also acquired the Golden Raspberry Award for Worst Actress and Worst New Star for that very same performance. Switching her focus to music after her acting career failed to take off as she hoped, Zadora was nominated for a Grammy in 1984.
Pia Zadora is like no one I have ever interviewed in the best possible way. You might say she is authentically different than most, also in the best possible way. We had an intimate conversation regarding her career and her life. She was intriguing, fascinating, candid and most importantly a blast.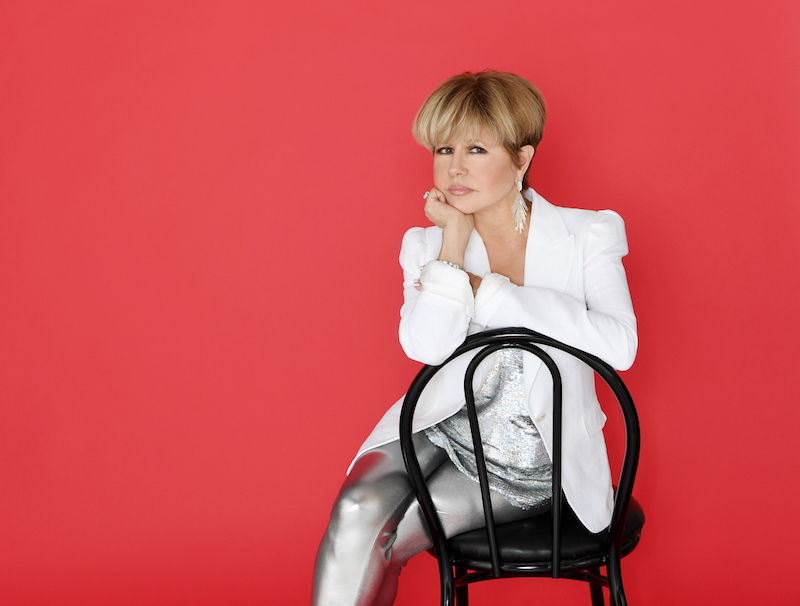 INTERVIEW
Currently….well before the lockdown you had been singing and performing weekly?
I have a residency, it's my sixth year here in Vegas. There's a little place called "Piero's Italian Cuisine", and it's where everyone gathers. The Mayor, the DA, every celebrity that comes to Vegas, it's a very cool kind of edgy place. The equivalent in New York would be the Metropolitan Room, or more like The Carlisle. There is a lounge adjacent to the restaurant that is called "Piero's Place", and I have a marquis and every week and I do my thing with my band. We have guest artists come in but it's me and Sonny Charles, from The Checkmates (Black Pearl). He's just a crazy dynamic, wow performer. He's got that old R&B stuff…and I do the Sinatra stuff. I show my clips from the movies and I change my dialogue every week because I work there on a regular basis. I have a fabulous trio who were Sinatra's guys and for the last two years I've had a Liza impersonator. He walks in there and everyone thinks it's Liza. So we did this every weekend and I kind of missed that.
You've had an incredible, crazy career. Can you think of the best moments or moment in your career?
There were several high points….of course a lot of other points too… it depends which way you were looking. I think probably getting the Golden Globe, although they're still asking for it back. Fuck them it's all mine. They didn't like my name or my husband…fuck them.
I never said I was a great actress what happened was it was the New Star of the Year category. The film "Butterfly" was very me….no holes barred kind of thing. The Grammy nomination was kind of cool because I lost to Tina Turner.
If you have to lose to anyone that's a cool person to lose to.
Going on tour with Sinatra, of course everybody thinks we were having an affair but…..I won't comment…I did something called "Too Short to be a Rockette" and it was sort of autobiographical and they asked people who I worked with to record little clips and talk about me. It didn't really go anywhere but it was a fun show. So they asked the people that I worked with like Burgess Meredith, Bea Arthur, Frank Sinatra, Benny Goodman…. Milton Berle, …. people wanted to hear about my life because it's so fucked up and interesting. A lot of it was a lot of fun.
Can you recall a moment that change the trajectory of your life?
Yes, when I met my husband to be. My first ex-husband. Before that I started in show business when I was like eight. I was a very shy little girl, I don't know what happen I re-morphed. I was going to parochial school in Forest Hills. The nuns thought I was socially retarded. I was an only child, I had a heart condition, and I was sheltered by my mother. So I went to my pediatrician who recommended to my mother to send me to a kids dramatic school program to bring me out of my shell. She sent me to the American Academy of Dramatic Art where I took weekend classes. I was playing a mean little princess at the Academy and my luck Burgess Meredith was scouting for a little girl to co-star with Tallulah Bankhead in a Broadway show. I went to audition and I got the part. That was the beginning of my career. I did a whole bunch of shows including Fiddler on the Roof, I was the youngest child. I did "Sound of Music", and other shows. I toured with "Applause", with Alexis Smith when I was about 17 or 18. Anyway I met my first ex-husband when I was with my manager Arthur Miller when I went to audition for "To Kill A Mockingbird." He wanted to stop and see his friend and asked me to wait. I sat in the lobby and the next thing you know he came out and got me and brought me in. He asked me what I was doing and I explained that my next gig was in Ohio. He told me he had to be there on business and then he wanted to come and see my show. He did but I was busy that night and he wound up taking my mother home. He actually wooed my mother but I went and married him instead. He always used to say that I married him to get away from my mother, and it was really true.
Really?
When I married him all of a sudden I was Cinderella. He owned Cartier at the time so I could walk into Cartier and get anything I wanted. I could walk in and get million dollar necklaces and the limousine was always waiting for me when I came downstairs. There was a helicopter, an airplane and it was really kind of a fiasco in a good way.
I remember at the time people loved to talk about it. How did you feel about that?
He was 27 years older than me so it was inevitable. At that time he was one of the richest men in the world. When you're 24 and the guy is 50 and charismatic and has everything, he was like a father to me. He gave me everything that my mother never gave me. He actually respected me. What did I care if everyone talked it was my life, and that's their problem. It's my life.
I love your attitude.
It came to a point where he was 60 and I was 30 and we just kind of grew away from each other. Then I told him I just had to move on. He was good with all that. At first he thought I was going to come back to him so he bought me all these convertibles and had people spying on me. It was not a love affair marriage. It was a love affair in a different way. We were constantly traveling so it wasn't an intimate one, but it worked for us. We loved each other and we had two kids.
Well what marriage is perfect?
This was way unusual I can't even describe it but it worked for us. Then when I decided to grow up I said "hey I got to go." I was 35 years old with two kids and having everything in the world, but I would sit in the bathtub and burst into tears. I would sit there and play Pac-Man holding a glass of wine for hours so I finally went into psycho analysis. That's when I really found myself. The guy made me realize that my depression was not a real depression but it was a situational depression. Once I got out of it I was fine. Then I continued the psychoanalysis because I married another dumb ass. He was a screen writer and director. He was very sweet but he was very OCD. He died in a car accident.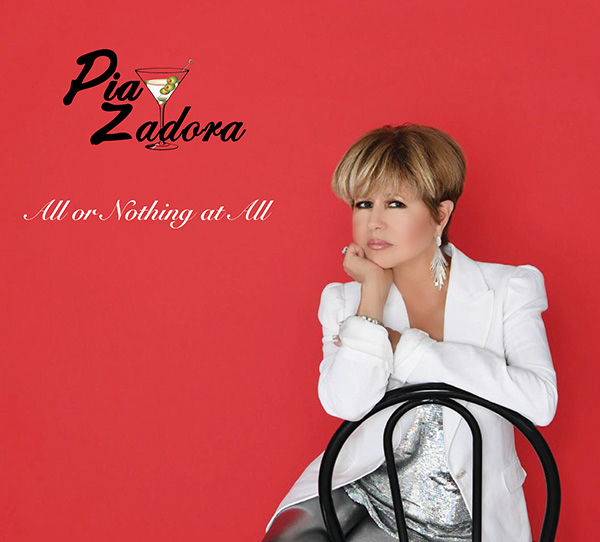 He died too?
I killed two husbands.
Now you are married to your very handsome third husband, you happy now?
I am, for real for the first time in my life. I'm happy. My attitude is good. I remarried. We've been married for 16 years and at the time that we met we needed each other. If you Google Celebrity Wife Swap with Cloris Leachman you will see him. He looks like Alec Baldwin but better.
Pia has just released a new CD called "All Or Nothing At All- Available now on digital platforms