Is "The Renaissance Queen," From
The GLAAD Media Awards To Hulu's Film "Fire Island"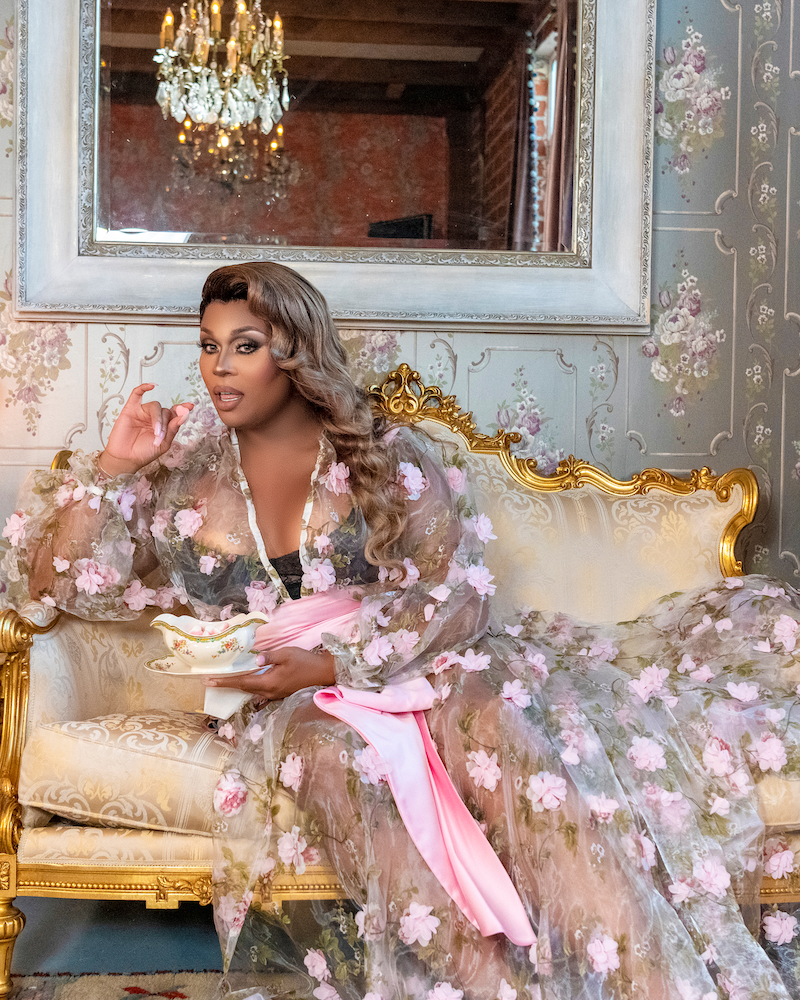 A pioneering actor, singer, activist, and reality star, Peppermint is a true renaissance queen. 
Peppermint is celebrating the release of her new album, "Moments of Weakness: Letters to My Lovers", on April 22 via PEG Records/Warner Music Group/ADA. It is the second in a trilogy of releases regarding the three stages of Peppermint's most recent relationship. She is also set to host the 2022 GLAAD Media Awards, as well as being nominated in the Outstanding Online Journalism category. She can also be seen larger than life in the up-and-coming Hulu original romcom "Fire Island" on June 3, alongside comedian Margaret Cho. She has a few secrets as well…
Peppermint rose to dazzling heights as the first trans contestant to appear on the award winning RuPaul's Drag Race (season 9), where she emerged as a runner-up. She also became the first openly trans woman to play a lead on Broadway, in Head Over Heels. Currently, she can be seen on OUTtv's Translation, a roundtable talk series with former contestants of Drag Race. She continues to perform sold out shows and is one of New York's nightlife's most prominent figures.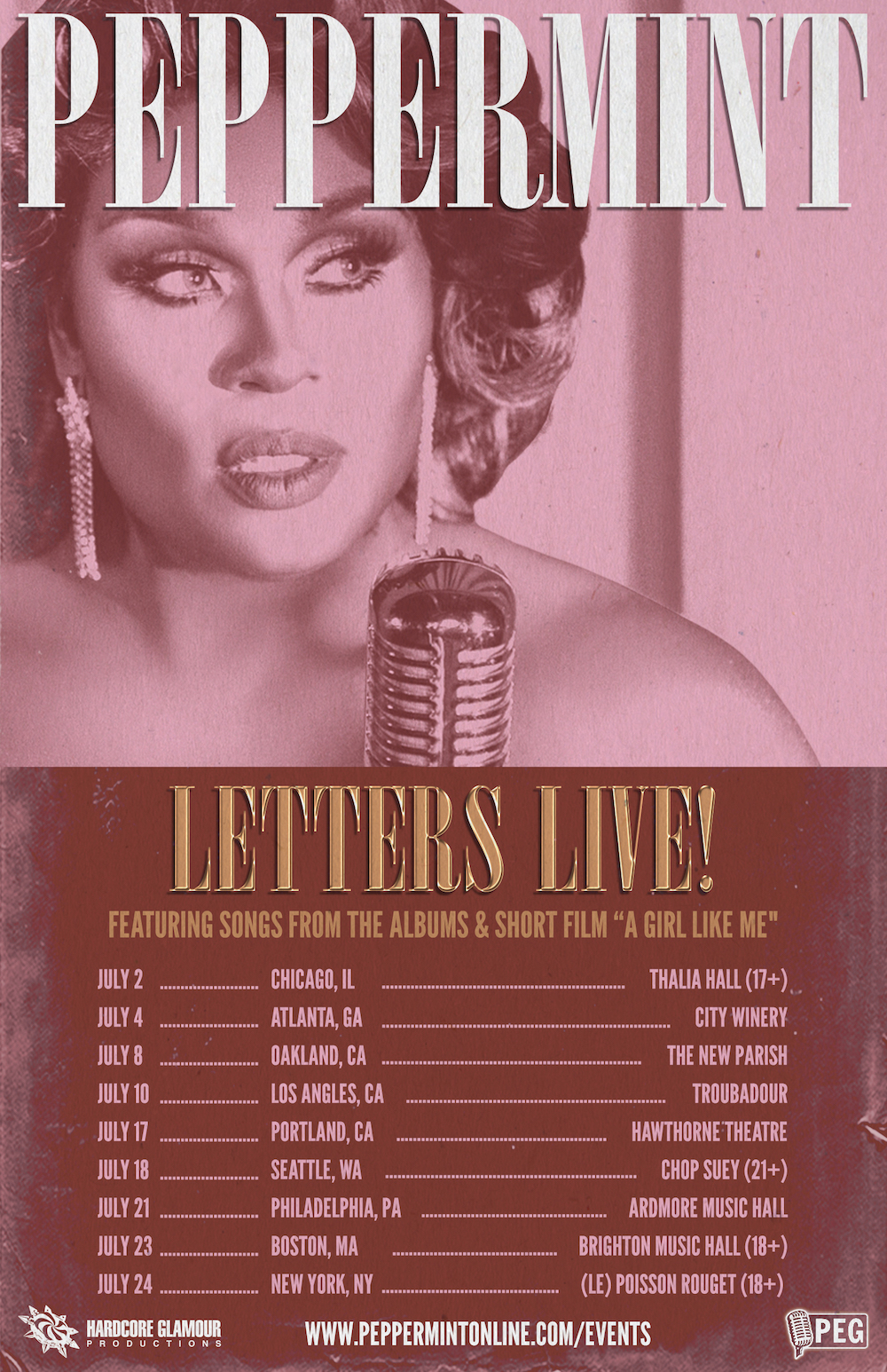 HELLO, PEPPERMINT. CONGRATULATIONS ON ALL THE PROJECTS YOU ARE DOING AT THE MOMENT. YOUR NEW RECORD HAS JUST COME OUT…SO PLEASE CONTINUE THE TRILOGY?
It came out April 22. This one is a continuation of the trilogy. The first album was about the beginning of the relationship and this album is basically about the middle of the relationship, where things are going good but then something starts to change. So I called it the beginning of the beginning of the end of the relationship. It's very interesting because the first album is obviously very sweet and sort of happy because it's the beginning of the relationship. And even though all of them are definitely a nod to the '90s and early 2000 R&B music, this album is very much straight R&B. A lot of times, R&B is about singing about relationships, those "Woe is me" type songs, so this gives me the chance to really lean into that style. And I really enjoy it. 
I HEARD THE SONG YOU DID WITH JEROME BELL. VERY COOL.
Yeah, "Broken Home." I love that song so much. It's just a very different style of music than I've been doing prior to this, and I was just so happy to be able to sing with Jerome. Oh, my gosh, his voice is ridiculous.
YOU WERE ASKED TO HOST THIS YEARS GLAAD AWARDS. HOW DID THAT COME ABOUT?
I'm super excited. I've actually been to a couple of GLAAD Awards over the years, and I've always been a supporter of GLAAD and closely connected to them. They called me this year and asked me if I would host. This is right after they told me that I was nominated, so obviously, I said yes. I have hosted a GLAAD Awards before, when they were in San Francisco in 2019. But that was a San Francisco event and it's usually smaller. So this will be a great opportunity to see some Broadway folks and to be presented as New York City comes back from the pandemic and be part of a bigger and larger presentation. 
People are used to seeing me in a beer-soaked stage bar or nightclub, but not a lot of people in New York are used to seeing me in a fancy environment. So I'm excited to be able to show that side to folks in New York. 
ARE YOU NERVOUS?
Not yet. We still have a few weeks, and I'm sure it will settle in. 
CONGRATULATIONS ON BEING NOMINATED AND HOSTING AND ALSO CONGRATULATIONS ON THE FIRE ISLAND MOVIE. THAT'S REALLY EXCITING.
Oh, my gosh, i'm so excited about this film. it kind of happened by happenstance. They called me and asked if I would come and do a couple of scenes. And obviously, I said yes. I was just so impressed by the cast. I wasn't there for every scene, so I didn't get to meet every person, but Fire Island is such a key part of gay life and queer life, especially in New York and certainly in the northeast. Even if you haven't been to New York, you have certainly heard stories of Fire Island. I have a girlfriend who lives in Dublin and who is the show hostess at a popular bar called the George, and she's been hosting me every single time I've been to Dublin. But the first time she and I ever met was on Fire Island because she takes annual trips to New York and doesn't even go to the city. Just Fire Island. So it's so much a part of so many people's lives, it's high time that there is a film about Fire Island.
WHAT KIND OF ROLE DO YOU PLAY?
I basically play myself. We are at the Ice Palace and there is a drag show and I am the entertainment. I come and do the show. Not to give too many things away, but two characters in the movie have a little bit of a connection and I'm responsible for helping that connection. I'm sort of like the drag fairy godmother or the drag Cupid. 
ASIDE FROM ALL THESE EXCITING THINGS, WHAT OTHER PROJECTS ARE YOU WORKING ON?
I'm right in the middle of packing feverishly to head to Canada because I'm about to film season two of Call Me Mother. It's a drag reality competition. I am one of the judges. It's a series that I think some people may not have seen, even though we're in season two. It's probably still new to some people, which is great because there is an opportunity for everybody to go and binge watch season one. It has folks in drag, nonbinary, drag kings etc. and we divide them into three houses and each house has a mother. At the end of each episode, the mother of the house that's in the bottom has to send one of her own drag children home. It gets quite emotional and quite tense. 
BEING A RUPAUL SUPERSTAR AND HAVING BEEN JUDGED, HOW DOES IT FEEL ON THE OTHER END?
It actually feels good. I do think even before going on Drag Race I certainly had been performing here for many, many years. I'm not considered new by any means, and so this allows me to sort of use my drag performances and all the experiences that I've had over the decades to benefit some people that are newer to drag. I would've loved to have a drag queen who had been on TV and also did Broadway to mentor me. Hopefully, they will value that.
IS THERE ANYTHING I LEFT OUT ?
That is pretty much all the projects I'm doing, although I have a super secret sort of tribute project that I'm working on. I can't really say too much about it, but for anyone who knows me, it's the opportunity for me to pay tribute to my favorite artist.