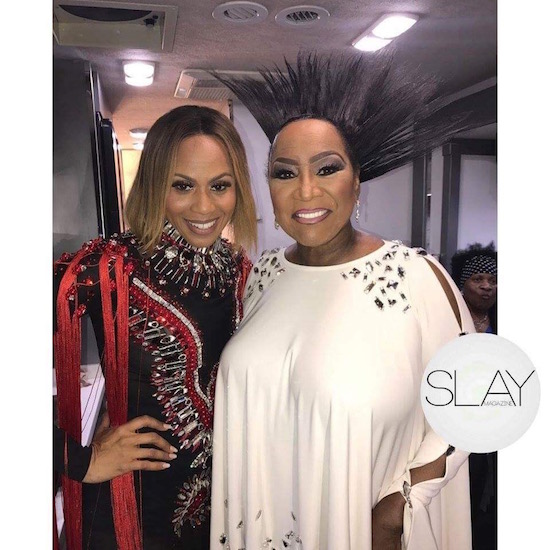 "The Ultimate in Unbelievable"
The iconic, phenomenal, and ultimate "Lady Marmalade", Patti LaBelle, and the sensational, paramount R&B artist, Deborah Cox co-headlined in a once in a life time celebration in New York City at Pride Island for the concert of the century in honor of Gay Pride, 2017. This was the very first time the two have been on the same bill, although they have touched each other's lives
many times, according to a recent interview of Ms. Cox for Get Out Magazine, "Our paths have crossed many times, actually including the very salon that became my signature hit. That song was originally written for Patti. Had she not turn that song down my whole situation would've gone a whole different way".
Patti LaBelle has enjoyed a career that has spanned 50 years. Along the way she has sold over 15 million records worldwide, has been inducted into the Grammy Hall of Fame, the Hollywood Walk of Fame, the Apollo Theatre Hall of Fame, and the Songwriter's Hall of Fame. Her group LaBelle was the first afro-American vocal group to become a cover of Rolling Stone magazine.
Deborah Cox is currently touring with the new musical, "The Bodyguard", based on the iconic film starring the late Whitney Houston. Her song, "Nobody's Suppose to be Here", held the record for the longest running number one single on Billboard's Hot R&B/Hip-Hop Singles and Tracks chart.
Deborah Cox took the stage first, in a burst of red, black and diamond glitter, and phantasmagoric song. Dancing about the stage while the excited fans sang a long with her, following her every move, and dramatically cheering her presence.
Then a deluge of rain, thunder and lightening brought a temporary halt to the celebration, forcing the crowd to exit the pier, as Ms. Cox announced a short break. The drenched fanatic's ran for shelter, leaving behind the only ray of sunshine.
Then the rain stopped and a rainbow appeared in the form of legendary singer, author, and actress, Patti LaBelle, who immediately owned the stage, and perhaps at that monument owned the world. Her voice was powerful, clear and explosive. She reached every pitch known to man kind, as the crowd received her with wild admiration.
Her audience interaction was fun and relevant as she kicked her shoes off across the stage, and prepared to have the best time ever singing and talking to the crowd. She belted out tune after tune. During "Lady Marmalade", the fanatic's went into a contagious, wild, frenzy.
Then a very touching and heart warming moment occurred as Deborah shared the stage and a song with Patti. They hugged and kissed and sang praises of one another which emanated from their souls, and affected the audience greatly. Two of the greatest female voices, and audacious entertainers of our times performed together for the very first time. It was truly an unforgettable and momentous occasion.