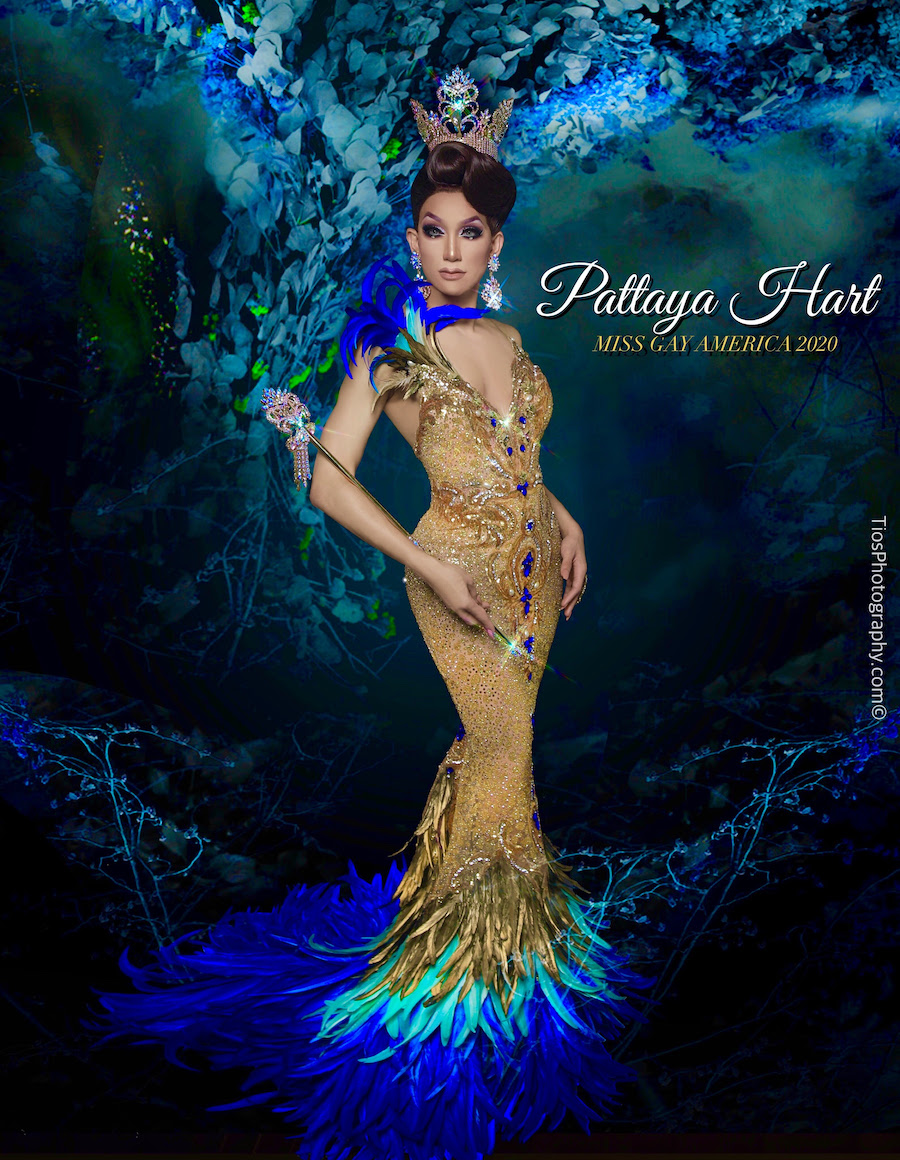 Pattaya Hart was crowned Miss Gay America in front of her mom, sister and aunt, who flew all the way from Thailand to witness the victorious event for the New York-based nightlife queen.
Her reign began the following day with meet and greets and live appearances. Pattaya Hart will be touring nationally and attending the preliminaries for the next Miss Gay America. We exchanged questions and answers regarding her victory as well as her career, influences and future dreams.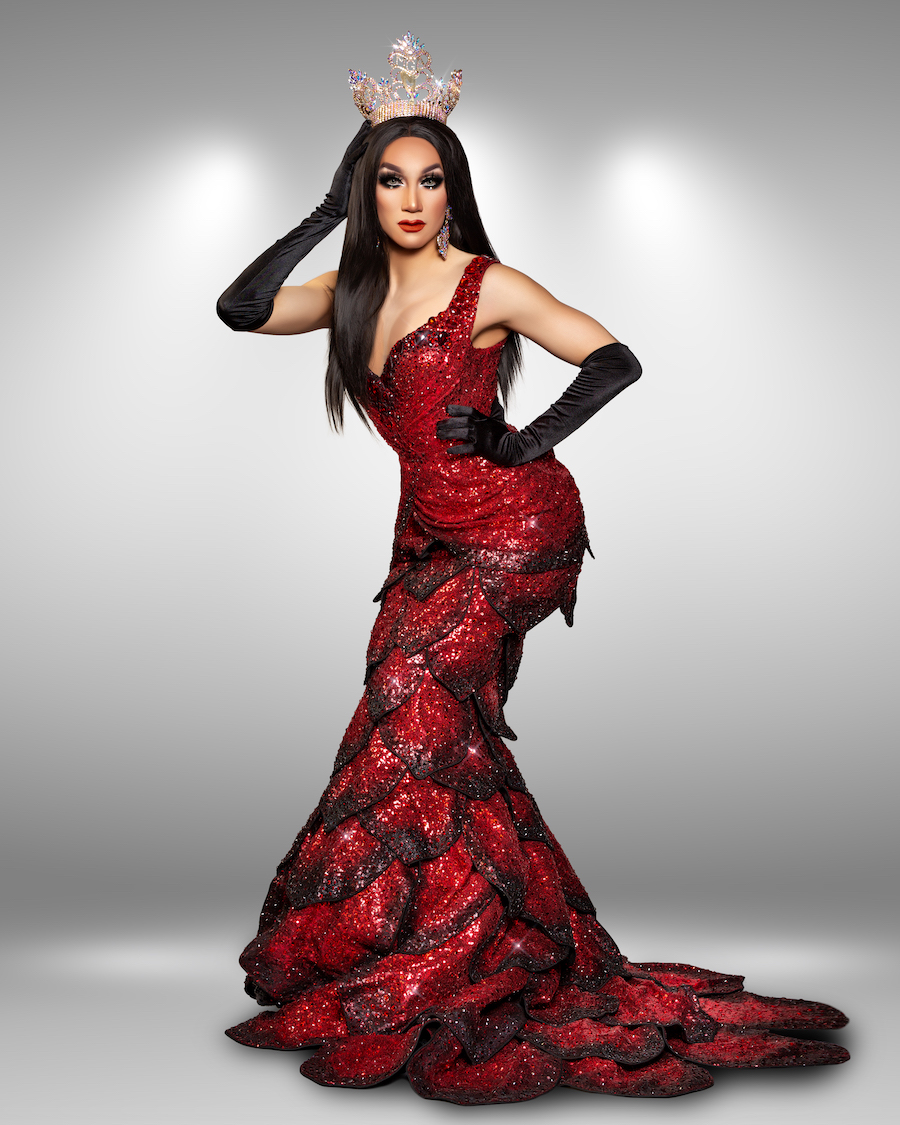 INTERVIEW
What does it mean to you personally holding the title of Miss Gay America?
It is an affirmation to myself (and hopefully it does inspire others) that I am living proof of the American dream, that ANYONE from ANYWHERE can do
ANYTHING they dream of if they're willing to put in the work and never give up, nor let any voices tell them they can't. I'm an Asian boy from Thailand who discovered my passion in dance and performing late in the game, and decided to move to New York City about 11 years ago to pursue dancing.
Being crowned Miss Gay America is a huge honor, and it has opened so many doors and opportunities for me that I would have never dream of. I'm looking forward to traveling the country and sharing my story and experiences to encourage people to do the same.
Tell us a bit about your journey to capture the Miss Gay America crown.
Miss Gay America, established in 1972, is one of the biggest and most prestigious national pageants for female impersonation.
I am the 4th Miss Gay America to have won on her very first attempt. I competed and got qualified for the national competition as the first alternate representing Miss Gay New York America. (The winner and first alternate get to compete at Nationals.) I was able to secure and keep the crown in New York City for the second consecutive year, after Andora Tetee (Miss Gay New York America 2018) took home the national crown last year as Miss Gay America 2019.
The national pageant was held in St. Louis, Missouri, in October 2019. There were 37 contestants from all over the country representing their state preliminaries. I performed a tribute to my idol, Broadway legend Chita Rivera, for my talent portion. I produced and choreographed my talent number myself, and brought my dance students (from my dance classes I teach at Steps on Broadway) to dance with me. I won Overall Talent, Presentation (with my female robot looks) and Evening Gowns. I placed second in Male Interview and third in Onstage Q&A.
What makes this whole week at the national competition so special and the most memorable for me is that my mother, my aunt and my sister flew all the way from Thailand to come cheer me on (with their light-up LED signs), and it was their first time seeing me compete in drag.
Who are your greatest influences and why?
Jennifer Lopez. I related to her a lot, because she is a minority and trained dancer who got her start in New York City. She has big dreams and works very hard. She was one of the very few dancers that have crossed over into film, TV, music and fashion. Her work ethic is commendable. She always ventures into learning new skills and is fearless when it comes to fashion. Plus, she's humble and never forgets where she came from.
If you could perform anywhere in the world, where would it be and why?
On Broadway, eight shows a week. Broadway musicals ignited my passion for dancing and performing. Getting to be a part of the big-production musicals in Thailand had led me to make a huge life decision and move to New York City to pursue a dancing career.
What do you enjoy most about performing live?
As a performer, I feed off the energy from the audience. Their reactions and the joy in their eyes make me happy and fuel the fire in me to keep on spreading the joy of the dance.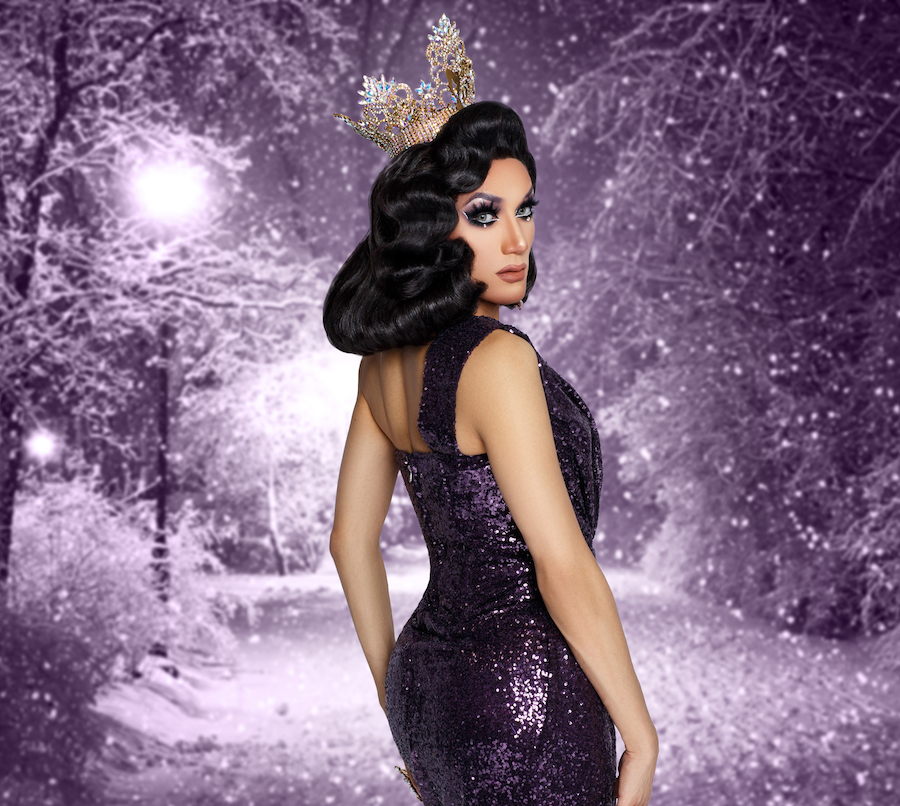 Do you have an ultimate fantasy performing in drag?
My ultimate fantasy performing in drag would be to perform for or to share the stage with my idols (Chita Rivera, Jennifer Lopez, Christina Aguilera and the Spice Girls).
And I was fortunate enough, last month, on Thursday, January 23, 2020, when I was asked to perform as Chita Rivera as a surprise present for the legendary Chita Rivera herself at her private birthday party at Industry Bar. Chita sat right in the front center of the stage and enjoyed every moment of it. It was very surreal and the most out-of-body experience that I would cherish for the rest of my life!
How did you arrive at your drag name?
I'm originally from Thailand, so I knew I wanted a Thai name for my drag persona that started with a "P" because of my boy name (Plu). I ventured in the name of Thai food (Patsy Ew or Patt Thai) but ended up choosing Pattaya, because it is the name of the famous city in Thailand that is known around the world as "The land of the world's most beautiful ladyboys."
Do you recall the funniest moment performing live, the most embarrassing and the most triumphant?
There is actually ONE performance/moment in particular that qualifies for all three. It was when I competed at the national Miss Continental 2017 pageant in Chicago. For the talent portion, I performed "All That Jazz" from the musical Chicago. It was my first time competing at a national pageant. I was very nervous, and halfway through the number, I did a hitch-kick layout, and my wig flew off of my head. I could hear the entire theater/audience gasp. Somehow I caught the wig mid-air, put it back on and continued the dance without missing a single beat. At that moment I was so embarrassed, but I had to laugh about it and get through the performance. The funny part about this was that I've been performing this number, wearing this same wig, at shows in the city over 300 times and never once lost a wig, until my very first time on a national stage. I ended up winning the "Best Talent" award that year with this exact performance. (You can find the video on YouTube.)

What advice would you give someone who is looking to do drag?
Invest in your craft/drag. That doesn't mean spending a lot of money, but spending more time, effort and focus on your performance, makeup, costumes and your overall looks. Drag pageants and competitions are also a great, intensive way to learn and elevate your art forms.
When do you start your reign as Miss Gay America, and what are your duties?
My reign started when I was crowned! The next morning I was already performing and doing meet and greets as the newly crowned Miss Gay America. Besides several appearances and performances around the country, I also have a huge responsibility in the administrative part of the system. I had to create a brand new email address just for this purpose. My job is to make sure that every preliminary runs smoothly and abides by all the rules and regulations of Miss Gay America. I'll also have to make sure that all the contestants are being judged fairly and get the best constructive criticisms at the end of the night.
I've been in contact with all the promoters from each preliminary to schedule dates for their pageants, helping them promote and answer all the administrative questions they might have. On top of that, I'm constantly reaching out to potential contestants to offer my assistance in every way I can.
This seems like an overwhelming job, indeed it is, but it is something that I'm passionate about. Plus, the owners of Miss Gay America (Michael Dutzer and Rob Mansman) and formers (known as "Forevers") have been helping and guiding me through the process marvelously.
I will be traveling around the country attending all the preliminaries for Miss Gay America 2021 throughout the year. My very first official preliminary will be the Miss Gay New York America pageant, right here in New York City (The Cutting Room) on Tuesday, March 10, produced by MGNYA's promoter, Thomas John. The pageant starts at 8 p.m. (door opens at 7 p.m.). Please come out to support and show lots of love to all the wonderfully talented contestants and special guest performers. I hope to see you all there.