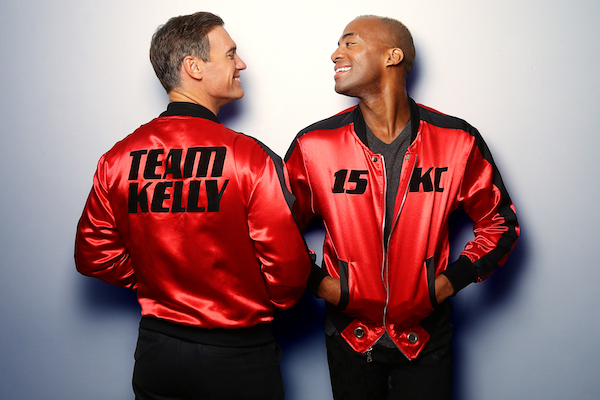 The enchanting masterminds of OneUp Duo, Adam and Jerome, will soon be unveiling what is sure to become a holiday classic music video, "Let Me Come Home," a heartfelt and touching ballad about acceptance and the desperate loneliness felt without it. The video is set to be released November 29, 2019, and has an appearance from Peppermint, a former runner-up contestant of "RuPaul's Drag Race."

OneUp Duo is a soulful pop/R&B combination who performed on stage for the first time together at the blind auditions on the super series "The Voice" on NBC. Three chairs were turned, and from that they chose Team Kelly Clarkson.

I spoke with Adam and Jerome, and aside from being really candid and kind people, they are a blast!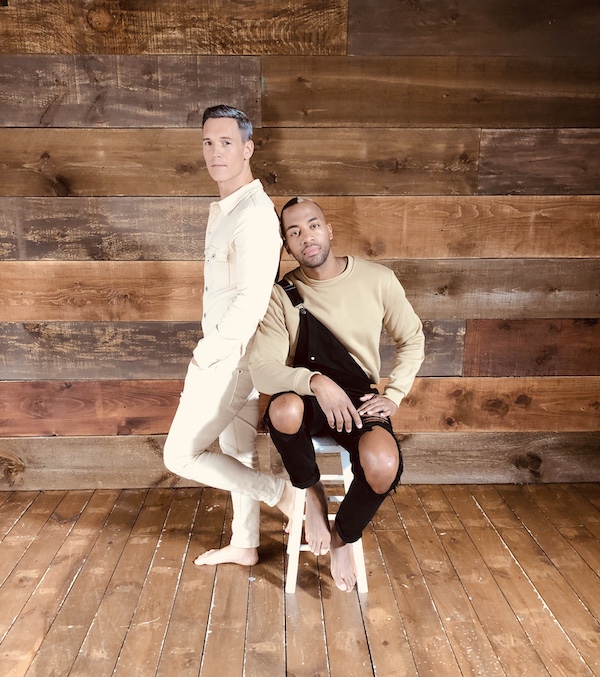 INTERVIEW
The song is absolutely beautiful. Who wrote it? What inspired it?
Adam: I wrote it with some friends of mine that also lived here in the city. I actually wrote it a few years ago, and we added Jerome's voice to it last year. It's based on a real-life event for me. When I came out, my parents didn't quite take it very well, but they did everything they could to come around quickly. However, my sister and her husband are very religious, Baptist religious. They haven't come around. I can talk to them, and I can talk to their kids, but they haven't met Jerome. They don't want to let their kids be exposed to gay people.
The idea of this song came from the fact that I could go home, but I'm only allowed to go home by myself.
To me that's not allowing the full version of myself to come home. Several years ago, instead of going home for Christmas, I stayed in New York. It was really hard, just because every year I look forward to going home for Christmas and the holidays. When I realized that I wasn't allowed to be my whole, authentic self, it was a really hard thing to deal with, because it felt like I wasn't really being loved. So, we wrote it knowing that I have so many friends that have gone through so much worse where they are actually disowned completely, either by their families or had abusive relationships, whatever it may be. I know that my version of it was actually pretty mild compared to what a lot of people go through.
I saw when you got all those chairs turned and were picked on "The Voice," both of your families were there, and they seemed very supportive.
Adam: Yeah, they had come a long way. My mom and dad were there, but my sister didn't come. I did invite her, because I wanted to give her the chance to change her mind and come and support, but we just kind of moved on accepting that she's not really in that place, and I'm not going to try and force her to do anything at this point. She's missing out on our lives, and her kids are missing out on our lives. It's a shame, because they act as if they know everything and people that don't agree with them are so wrong. I wish they would have a more open-minded approach to life.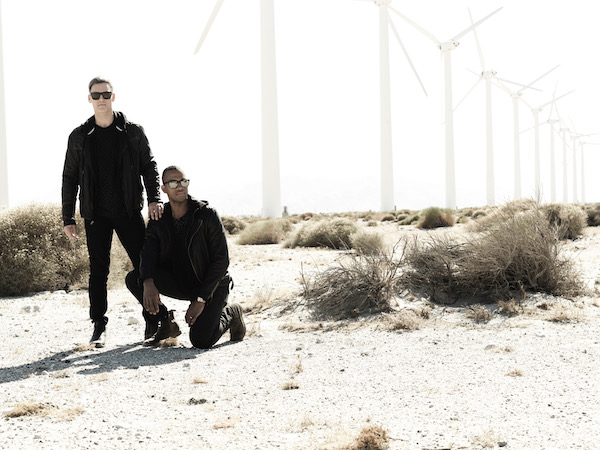 Photo Credit: The Assembly Station
Jerome, your parents were there too, looking very proud and happy for both of you. Did you have a similar situation?
Jerome: I'm from a Southern Baptist, religious, black family, and my family has been the best. Not one issue, and they all love Adam, so for me it was really easy to be myself. My parents and my whole family were really super accepting.

How did you two meet?
Adam: I was singing with a vocal group based out of Minneapolis for a few years. I was being flown out to Minneapolis to do a week's worth of music videos and performances and stuff. The owner of the group had contacted Jerome to see if he would be interested in flying out the same week to be my love interest in one of those music videos. It just really worked out. I had already done a little bit of Instagram stalking on Jerome's profile, and I was already crushing a little bit. But then once he came out there on the set it was love at first sight.
Jerome: Yeah.

I love that story.
Adam: It was pretty incredible there, making music and hanging out. Both of us were perfect gentleman, and nobody crossed any lines. It was just that instant chemistry.

Jerome: When I flew back to New York I said to my best friend, "I met the man I'm going to marry."

Are you two married?
Adam & Jerome: Yep!

Did you have a family wedding?
Jerome: We were actually just going to go to the courthouse and do it that way, but then at the last minute one of my best friends who is a lawyer in New York City decided that we weren't getting married in the courthouse. He paid for us to get married in this beautiful garden rooftop at the Park South Hotel. We had an intimate, small gathering with like 50 people, our close friends and our New York family. It was really beautiful and so simple. It was everything that we would have wanted it to be.
How sweet. Now let's talk about "The Voice." What prompted you to audition?
Adam: It was totally crazy. We had started dating back in October, two years ago. Because we were both singers, and we both have been singing professionally leading up to the time that we met each other, we decided to start making little Instagram videos together. We posted a video of us singing "Perfect" by Ed Sheeran and Beyoncé, and someone from "The Voice" casting team found the video and reached out to us and asked us to audition for the show as a duo. Because of what we were doing at the time, it wasn't anything that we were seeking, and we weren't available to make the audition. Then he contacted us later with another opportunity, but we weren't available to do that either. The third time they reached out they suggested that we send them some videos, and they would let us know what happens. So, we did that, and one thing led to another, and we made it all the way to the show. I think they saw something in us that they really thought was great for the show. We certainly wanted to do it, but we weren't willing to let go of any opportunity that we had to go to an audition. We wanted to make sure that whatever we were doing that we were responsible and kept our word and didn't burn any bridges.
Why did you choose Team Kelly?
Adam: Because she's so bubbly!
Jerome: Everything she said after our blind audition, "That it was so beautiful to see a picture of love." That was the time they brought both of our families up on stage after we performed our blind audition. But we were kind of leaning towards her before we went out of the double doors.
We kind of turned to each other and decided that in a perfect world, if everyone turned a chair, then let's go with Kelly.

What was the experience of being on "The Voice" like for you?
Adam: It was awesome, it really was. Everybody there, the whole team was so uplifting and positive. They want everybody to do well. The place that we stayed at there was nice, and even the experience of being on the stage. It was terrifying, but also really exciting. For us it was the very first time we had ever been on a stage together performing. Before that we had only been doing Instagram videos. We never had a chance to book our own shows in New York, so that footage, that episode, was the first time we performed in front of an audience on a stage.

And what a stage to perform on for your first time as a duo.
Adam: It was a pretty amazing way to start things off. Even up until the time we were eliminated, the whole thing was just a great experience, and then we have been able to keep in touch with a lot of people from there, and we made a lot of great friends.
Jerome: From us doing that show, it's really given us a lot of opportunities. That's why we have a booking agent now. So, we are super grateful to have been a part of that show and have that opportunity. It's turning out really well for us.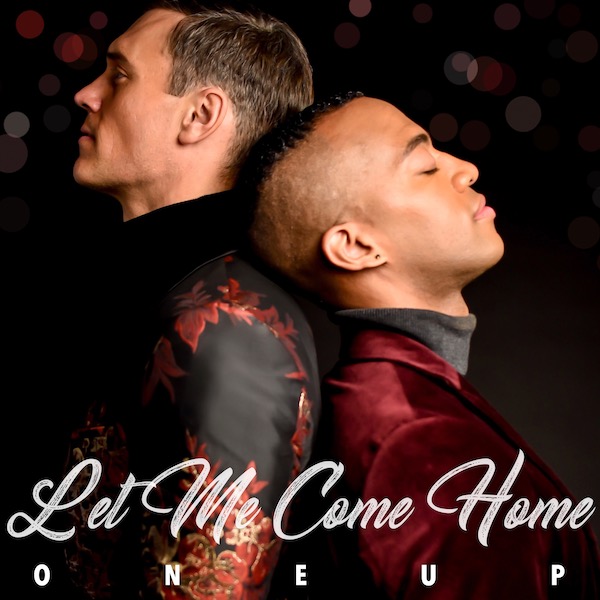 Do you have professions other than music?
Adam: No, we've both been very lucky to be able to make a living just being singers. Jerome has been doing this pretty much his whole life now, and I've been making my living as a singer for the last 12 years. It's awesome to be able to make a living doing what you love, and even within that, you always want to make sure that you are getting better and achieving more, and that's kind of where we are right now. Over the last several years we've had a really good career in New York City performing at various private events and things like that. But now it's awesome to be able to do what we love together and do it in places like Pride events, and to finally share what you are doing with the people who want to come to support you.

Any final thoughts?
Adam: As for the Christmas song, the only thing I will add to that is the song is for everybody. I know it's geared towards the LGBT community, but we both really strongly feel that the message is even for the people that are already allies to share it with other people that they might want to encourage to start accepting people for who they are. But it's also for the people who are still too afraid to accept people who are different from them. I think it's the fear that keeps people from moving forward in relationships with people in their lives. The idea of the video is to remind people that their actions of not accepting people could have really detrimental results.

oneupduo.com
Instagram, Twitter and Facebook: @oneupduo