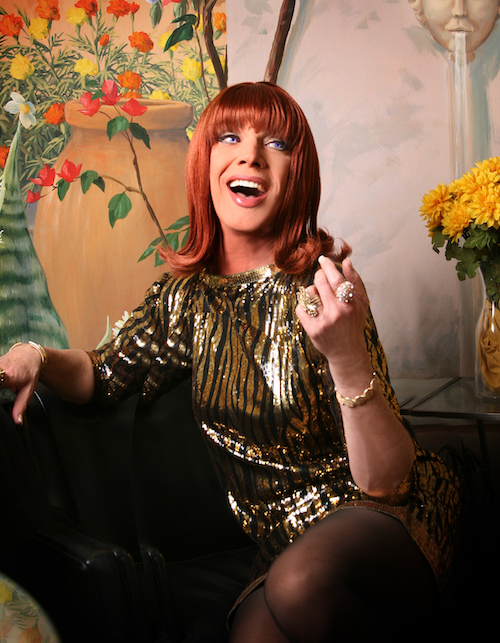 Interview & Write-Up by Kevin Ortega-Rojas
Bitter, Bothered & Beyond! 
Birdland Jazz Club – March 21, 2022
Legendary performer Miss Coco Peru is returning to New York City for what she says may very well be her last performance in town. On Monday, March 21st at Birdland Jazz Club, Coco will introduce a New York City audience to her brand new show, Bitter, Bothered & Beyond!
With decades of experience putting on one-person shows, Coco says that she has always "worked her ass off" to put on a great performance, and this one is no exception. Created completely during a worldwide pandemic, the show, says Coco, was hard to write because she really didn't want to do it.
"I didn't feel hopeful at all. But I had to allow myself to write, even though I wasn't feeling generous and I didn't really want to write."
This process definitely worked–perhaps too well, because Coco eventually wrote over 100 pages for this show that had to be later edited down to just under 30 pages. But this wasn't a new process for the veteran performer. "Theater is hard," says Coco. "But I am always prepared. I find my freedom as a performer by being prepared and disciplined.
"I work hard to make it look easy," she says about the creative process.
Coco describes this show as riding a fine line; "I'm teetering between things that you should and should not say." She goes on to reveal that she is saying the things her audiences wishes they could say. "It is satisfying to be saying things on stage that the audience also feels."
Looking ahead, Coco will be featured in the upcoming Netflix animated series Dead End: Paranormal Park. She says she would love to take on more voiceover roles in the future.
For now, though, Miss Coco Peru is focused on creating an unforgettable experience for her audience. "I am excited to be creating that magic that can only be experienced through live theater and storytelling."
Bitter, Bothered & Beyond! starring Miss Coco Peru opens at Birdland Jazz Club on Monday, March 21 and Tuesday 22, 2022. The show will also be performed in cities like Boston, Fort Lauderdale, Portland and more. For more information, visit www.misscocoperu.com