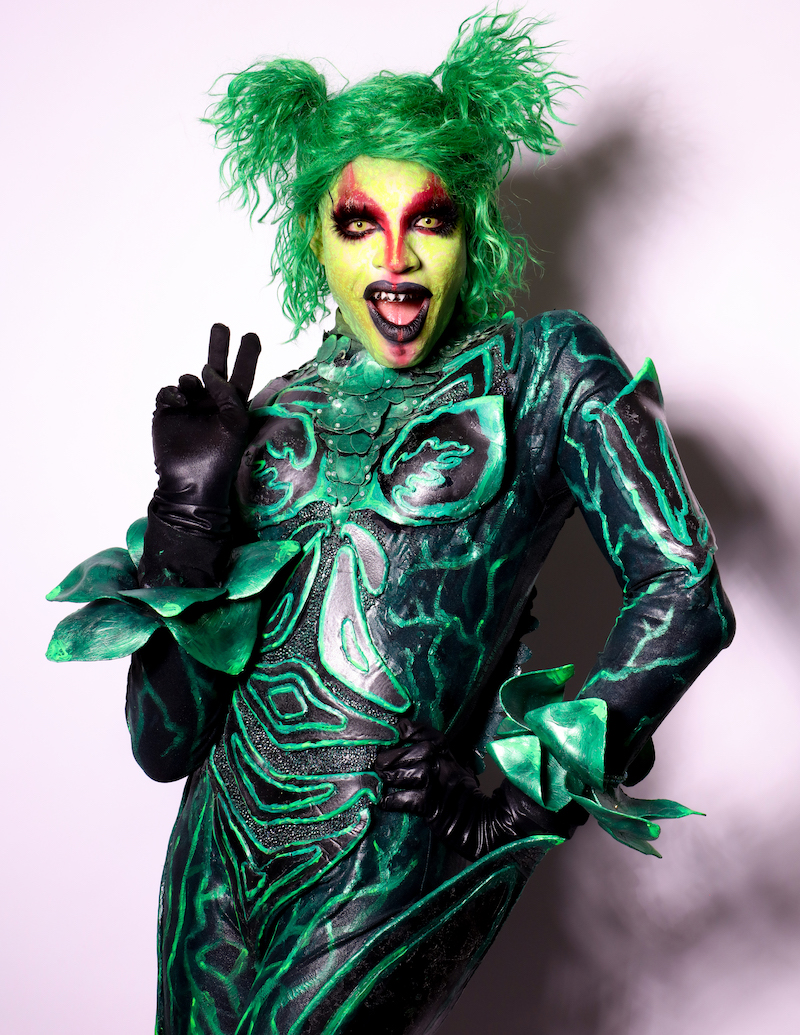 She may be "RuPaul's Drag Race's" 11th season winner, but the spooky season is always this unique queen's time to shine. And with "Zombieland" in East Rutherford, New Jersey on October 30th, we've finally got the maximum venue for Yvie Oddly's edgy brand of horror-beauty!
Thotyssey: Happy Halloween, Yvie! Your pink jellyfish look from your Drag Race season is still one of my all-time favorite visuals from the show: edgy, but so joyful. Does she ever come out to play anymore or is she put away for good?
I still have the umbrella hanging in my living room, but the original "garment" was just strips of shredded trash bags that I taped to my body. Needless to say, it went where all trash bags go, but I occasionally make replicas.
Given that you won your season on a small budget and a lot of creativity, does it blow your mind that so many queens who come on the show spend so much money on their looks?
Not in the least. While my budget may not have been the biggest, it was the most money I had ever spent on drag—literally every cent to my name and more. So I'm not surprised what people will spend to follow their dreams. Now…how it is typically spent is another answer entirely.
What are your thoughts on the current state and future of the Drag Race franchise? They've become more representative of a lot more people, but…there's just SO much Drag Race now.
At this point, it is what it is, and what it is is constant. There are so many seasons of Drag Race airing at any given time that you can just pick and choose what you want to watch. Still…I'll always fondly remember going to small Monday night viewing parties at my local bar, so there is a part of me that misses the intimate sense of community that watching Drag Race used to bring. Now, I'm honestly more curious about if/how the art form itself will find a place in pop culture outside of the show.
On October 30th you'll be near us—specifically the American Dream mall in East Rutherford, NJ—for a Jake Resnicow and Voss Events-produced event, "Zombieland". Your Drag Race winning predecessor Aquaria will also be on site. What can you tell us about this event?
I can say that it's going to be wild! An indoor theme park with good music, awesome performances, and NO CHILDREN!? I'm dying of excitement.
And finally…is there a specific horror movie monster or killer that you find strangely sexy?
The Xenomorphs from the Aliens movies are so sexy to me. They literally impregnate you and use your body as a host until they're ready to burst free to become the slickest armored apex predator in all the universe. That is hot! Plus, we all know what those mouths do.
Happy Halloween, Yvie!
Read full interview on Thotyssey.com
Follow Michael Miguel on Instagram:  @oddlyyvie