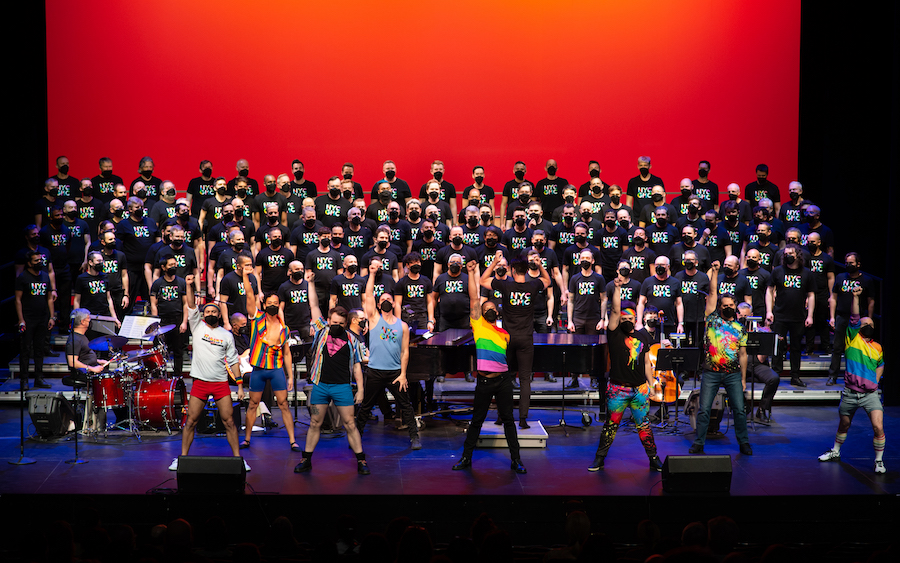 The acclaimed New York City Gay Men's chorus is singing, dancing and celebrating queerness all over NYC this Pride month. After performing on the steps of the Brooklyn Museum on June 4th and singing the National Anthem and more for the Cyclones Pride Night on June 9th, they also performed for the June 11th Brooklyn Pride and at Radio City as part of The 75th Annual Tony Awards.But you haven't missed your chance to catch the Chorus for Pride month! 
Switching gears but still in the full swing of Pride, the Chorus will sing in the groundbreaking ceremony for the new expansion and renovation of the historic Stonewall Inn on Friday, June 24 at 10:30 AM at 53 Christopher Street. Celebrating this historic moment as the Inn reclaims past property and returns to its orginal footprint, the music of NYCGMC will usher in a new era of the Inn in celebration of our queer history. More info at thestonewallinnnyc.com 
Next up, they will take part in Playbill's Pride in Times Square celebration, performing at those famous red steps in Times Square on Friday, June 24th at 6:00 PM. The weekend-long event will feature stage and screen stars, Broadway shows, LGBTQIA+ non-profits, special Times Square business promotions, and more. More info on NYCGMC's performance and the rest of the line-up for Pride in Times Square can be found at playbill.com/pride. 
And last, but certainly not least, the Chorus will perform on the traditional last Sunday in June on the 26th as part of the New York City Pride March. The march will take place from 12:00 PM at 25th Street at 5th Avenue. Info on that concert and all things NYC Pride can be found at www.nycpride.org. 
"This is truly the first full-on Pride celebration that New York City has seen since before the pandemic and we are overjoyed this year to be sharing our music and LGBTQ+ Pride all over NYC. We hope to see old friends and make lots of new connections along the way – supporting NYC's rich diverse communities," said Interim Executive Director John  D Carrion
New York City Gay Men's Chorus is a world-renowned New York institution and a pioneering voice for the LGBTQ community. NYCGMC is comprised of more than 200 talented singers of various ages, backgrounds, and experiences. Founded in 1980, NYCGMC sings in every style from classical to pop, Broadway to gospel, and from cultures all over the world. They produce a vibrant sound and energy that audiences can feel and connect with. Through the power of this sound and their spectacular performances, NYCGMC is a fearless champion for love, equality, and acceptance.