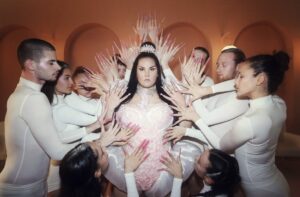 Quirk Pop sensation Netta will be performing this summer celebrating at New York's Pride on June 25 at Pride Island. She will also showcase her fabulous self in Philadelphia on June 22 and Washington DC on June 23. She has recently released her newest song "I Love My Nails", which is symbolic to Netta's growth, confidence and finding herself. It is also an inspiring spirited song, an uplifting reclamation of the little things we do for ourselves that get us back on our feet when we are at our lowest point.
Born in Israel and living in Nigeria as a young child, Netta has become one of the most globally tantalizing pop stars in modern music. She is fun, colorful, humorous and talented. Her live shows are captivating, charismatic, and able to get the collective effervescence off their feet.
I had a conversation with Netta and she is by far an inspiration, and an absolute joy to talk to. She comes from a very genuine space and is destined to become one of music's pure visionaries……
How excited are you to perform at all of these Prides especially New York Pride at Pride Island?
This is really, really big for me. I've come a long way to be here and to do this. It's a lot of hard work and it's an amazing experience for me. It feels almost natural to do it for Pride. I always say that I'm a very straight girl with a very gay story. So basically, I am excited, and whenever I think about it my heart pounds quickly and I can't wait. Once again it seems very natural.
You're from Israel but I don't hear an accent?
I watched a lot of TV and my Jewish mother took care of my education. She insisted on English classes. I grew up in Nigeria in an American school until I was six. After that when we came back to Israel, she insisted I keep my English so she sent me to an English teacher. For that I owe her our conversation right now.
I would like to know a little bit about you because I think you are fabulous. What inspired you to do what you do?
Where do I start? As I said when I was a kid I grew up in Nigeria. I grew up in quite a haven for diversity. I went to an international school for kids whose parents were building and helping to aid Africa. They were scientists, agriculturalists, and water engineers. I was in a class with seven other kids and each and everyone of them were from a different country. They were kids from Japan, from England, Nigeria, Rwanda and everyone was different and no one was different. I never realized that I was different.
I grow up very independent and very creative and very much a leader. And then when I came to the situation that they were 40 white kids in a classroom, I realized that I was the fat unibrow kid with the accent. I was also very, very sensitive. I believed for years to come that I was not worthy of love, that I was not worthy of being the leader of anything. I felt like my thoughts were retarded. I wished for years to be somebody else. So, my mother was looking for ways to make me happy. One of the things that we had in Nigeria was a choir. I liked to sing a lot. She sent me to a choir and then I instantly started to feel better mentally.
When the choir conductor gave me my first solo is when I realized that I had a significant talent. All of the heads turned the minute I opened my mouth. Ever since then I use the music not just as a way of self-expression, but I also use it as a defense mechanism, and used it to gain friends. When I turned 18 and all of the high school people faded away, I realized that I needed to stop singing for a while and that I needed to re-choose music as a passion instead of part of my identity. I needed to start loving myself and who I am.
How do you feel about yourself now that you're kind of on top?
What is top? When I walk in New York there are people here and there that recognize me, but I feel that life is very fragile. I feel that "on top" could be a lot of things. For me a on top is when I count my friends and I figured out just how to keep them. On top for me is like a Friday dinner with my parents and family. On top for me is to be in a group connection with them. On top for me is remembering who I am. If the definition on paper of on top means success but all the other things don't exist, and it could happen, then it doesn't mean anything. My top goal is to be happy and inspire other people to do so and maybe help one or two people.
What is your ultimate stage fantasy?
I would actually really like to have a big, big playground of electronics on stage. I am looper. The only thing about looping is that I wish you could be more visual. So if I could build buttons that would be scattered all over the stage and all over my clothes and I could play them in a lot of visual ways that would be amazing to me.
What advice would you give to somebody who is trying to break out in the industry with a similar situation to yours, what would you tell them?
Remember what's important. Remember what matters. Remember what got you in this game in the first place. That usually does the trick for me.
The official website for Netta may be found at https://www.nettamusic.com