In celebration of Sunday's Academy Awards, Mr. Man has announced its winners for the
Manatomy Awards
: the only award ceremony to recognize the past year's naked male achievements in film and TV.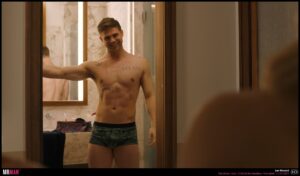 The big screen winners at this year's Manatomy Awards include Harry Styles who made his nude debut in My Policeman and "Best Butt" winner Chris Hemsworth for his nude scene in Thor: Love and Thunder.  "Best Picture" is awarded to the Hong Kong film, Apostles, and Antonio Banderas wins the coveted "Lifetime Achievement Award" for his fourteen nude roles spanning three decades.  He follows last year's winner, Ryan Reynolds.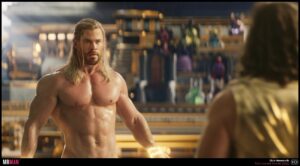 Small screen titles once again dominate this year's Manatomy Awards.  HBO Max wins the "Best TV Show" award for Minx.  Also, the second season of it series, The White Lotus, wins awards for its full-frontal scene starring Stefano Gianino and for one of the most talked about scenes of the year, Leo Woodall's shocking sex scene with Tom Hollander.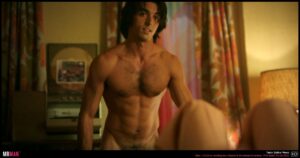 Paramount Plus's Queer as Folk wins "Best Rebooty" and Netflix takes home honors for Jackass 4.5 and Evan Peters' strip-down scene in Dahmer.
Hulu wins multiple awards for its series, Euphoria, including "Best Nudecomer" for Henry Eikenberry's shower scene.  Also, its series, Welcome to Chippendales, wins "Best A-List Gay Scene" for the graphic romp in bed between actors Murray Bartlett and Andrew Rannells.  This is the second year in a row that Mr. Bartlett wins the "Best Gay Scene" award.  He won last year for his scene with Lukas Gage in The White Lotus.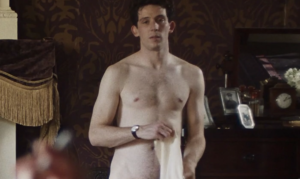 Josh O'Connor, best known for playing Prince Charles in The Crown, wins "Best Full Frontal" for his scene in the independent romance film, Mothering Sunday.
Several men over 50 take home awards in 2023, including Mark Wahlberg for his nude scene in Me Time, adult film star John Strong for the independent film, Pleasure, and Morris Chestnut wins the "Best Nude Over 50" award for his role in The Best Man: The Final Chapters.
For the complete list of the 9th Annual Manatomy Awards winners, visit Mr. Man where all winning scenes are viewable in their entirety with free signup.