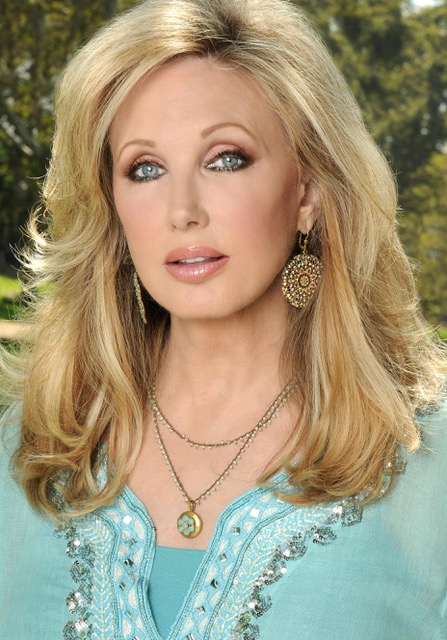 On February 21 @ 5PM EST, please join iconic actor
Morgan Fairchild in the FanRoom Live for a virtual meet and greet. There, Ms. Fairchild will intimately be able to talk about various topics that her fans wish to bring up. It's kind of like meeting her at her own private party. Following her meet and greet, fans can also secure VIP backstage passes and hang out with Morgan on an even more intimate one-on-one basis. You can also get a copy of your event.
Morgan Fairchild began her acting career in the 1970's on the daytime soap opera Search for Tomorrow. She is recognized for appearing in an episode of Dallas and for her lead role in the series Flamingo Road, for which she received a Golden Globe nomination for Best Actress in a Television Series Drama. She also appeared on Paper Dolls, Falcon Crest, Murphy Brown and Roseanne. She is also an AIDS advocate.
Ms. Fairchild and I discussed FanRoom Live as well as her career and her future projects…..
Hello, Morgan. It's such a great opportunity for your fans to get to meet you in FanRoom Live. What are you most looking forward to?
It's always fun to explore the possibilities in a new format, and doing virtual shows instead of in-person is certainly new for me. And I am SO bad at tech! I'm very curious to hear what kinds of topics will interest my fans.
What can your fans look forward to in the FanRoom Live? What are you hoping to talk about once inside?
I'll try to get as glammed up as I can from home, so they are not too disappointed. Wouldn't want to scare small children! LOL! I'm hoping to hear what topics they are interested in. I've been doing this for a long time, so there are lots to pick from.
The world shifts around us and we have to shape ourselves to fit. Although the FanRoom seems like an innovative and immersive way to do so, how else have you been attempting to fit?
I've been doing Cameos and Zooms and trying to learn new tech ways to interact. Also, I've tried to use my Twitter and Instagram accounts to cheer people up by posting pics from my walks each day of flowers, Halloween and Christmas lights, occasional videos of encouragement. And I've been touched that my posts seem to mean a lot to folks trying to get through all this crazy time.
You've portrayed many glamorous "rich bitch" roles in some of the most popular series on the planet. How hard did you have to work at authenticating those roles and how close or far apart were they from the actual "you?"
I'm actually a puppy dog from Texas, so playing bitches has always been a stretch for me. But I've had success at it because I have no fear of the audience hating me. Most actors want to be loved, but I realized early on that I could play bitches and make them funny, so people hated me and loved me!! I made them laugh.
Have you had your ultimate stage fantasy, and if so, what was it?
I'd love to play Eleanor of Aquitaine in The Lion in Winter. But I did love playing Mrs. Robinson in the national tour of The Graduate!
Do you recall a moment that changed the trajectory of your life?
Seeing Rudolf Nureyev and Margot Fontaine in the ballet of Sleeping Beauty when I was a teenager inspired me to move to New York City and seek a different life than I might have had in Dallas. Also, a friend told me to go see a movie called Morgan–A Suitable Case For Treatment when I was 16. It's about a man who lives in his fantasies and thinks he's a gorilla. (Vanessa Redgrave got her first Oscar nomination for it). She told me, "It's you". And it was!! I lived in my fantasies because I didn't fit in in the high school football culture at the time. And she was right. It was me! I even renamed myself Morgan because of it.
If you could have me ask you any question in the world, what would it be and how would you answer?
You could ask what many of my Twitter and Instagram followers have asked me: How do you stay "up" during these crazy times? And I would tell you that I have had such a bizarre life that I learned early on…Life goes on….and I will survive this. The secret is putting one foot in front of the other and not letting yourself live in fear.
Advice taken! What projects are you engaged in for 2021 and beyond?
I have a pilot called Melange that we shot earlier and are waiting for things to open up from COVID to start production. My producer/writer, Tom D'Angora, has also just spearheaded an effort to save the West Bank Cafe (successfully!) and is now doing a fundraiser to save Birdland. And I'm doing a lot of Cameos, one of the things I can do from home until this blows over.