Just because the world is ending soon doesn't mean we can't be positive. Miss Richfield 1981 proves this beyond a doubt in her new show, "2012: We'll All Be Dead By Christmas." This year's show guarantees to carefully and accurately take the nightmarish horror of the end times and craft them into uplifting musings, musical production numbers and video extravaganzas, along with a healthy heap of audience interaction. You won't want to miss this celebratory approach to the impending Armageddon!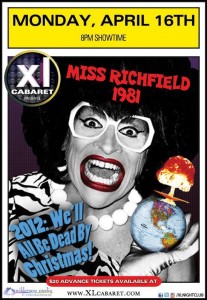 Dedicating her life to the friendly citizens and responsible merchants of her hometown of Richfield, Minnesota ("where butter is a spice and gravy is a beverage"), Miss Richfield 1981 is fast becoming one of America's national treasures. This Midwestern beauty titleholder is winning over theater and cabaret audiences around the country with an interactive format that combines homespun warmth and edgy improv. Her live performances have received critical acclaim, with The New York Post citing Miss Richfield 1981 as "the must-see act in Provincetown" and The Chicago Sun-Times describing Miss Richfield as "hysterical…Garrison Keillor mixed up with Mary Tyler Moore."
Miss Richfield 1981 has been featured in riotous appearances on "The Tonight Show with Jay Leno," "Today" on NBC, "Cake Boss" on TLC and "Weekends with Samantha Brown" on Travel Channel. Most recently, she starred in a national television commercial for Orbitz.
Miss Richfield 1981 will be performing at XL Nightclub, Cabaret & Lounge on April 16 at 8 p.m.