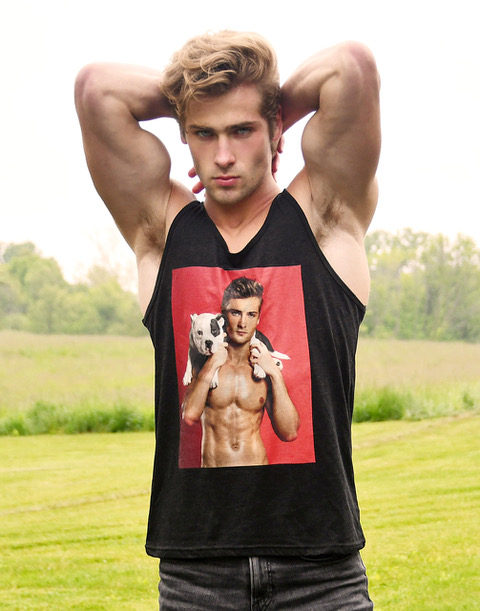 > By Martin Moore
He's partnering with the popular online philanthropic retailer, pledging 25% of profits to the Stand Up For Pits Foundation and the Ali Forney Center
Social Impak, the online retailer that specializes in quality products with messages aimed at improving our world, is announcing the launch of its new summer collection, the Mike Ruiz Collection.
Specially curated and designed by the celebrity photographer, reality TV staple, and philanthropist (who is currently featured on the cover of Out magazine), the Mike Ruiz Collection include tees, tanks, posters, pillows and mugs, all emblazoned with some of his most iconic photos and imagery.
"They are unique items that people will love to wear or showcase in their home," Mike Ruiz says. Twenty five percent of all profits will be distributed to his two favorite causes: The Stand Up For Pits Foundation, which promotes safety for pit bulls, and the Ali Forney Center, which helps homeless LGBTQ youth.
"Mike is a dear friend of mine," says Social Impak founder Scott Bailey. "We have worked together for more than 10 years, traveling the world in support of animal and LGBTQ causes. He was my first call when I had the idea to launch Social Impak, and he was 100% supportive of coming on board as the first celebrity ambassador."
Social Impak is the sister site to Global Impak, the online retailer created by Bailey. Both websites share similar goals. They work directly with charitable organizations and help them raise money for their groups.
However, whereas Global Impak focuses on environmental issues such as wildlife rescue and climate change, Social Impak concentrates on social, political and LGBTQ issues.
"Strong political statements and humor are often required to make an impact socially, so it was important that we set up a different arm that allowed more freedom to be funnier and even slightly risqué at times," Scott Bailey explains. Among his favorite Social Impak charities is Sage USA, an organization that works with LGBTQ seniors.
With their unique product offerings, both Global Impak and Social Impak are working hard to appeal to socially savvy consumers who appreciate that their purchases help causes they believe in. As Scott Bailey sums it up, "Together we can do great things."
The Mike Ruiz Collection is now available exclusively at https://socialimpak.com.