"Bright Colors And Bold Patterns," directed by screen, film and stage actor, producer and director, Michael Urie, and written and performed by Drew Droege, will be celebrated off Broadway at the Soho Playhouse on November 20 through January 7. The play is an audaciously hilarious production premised upon the eve of a Palm Springs gay wedding, whose invitation dictates a dress code. A friend of the groom's, Gerry, shows up the night before and turns the night into a drunken, drug-filled riot as he questions the validity of the romance, and marriages in general.
Michael Urie's superb direction lends depth to the audience's imagination of Droege's brilliantly themed one-man show in myriad ways, including the addition of props, scenery and insight.
Urie is currently starring in his own off-Broadway play, Harvey Fierstein's "Torch Song" at Second Stage Theatre (305 West 43rd Street, NYC, 2st.com or
(212) 246-4422 for tickets). Urie is very well known for his role of Marc St. James on ABC's hit series "Ugly Betty" and his hosting role on Logo's series "Cocktails and Classics." He has also appeared on the Broadway and off-Broadway stage in productions including "The Temperamentals," "How to Succeed in Business Without Really Trying" and "Buyer and Cellar," a one-man show. He also received the John Houseman Prize for Excellence in Classical Theatre from the Juilliard School.
I spoke with Urie about his role and inspiration for his direction of "Bright Colors And Bold Patterns." He is by far the happiest, warmest and friendliest actor ever! For tickets to the play visit BrightColorsAndBoldPatterns.com.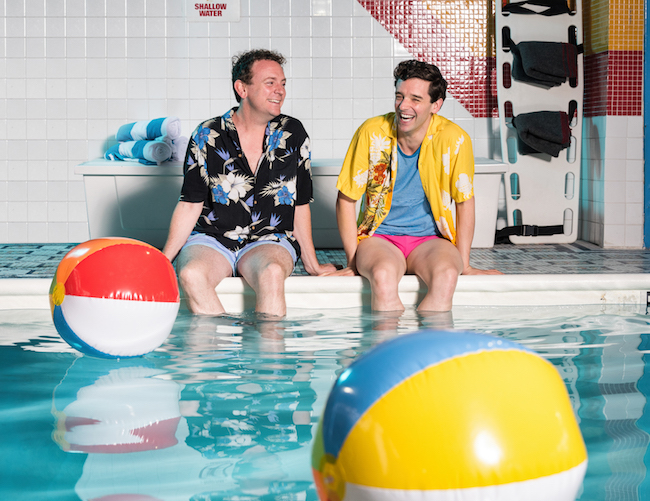 You are the illustrious director of the upcoming off-Broadway play "Bright Colors And Bold Patterns," written and performed by Drew Droege. What inspired you to take on the role of director?
So, I don't know if he told you, but he and my other half Ryan, who produces "Cocktails and Classics," was Drew's first friend in LA ever when he moved there so many years ago. So I became friends with Drew through Ryan, just as a mutual friend. Then for "Cocktails and Classics," Drew was the first name we thought of as a panelist. So then as we would do "Cocktails and Classics," Drew would come out and stay with us, and we would do the show. One time, when he came to do it, he booked a gig doing this show that he had written at Ars Nova.
I assumed, like I think many people do, that it was going to be an extension of his online persona, his sketch comedy, which I've seen in LA, and his Chloe videos. Sort of a sketch, improvised kind of show. I was very excited and totally eager to see something like that, to watch Drew for an hour and a half. He's wonderful and hysterical, and it would be an easy night in the theater watching him for an hour and a half. But instead what we got was a full play. It started with what we thought was going to be an evening of comedy, and it is chock full of comedy, but then it's a real play! With a really clever concept, and then ultimately an interesting story and a wonderful message, and something to talk about. Something to think about, which is what good theater does. So I saw it, and he was doing it on his own. He worked with a director out in LA, and had done it in LA, but he was always doing it with almost nothing. He was doing it with a couple of chairs, a beach towel and a margarita, and a couple of empty Corona bottles. Basically that was it. So after I saw it I was really inspired. Now, I have directed for the camera before, and I produced stuff, but in theater I just never really had the inspiration to direct. I always felt very, very strongly as an actor I needed a director. I never really thought that was something I would be compelled to do. But I spent, over the course of four years, many, many nights on stage in a one-man show called "Buyer and Cellar." So when I watched Drew do the show, I can get this play so well, knowing what it's like to be an actor in a one-man show. I think I can help him create a production around this brilliant idea and this brilliant script and help him figure out how to sustain this show night to night. He'd only been doing it here and there. You do that in sketch comedy in LA until it becomes a production. Similarly, our producer, Zach Laks, saw the show at Ars Nova and felt the same way. He felt, not as a director but as a producer, that it was something he could get behind and create. So he came onboard and helped develop a production around Drew's play. Obviously Drew had been doing it, and it was working so well; my work really became about noticing things that I felt could be improved upon, which were few: noticing moments that I thought were untapped, places where he could go further, places where he didn't need to go so far, but mostly about the physical production.
Putting it in a place—whereas the audience really had to imagine the place originally—we could create a world. In the play the concept is that he's the only character we see. There are three other characters that he interacts with that we do not see or hear. We glean what they say based on Gerry's interaction with them. So I was able to help with staging and scenery and props and things like that to really give the audience everything they needed to imagine with those people. I think it really opened up Drew's performance. He was able to relax so much more because the work is done for him. He has to obviously still create the entire conflict and the entire story and the characters, but he has so many more tools with which to do it.

He said that you helped him a great deal in helping him imagine the other characters, and we both wanted to know why you are always so happy?
I'm on pot. Well, not now, I have a show tonight.
Every time I see you you're just the happiest person ever.
Well, pot is a wonderful thing.
Will you be doing "Cocktails and Classics" again?
We are hoping to have a new cycle. That would be wonderful. There are so many movies we haven't done that we want to do. But, I'm currently starring in a play off Broadway as well called "Torch Song," Harvey Fierstein's play, and I'm playing the Harvey role through December 9. So I'll be doing double duty. Luckily we've already done Drew's play, so my work is going to be minimal. It really just is about fitting it in the new space, The Soho Playhouse, where we are performing. It's just an awesome theater downtown. It's very different from where we did it before at the Barrow Street Theater. It's going to take some re-staging. That will be part of what I'll do, and going to as many performances as I can. Luckily our schedules are pretty different. I'll be able to get to a lot of performances.
That is so cool.
It's going to be an off-Broadway fall.