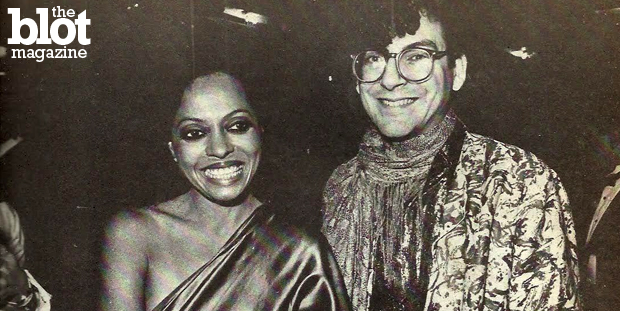 Superstar journalist, actor, TV and film star, singer and nightlife personality Michael Musto is about to get extremely busy. I have a relentless urge to introduce the esteemed former Village Voice, New York Times and Out columnist—who now writes for NewNowNext—as a former club kid, movie actor, music video celebrity, TV personality and favorite nightlife hero, but New York already considers him a household name.
I absolutely adore speaking with Musto, because he is edgy, creative, always has something going on and is a complete blast.
Where should we start?
Sylvia Miles was pretty much my first celebrity once I got out of college in the '70s. At the time I worked for a fan magazine, and I was obsessed with Sylvia Miles, because I used to read about her in the gossip columns every day. When John Simon, that horrible, hateful critic, wrote that Sylvia was a gate crasher—in other words, a party crasher—I loved reading that she went up to him in a restaurant and poured a plate of pasta on his head.
I love her already.
So I asked if I could interview her for the fan magazine I worked for, and it worked out. I took her to the Russian Tea Room, and we became friends. I went with her to Studio 54, and she was a very complicated person. At Studio 54 she would just run up to directors and beg them to hire her, and she would chase down photographers.
So I felt a little bit like I was hanging out with Norma Desmond. I did like her glamour and her style. So we are having a memorial that is being organized by her niece and by Mauricio Padilla, MAO PR, at the Walter Reade Theater at Lincoln Center. It's on the 21st of November at noon. I will be giving the opening remarks, and then I'm going to emcee the rest of it.
Was she a singer, actress?
She was an actress with two Academy nominations. One was for "Midnight Cowboy," and the other was for "Farewell My Lovely." She was also on Broadway, including "Night of the Iguana." She was a real New York fixture. Anyone who was around in the '70s and '80s in New York knew her. She was in the columns every day, she was at every event, she was just one of those New York people, like Andy Warhol. She worked for Andy Warhol. She was in a movie called "Heat." That's another thing I loved about her—she was doing Academy Award movies and she was doing Warhol films, and she was doing Broadway. She was on "All My Children" for a while too. She was in "She Devil." She stole that movie. "Wall Street." She was in a million movies. Sylvia was everywhere. She was one of the most well-known personalities in New York. She was in her '90s when she died.
Awww.
The last few years she wasn't going out at all. She was pretty homebound.
Did you remain friends until she died?
Mauricio would go visit her and would report back to me. He would send me pictures of her and report back on how she was doing. The day before she died I had announced that Sylvia was going to play my mother in "Japanese Borscht" by Eric Rivas.
Geraldine Smith is another actress from Warhol films, and she was a dear friend of Sylvia's. She got Sylvia to play my mother, and then the next day Sylvia died. It was really sad, but Eric Rivas put a video montage in the movie. That's how the movie ends, with a tribute to her. It was really sweet.
Before that you have Diana. What's that about?
I love Diana Ross. She's my #1 celebrity of all time, like you love Adam Ant. Diana is my Adam Ant. I always joke that I turned gay as a kid in the '60s when I saw the show "Tarzan" with Ron Ely, this hot guy in a loincloth. There was one episode where they had Diana and the Supremes as nuns in Africa. That made me not only gay but the gayest kid in Bensonhurst, Brooklyn. Everything about them made me gay. I followed her career, and I just adored her.
She just glitters and she sparkles. I was there for the Central Park concert when the skies opened up. It rained, and people stampeded in the mud—it was really dangerous. So I just sat there for a while, because Diana Ross didn't leave the stage. I had like a private Diana Ross concert. She was telling everyone to calm down, because the rain makes the flowers grow. She was very inspiring. I felt bad for her, because everybody was running and abandoning her. I went to a party for her on the Intrepid boat, and I decided that I had to meet her. I had never met her, and I was wondering, "How am I going to go up to her?", and she came up to me. She said, "Hi, I am Diana Ross." I said, "I know." We talked a little bit about her album and some of the songs on it.
That must have been an epic experience for you.
It really was. I met her and David Bowie, and those were two of my top, and Patty Duke was another one. I'm at 99% of my idols. For some reason I just wanted a tribute to Diana Ross. If you notice, she's always getting awards. She was touring last year, and I pitched it to some other promoter two years ago, and he never got it together. So then I went to Danny Nardicio, who was totally into it. He kicked ass and got it together. This will take place on Saturday, November 9, at 8 p.m. It's a benefit for "Black Lives Matter." From 7 to 8 there will be a meet and greet from the cast for the people who buy the $40 tickets. It will be an all-star tribute. I'm not sure if I'm going to sing "Love Child" or "You Can't Hurry Love," or maybe more than one song. I know the entire catalog, believe me.
You could do a medley.
Just wind me up. Then there wouldn't be room for anybody else. I would do everything from "Where Did Our Love Go" to "Endless Love." I could easily just get up there now and do it. I grew up as a little gay lip-syncing to Diana Ross in my bedroom. I was always different from the other kids, just like a "love child."
When did you suspect that you were gay?
I was 12 or 13, but I wasn't 100% sure, because I didn't know what it even meant. You know, Bensonhurst, Brooklyn, is not the most progressive place in the world. Especially not in the 1960s. It was a very old-school Italian-American neighborhood, where gay just wasn't on anybody's radar. In fact, my parents had a medical book, and I looked up homosexuality, and it said it was a mental illness. At that point it was considered a mental illness. This is before Stonewall. Even after Stonewall, that didn't exactly impact Bensonhurst, Brooklyn, right away, believe me.
Did you walk around thinking that you were mentally ill?
No, I knew I wasn't mentally ill, but I thought, "What am I going to do about these feelings? Maybe they will go away." For a second I thought maybe I liked women, because I would look at these little travel brochures, and there were women in bathing suits, and I thought, "They are kind of cute." They were the ones with no breasts. They looked like guys. Then I had to realize that this is not the way it's going, I'm definitely gay. Once I went to Columbia at age 16, I found a whole community, which I didn't know existed. The media had portrayed gays as sad, lonely people. At Columbia, I saw open gays who were attractive. They were holding hands, they were making out, and I realized at that point there's a future for me. There was a community, there was a family. I tell everyone, just go over that bridge, but of course now you have to go back to Brooklyn where fabulous is happening.
Brooklyn is like the new Manhattan.
I'm not going back. I couldn't wait to get out.
It's a good time to segue into that gender medley you do.
I guest-star with Dorothy Bishop at the Dozen Divas Show at The Triad, and I introduced it there. It starts out with "Stand By Your Them" ("Stand By Your Man"), then it goes to "Spawn of a Preacher" instead of "Son of a Preacher Man," and then "It's Raining Them" by "The Weather People." Then I end up with "We Just Wanna Have Fun." First I did it with Dorothy's show, and then I did it again at a club called Norwood on 14th Street. Now it's one of my set pieces where I could just go out and do it.
I love it!
I can't do it for the Diana Ross show, though. It won't make a lot of sense.