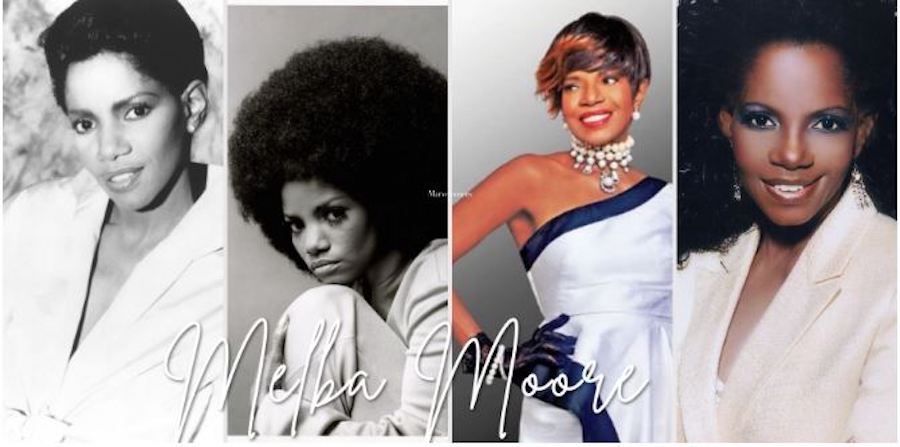 "She is Timeless….She is Unapologetic….She is Marvelous"
Melba Moore is celebrating her return to her R&B roots with the release of her new album Imagine, where she continues to leave nothing to the imagination. The 10-track song list renews her relevance and proves that she is musically stronger than ever. She holds the power to create what she imagines.
Melba is a triple threat. As a Broadway star, she won a Tony Award for Best Featured Actress in a Musical for her role in the musical Purlie. She replaced Diane Keaton in the Broadway musical Hair, and was the first African American to play the female lead in the musical Les Misérables, also on Broadway. 
On television, she starred in her own sitcom, Melba. In the music industry, she celebrated top hits in the '70's, 80's and 90's, including "Falling", "You Stepped Into My Life", "A Little Bit More" and an array of others. She was first signed to Buddah Records and enjoyed a string of hits including "Read My Lips", which won her a third Grammy nomination. She also recorded "Lift Every Voice and Sing", the Negro National Anthem.
I had a very uplifting and fun conversation with Melba regarding her new album, her career, and her secrets for enjoying what is still a thriving career after four decades of fame.
Hello, Melba. What was your main inspiration for doing this album?
I guess I would say my daughter, Charli. She's named after her dad. I guess you can imagine his name is Charles. She and her uncle are both producers of the album. Her father and I are not together anymore, so she's basically brought these songs together over the course of two to three years. Everyone is putting out singles these days. A lot of wonderful writers and producers put out singles for house music or music for specific genres. But she brought these songs to me one by one, and after a while, we realized we have enough for an album. It just came together piece by piece.
Is there any song on the album that you just can't wait to perform live?
I have already started to perform "So In Love". It is going over like a charm. People act like it's been a hit for 10 years.  
That's great. So you are touring in support of the album?
Absolutely. Yeah, the tour is being put together as we speak.
Do you have a particular message with any of these songs that you hope the audience will get?
Yes, I probably think it's captured in the title song, which is called "Imagine". Imagine all the peace and love–that is really the spirit of the album.  
You have been in the music business for a long time. What changes have you experienced since you started recording that maybe you're glad happened? Or maybe you're not.
I'm glad for the changes because we're much more diverse. In terms of comparison, what we are used to doing as far as marketing music, you can do more. Much like door-to-door salesmen now, you can push a button and you're instantly global. I like those things about it. I think this album would not have been possible 20 or 30 years ago. You had to stay in your own corner, you had to have your own record company, you couldn't do it yourself. To have an independent business such as music is common now. I do like it better .
Have you had your ultimate stage fantasy in the recording industry yet?
Maybe the stage performance that sort of sticks out in my mind is the performance of the Tony Awards. At the time, I didn't know much about the Tony Awards. I hadn't studied acting. I remember doing my first Broadway show, which was Hair, in the theater where we did the Tony Awards, because it was for television. All of a sudden, we were in bright, bright lights. That was shocking. To do a play or performance in bright lights instead of a dark theater–that is one of the reasons I remember that one. 
There have been so many performances, it is really hard for me to pick. I perform all the time.  
If you could have me ask you any question on the planet, what question would that be?
What comes to mind is not something that hasn't been asked before, but I like hearing it. "How high can you sing, and how low can you sing?"
All right, you can answer that one. I like that one.
My range is still growing. I'm a late bloomer.
Do you take vocal lessons? Even from time to time? Or is it just something natural that you develop on your own?
It came naturally, but once you get to a certain age, there's nothing natural about it. One thing we know is every person is different. Like a fingerprint. One person's experience could be a great one and another one's is terrible. My body is very delicate. I used to suffer from a lot of allergies. When flu season would come, I wouldn't get the flu, I'd get pneumonia. It taught me to really figure out what I could do to not get sick. Doctors really didn't think about anything to do with your nutrition, but the way you ate could have prompted food allergies. Now I know most of what is wrong with us is lifestyle. Your body changes as you get older. It requires different things. For instance, everybody knows that once you get to be 30 or so, you don't live on Milky Way bars and chocolate bars. The same process happens as you continue to get older and you don't have those hormones to break things down. You pay attention to exercise and diet and things that affect your voice that usually people don't have to pay attention to. Most people know singers should not eat a lot of dairy. It is a tremendous study in how the body works and how you have to pay attention to it. If I live right and eat right, I don't have to exercise my voice as much. But if I want to go have some cake and ice cream, I am going to sound like Barry White the next day.