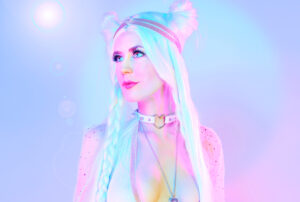 "Cloud 9 Angel was written while a friend and I were on crystal cave exploration in Riviera Maya, Mexico," explains Brooklyn-based non-binary artist THE ORACLE of the final release from their debut EP Lost Amulet.  "The song came to me with the beat, a progression of dreamy, enduring and playful love between two souls. Galen Tipton provides the production, which is a satisfying blend of drum, bass and twinkly pop beats."
For the visual, THE ORACLE teamed up with Laura Weyl @metametagasm, shooting in several iconic NYC locations including the Brooklyn Botanical Garden, and on the historic carousel in Prospect Park.
"We aimed to capture the crystal desert, a beautiful place of dreams, in the visual," THE ORACLE continues.  "When I think of the crystal desert, I think of Brian Froud's Faerie realm, the sandscapes in the sci fi classic Dune, as well as the hallucinatory visual landscapes of the liquid planet in Solaris. The crystal desert can be a wondrous place, but it is also treacherous with danger lurking in hidden corners.  It is best to travel over it securely with a loved one at your side."
We spoke with THE ORACLE from their Brooklyn home.
As a longtime resident of Brooklyn, how would you describe the borough's present state?
THE ORACLE:  Brooklyn is always changing so much, but the tight communities in each neighborhood are very strong and long term. After living in NYC almost fifteen years, I actually run into people in a small-town way fairly often which is awesome!  It's gotten insanely expensive though, so it's harder for all the artists (NYC has the highest percentage in the country), but we are an interdependent strong network.
Does the borough remain an artists' haven?
I think if you're willing to work and want to hone your craft with the best and most dedicated creators, it's still the place to be. But there's a lot of new vibrant art communities around the world that have grown stronger and have a deep exchange with NYC, like Berlin and Mexico City.
What kind of music did you listen to growing up?
I was a huge fan of trance, followed by a heavy metal phase during which I learned guitar, and then I got into rave sounds like jungle and drum and base. I also used to see Justice on tour around then.
How would you describe your sound?
I feel like my sound draws from electronic and trip hop influences as well as SOPHIE (RIP) and hyperpop sounds.  I'm heavily influenced by Delirium, Portishead, Metric, Little Boots and growing up I liked experimental acts like Liars.
I hear Bjork influences as well.
I was introduced to Bjork by a close friend when I was thirteen or fourteen and have always found her music unique and inspiring.
Your latest single is "Cloud 9 Angel".   It appears more hopeful and happy than the other tracks on the Lost Amulet EP.
I have pure future-forward joy in my heart from love and life and art and I wanted to embody that, not just the sad poetic vibes natural to my songwriting.  I aimed to create a soaring pop love song with positive vibes and a different instrumentations, with a slight drum and base vibe.
The joy is reflected in the visual for the song.
We shot a huge amount of lush scenes and looks to create a kaleidoscopic dream rush for the video.
What do you hope listeners ultimately take away from "Cloud 9 Angel"?
I hope they float away to a hopeful dream of love, and enjoy Galen Tipton's unique, crunchy hyperpop-drum and bass influenced production.
Will you continue your psychedelic exploration into new utopian and dystopian worlds in the ORACLE666 album?
We're going further down the rabbit hole. The next album has a bunch of new songs and energies in it and I'm proud of collaborations with various producers.