at The Pavilion in the Fire Island Pines, August 25, 2018
PHOTO BY Billy Hess Photography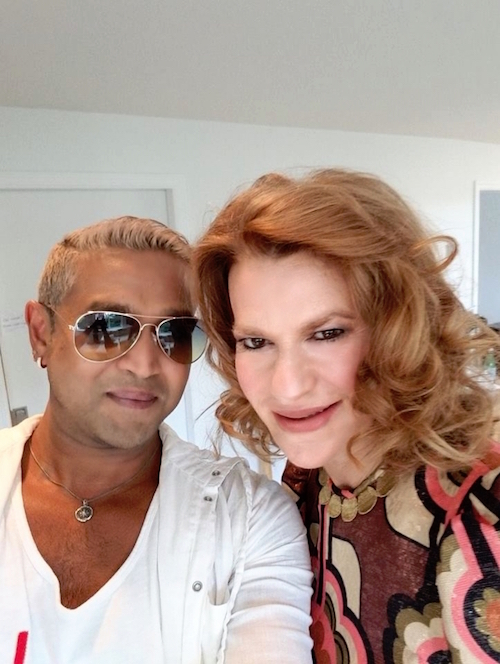 Edgy! Besmirched with an ironic humor and a sardonic sensibility.
The master of satirical and trenchant comedic vibrancy, singer, actress, humorist, author, Sandra Bernhard stole the hearts and laughter of loyal fanatics in a sold out performance at The Pavilion in The Fire Island Pines. With a vigorous and incisive style Sandra delivered the current news, and family conundrums, adding a bit of song and music director Mitch Kaplan to the mix. She always keeps the material fresh and relevant. I've experienced several "Sandra" productions, on Fire Island, as well as Joe's Pub, and I've never seen the same routine twice.
This evening the quipster seemed more vivacious than during prior engagements and completely happy to be on stage. She sang three songs, each dramatically delivered, and well arranged.
The crowd adored her. Smiles and laughter remained on the congregation's faces for a solid hour and at the climax and finale, her standing ovation was well deserved. She looked radiant and beautiful in her little dress that matched the stage lighting.
When the performance had ended, although she had another gig following, she still found time to meet her fans and followers outside the venue, for anyone who desired an autograph or photo. Although on stage her performance is unequivocally audacious and at times a bit scorching towards political figures and fellow entertainers, her off-stage presence is demure and sweet.
You can hear Sandra Monday through Thursday on SIrius XM Radio's, Andy as she hosts Sandyland, a variety show with cool guests in the entertainment and fashion industry. She will also be doing her usual end of year residency at Joe's Pub in New York City.