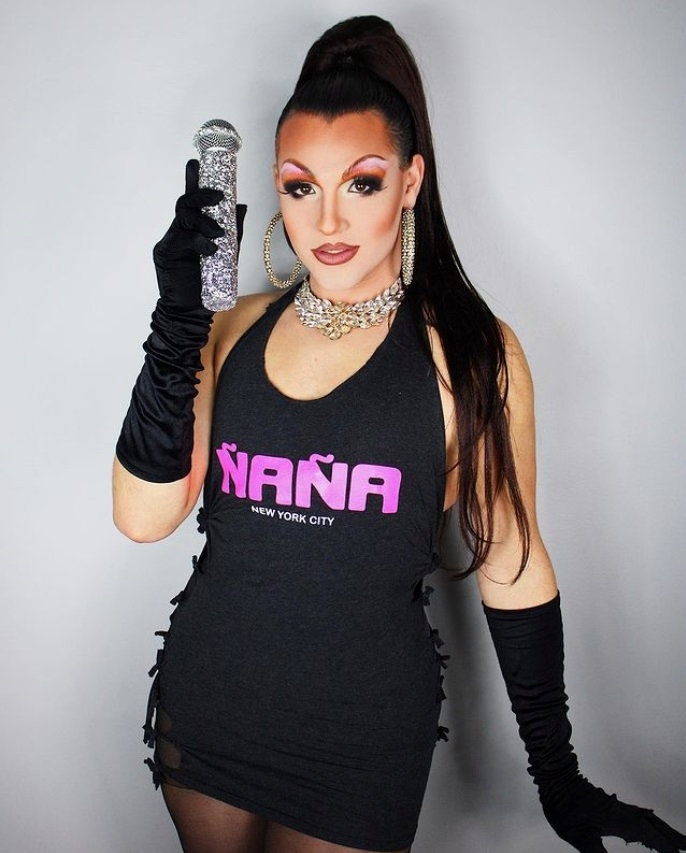 By Jim Silvestri
Florida-born drag performer Lala Wiggy is gagging all the children with her luscious live vocals and fabulous fashions. With a popular weekly and a bunch of new showcases on the way after just half a year of being a New Yorker, she will make sure we will all be Getting Wiggy With It pretty soon!
Interview:
Hola, Lala! How's April treating you?
Lala Wiggy: Really well so far. I've been so busy. I didn't even realize that May is already right around the corner!
Same! I really enjoyed your live singing performances in the "Lady Liberty" competition at the Q this past season.
Thank you! Lady Liberty was an amazing experience. I have to admit that my first time doing the competition, I was extremely intimidated because I look at Lady Liberty as the Drag Race of the club competition scene; only the best of the best can be found there. So, going in, I wore all my good shit and sang my best, most rehearsed song, lol! I'm mainly a live singing queen, so I'm glad I chose to stay true to that for the competition.
Tell us how Lala came to be.
Lala specifically was actually born out of my thesis in college. Our final (and biggest) assignment was to write, produce, direct, and costume our own 20-minute one-person show. So I decided to write about the biggest struggle I've faced with my identity. Times are moving toward a more "progressive" direction, but when I was younger, I got a lot of hate for being gay. Then, as times went on and I was in high school and especially in college, the issue was no longer that I was gay, it was that I was too gay. I'm too feminine or too into Lady Gaga, lol.
So I wrote a one person show about Miss Lala Wiggy (Of course, I got the name from my grandmother telling all her grandchildren that girls have lalas and boys have wiggys), a drag queen who was walking home from her gig when she was sexually harassed on the sidewalk and beaten up. The play begins as she walks in, but by the end, her solution is to just run for Mayor of NYC.
Drag was a way of no longer getting the critique from my professors that I am too gay onstage, but rather to get some actual feedback based on the quality of work I put on.
You've been hosting karaoke at Ñaño Ecuadorian Kitchen in Hell's Kitchen, more or less since lockdown ended.
Yes! The gig came about because I was Chicky Gorgina's guest on Halloween at her "Gorg Brunch" there. I met the owner of the restaurant, Abel Castro, and I just dropped the idea for a karaoke night in his lap. Then, a few days later, he called me and went through with the gig! I love performing there, honestly–it's an intimate space, but the vibe is excellent. Plus, I am able to really connect with my audience that way. Karaoke is my way of basically hanging out with my friends and my audience and getting to know them…especially since there is no stage separating me from them, lol!
In May, you will be starring in your very own stage show at the Triad Theater called "Killer Queen!" 
This is actually the third installment of my live cabaret series at the Triad. I produce and headline the show, so it's become my love child. It's Saturday, May 7th. Doors at 9pm, showtime at 9:30. Official after party at Ñaño!
To close, the All-Winners cast of Drag Race All-Stars has recently been announced. Who are you rooting for?
Jinkx, of course! Not only is Season 5 my favorite season (Season 3 being a close second), but she is a Broadway-trained singer like myself. So, it has to be her!
Thanks, Lala!